75 Bird Names for Babies That Rule the Roost
This post may contains affiliate links. As an Amazon Associate, I earn from qualifying purchases. Read the full disclosure here.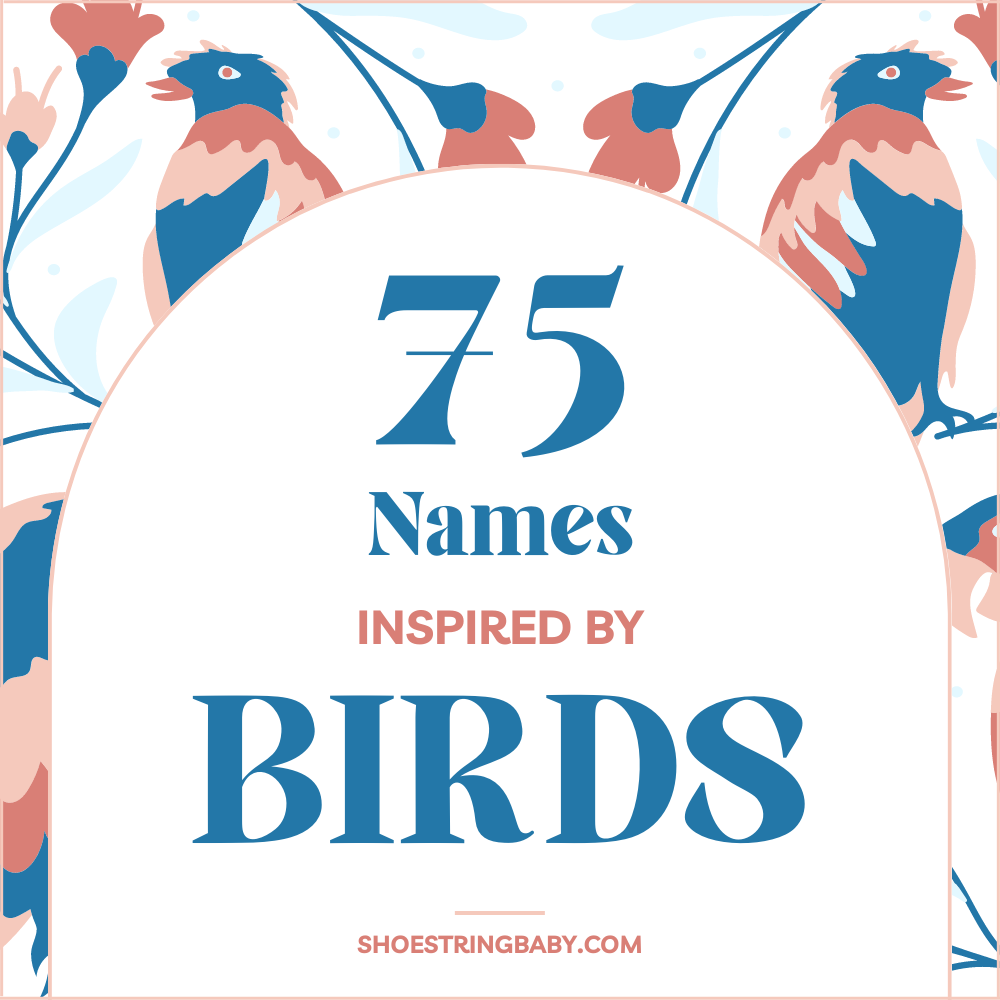 Looking for a cool bird baby names? Then check out this list of 75 bird-inspired baby names, including names that mean bird and names from types of birds — perfect for your future baby bird.
Baby names with bird meanings have a cool, subtle nature vibe that are easily wearable. Many bird baby names are also gender neutral making them fashionable and versatile.
From obvious bird name ideas, like Robin or Lark, to more understated bird connections, like Eileen or Jonas, bird names can be a great option for any baby naming style.
I handpicked these bird-themed names from my personal database of over 2000+ baby names. This list is the product of my own hunt for the perfect bird-themed name for our second baby. Our first has a bird name and I loved the idea of "adding to our flock," with a second bird name.
I spent truly a countless number of hours researching birds and bird-inspired names to find every possible bird name idea that would also work as a baby name. We ultimately went a different way but hopefully someone else can benefit from my bird baby name deep dive.
Below you will find bird baby names with meanings that are classic, cute, unique and cool. You'll also find bird names for girls and bird names for boys. Plus, I include a subsection on names that mean dove for those who like the symbolism for peace.
Now let's take an eagle eye to the names below!
Table of Contents
Why Pick a Bird-Inspired Baby Name?
Names that mean bird are very now. You'll find bird names throughout the top 500 baby names list. Bird names fall under the general trend of nature names popular today. Many bird names have the added appeal of being unisex, which is also very fashionable.
Girl names such as Wren (#361) and Ava (#3) have been flying up (pun!) the rankings. Wren, a lovely bird baby name for girls, has jumped over 400 spots in less than a decade. Evelyn, meaning 'beautiful bird,' has held steady as a top 10 name for years.
Join our baby name facebook group!
Love chatting about baby names and trends? Join the discussion over on our new Facebook group. Plus, get FREE help finding the perfect baby name!
For boys, you'll find names like Jonah (#128) and Phoenix (#238) topping the charts.
There are also great options for gender neutral bird-inspired names, including Arden (meaning 'eagle valley') or Blyth (a type of pheasant). Names like Birdie and Pip can also make adorable nicknames for boys or girls when you use a bird-themed baby name.
As you can see from these few examples, bird names also span a variety of name styles. From classic names like Evelyn to trendy names like Birdie, I hope there is a bird name for everyone in the names below.
Classic Baby Names That Mean Bird
First in the pecking order (ha!), we have classic names that mean bird. These names are great for people looking for more timeless or subtle name options.
I love the name Piper, a nod to sandpipers, as an option for boys. Blyth is an effortlessly cool and charming bird name, and you can't go wrong with a classic like Rose.
ARGUS: Argus is a species of pheasant. In Greek mythology, Argus was the name of a creature that turned into a peacock
ARNOLD: Arnold is a name meaning "eagle ruler" coming from German
BLYTH: Blyth is a unique bird baby name, and is the name for a pheasant-like bird
EILEEN: Eileen is an Irish name meaning beautiful bird
EVELYN: Evelyn is also a name that means beautiful bird and "wished for child"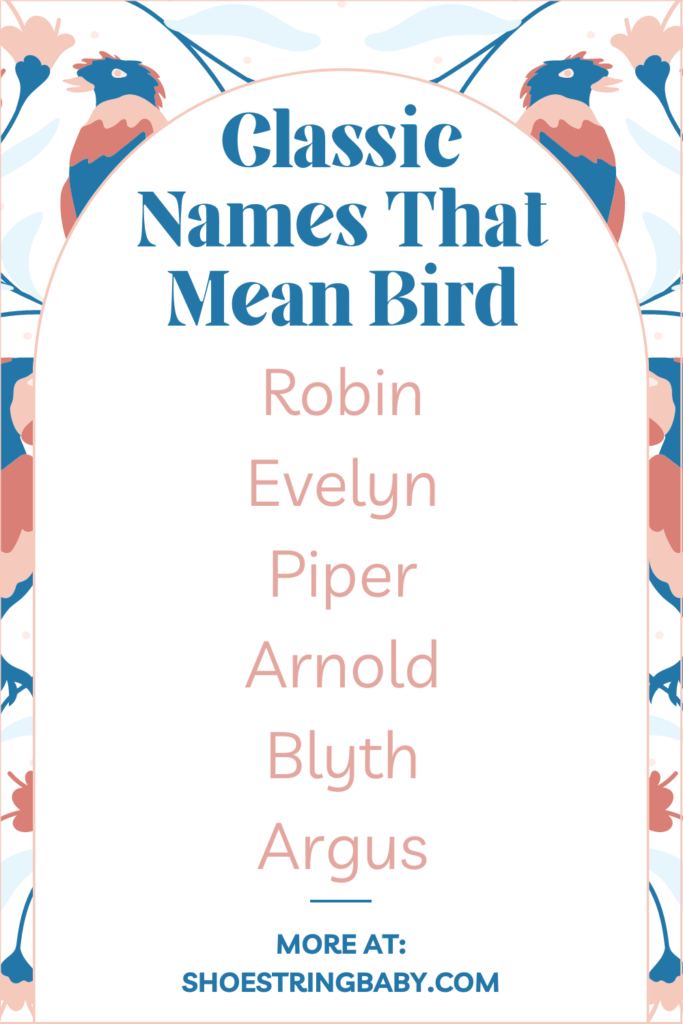 MERLE: Merle is a lovely unisex name which means black bird in French
PIPER: Piper can be a name inspired by sandpiper birds
RHEA: Rhea is a Greek name meaning "flowing" and also the name of a South American ostrich species
ROBIN: Robin is one of the bird baby names to come to mind for most people. Robin's are song birds, and the name is also a diminutive of Robert.
ROSE: Not only a classic flower name, Rose can also be a name inspired by the birds called rosefinches
Bird Names for Girls
Next we turn to names with bird meanings for baby girls. Zipporah, with its starting letter Z, feels like fresh and cool bird themed name for a girl. I also like Sora as a sweet female name meaning small water bird.
AVA: Ava is a top 10 girls' name coming from multiple origins that means bird-like
LARK: Lark is a charming baby bird name for a girl, inspired by the song birds
MAVIS: this classic vintage name, which can mean song thrush bird, is posed for a revival.
PHOEBE: Phoebe is the name of a small passerine bird
RAVEN: this trendy girl name is a large black passerine bird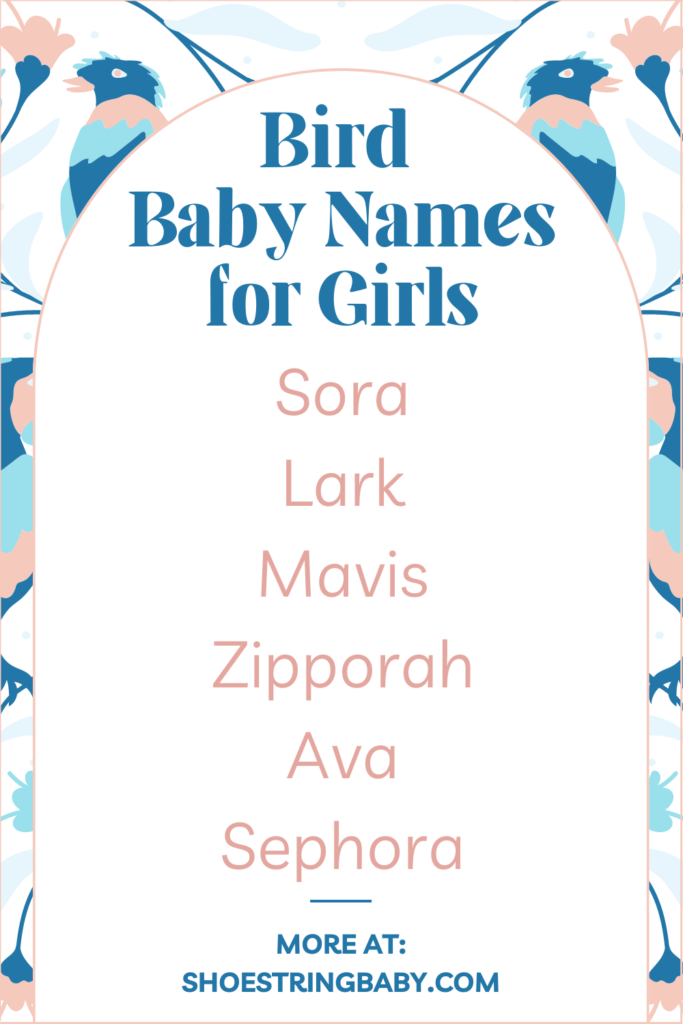 SEPHORA: don't let the store dissuade you from this lovely Hebrew girl's name meaning bird
SORA: Sora is the name of a small water bird that would be a unique alternative to popular Cora and Nora
WILLOW: Willow can be a bird related name in reference to the Willow warbler bird
WREN: popular Wren is a quintessential bird name for girls
ZIPPORAH: Zipporah is a cool female name that means bird in Hebrew
Bird Names for Boys
Then we have bird related names for baby boys. Of the options below, I love Efron as a soft name option for boys.
ABBOTT: Abbott is a charming bird name for boys coming from a type of seabird called Abott's Booby
BAZ: Baz is an ultra-cool bird name for boys coming from an Arabic surname meaning falcon
BRAN: Bran is a Gaelic name that means raven
CASSIN: Cassin is a unique name inspired by a number of birds including Cassin's sparrow and finch
CORBIN: Corbin, meaning crow, is technically a gender neutral bird name but is more commonly seen as a boy's name.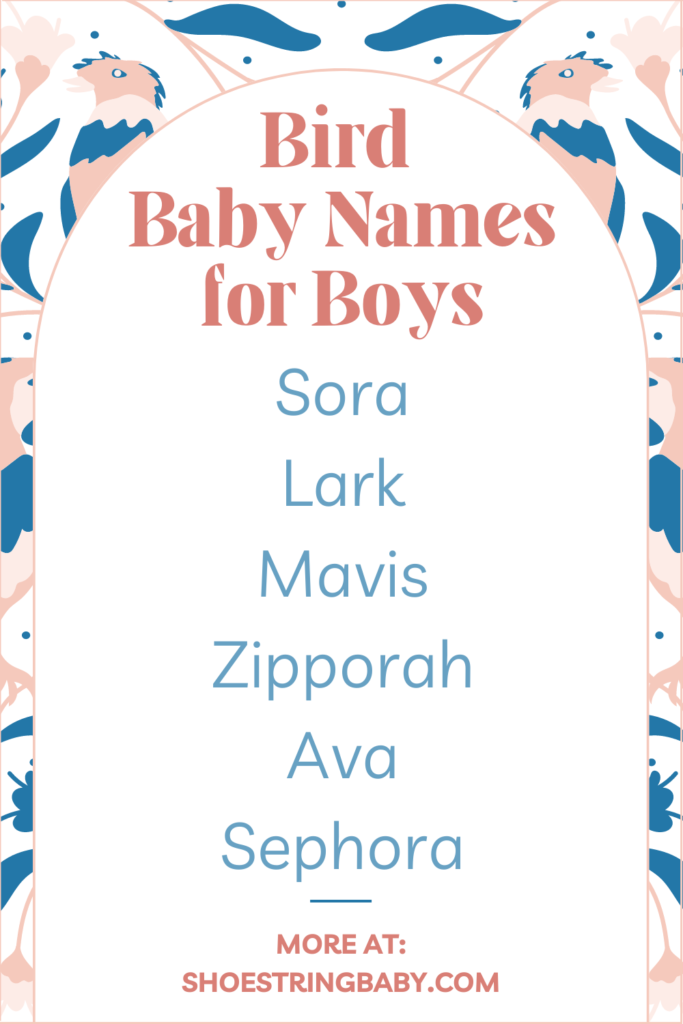 EFRON: lovely Efron is a soft boys name meaning singing bird in Hebrew
FINCH: Finch is a name for songbirds
JAY: the timeless name Jay can be inspired by jay birds or blue jays
PACO: Paco is a name meaning eagle
RUSTY: Rusty makes the list of bird names for boys from the name of the blackbird species
SOREN: Soren can be a name inspired by how birds soar
Cute Names Meaning Bird
These cute bird names are sure to charm. Of the names below, I personally love unique Roseate for baby girls and Pip for boys. I also love how Daya sounds like a delicate name but has a strong, powerful meaning.
Birdie can be a standalone name or a great nickname for any bird-themed name.
AERIE: Aerie is a name meaning nest of birds of prey
ALOUETTE: Alouette is a French girl's name meaning lark
ANI: Ani is the name of a species of black cuckatoos
AYA: Aya is a cute bird name for humans that means bird or colorful
BIRDIE: Birdie is a cute nickname-style name meaning little bird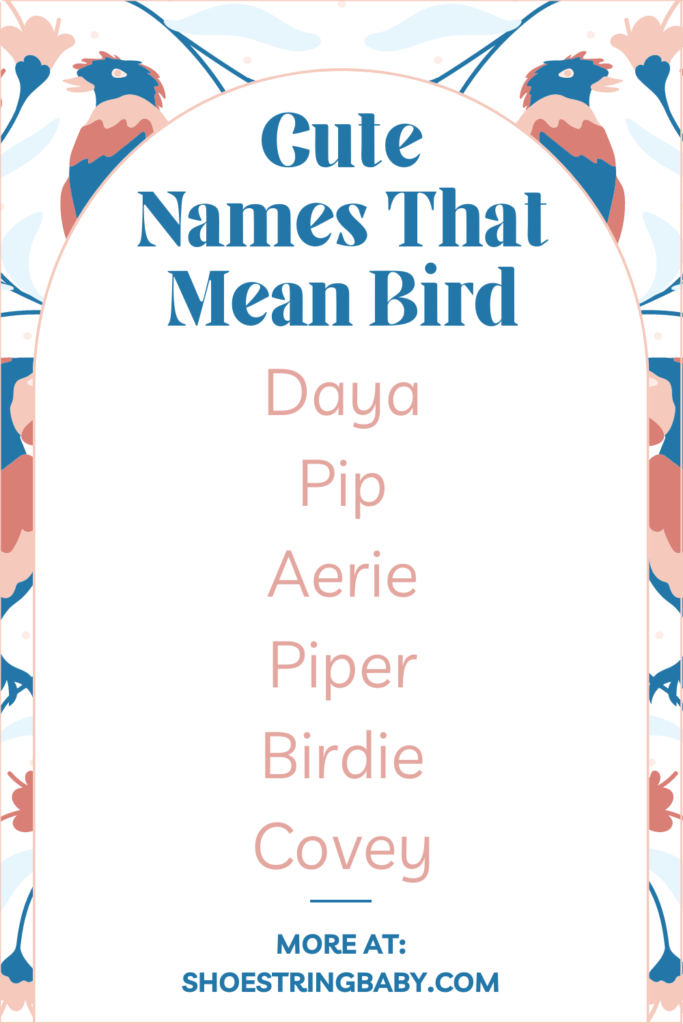 COVEY: Covey is a very unique unisex name that means flock of birds
DAYA: Daya is a Hebrew-originating name meaning bird of prey
PIP: Pip could be considered a bird-themed unisex name, as a hatching bird pips a hold in an eggshell
ROSEATE: a undiscovered alternative to Rose, Roseate is a bird-related name for girls from roseate spoonbills
TORI: Tori is a name that comes from Japanese for bird
Related Post: 100 Florida-Inspired Baby Names
Unisex bird names for babies
Looking for a unisex bird name? This section is for you. Winnow is a fresh name idea for those who love the nickname Winnie (also check out 25 Full Names for Winnie). And my favorite unique bird names are Linnet, an adorable option for a boy or girl, and Arden, which feels timeless and effortless..
ARDEN: I love the name Arden as a gender neutral name meaning eagle valley
AVIAN: Avian literally means "related to birds" and could make a hip, gender neutral nature name (check out more gender neutral nature names)
IBIS: Ibis, a longlegged bird, would be a cool and unique answer to the name Iris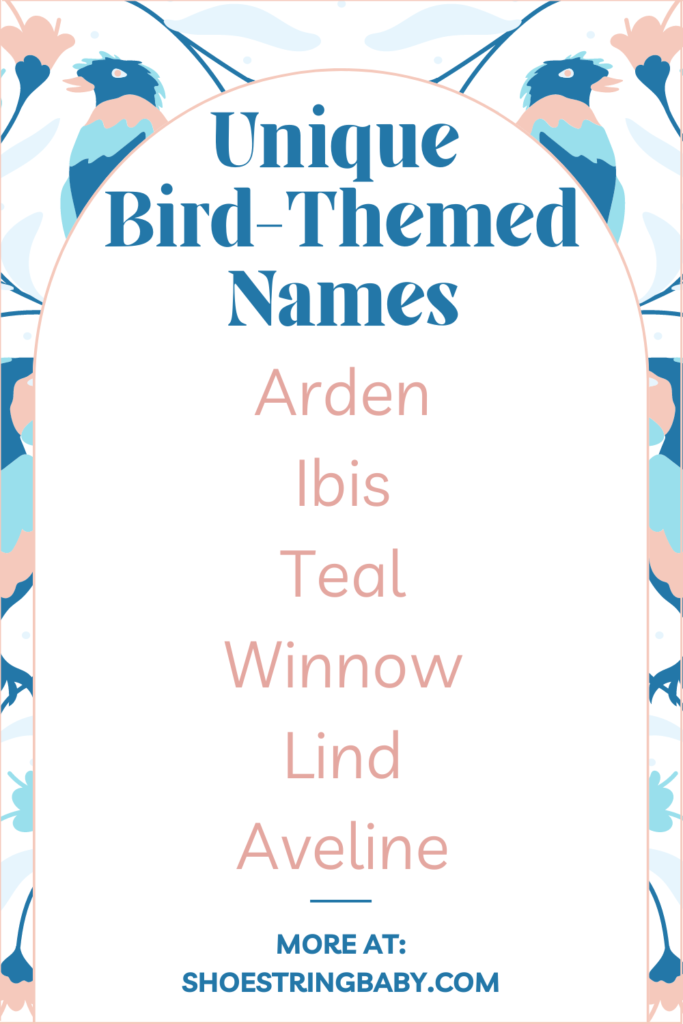 LIND: Lind would be a unique name meaning bird, as it is the Estonian word for bird
ORIOLE: Oriole is not commonly used as a bird name on humans, but could be a cool option for those looking for an O name.
SPARROW: Sparrow would be a unique bird name for girls or boys, which has a lovely double meaning of sparrows being a symbol of luck and happiness
TEAL: not just a color, Teal is also a name of a small duck
WINNOW: Winnow is perhaps the most unique bird-related name, meaning to blow the air with one's wings.
Unique Bird Names With Cool Meanings
Looking for something more unique? Here are unique bird names with cool meanings. These cool bird names sound fresh and fun. The list below include bold names like Hawk and Falcon to charming names such as Starling and Rook.
I actually came back to update this post the minute I learned that Keaton means "place of hawks" — what a cool meaning and I love it as a gender neutral name option.
AVELINE: Aveline is a name meaning "little bird" or "hazelnut"
DRAKE: the rapper Drake has made this bird-themed name decidedly cool
FALCON: Falcon is a unique bird with perhaps the most cool meaning
HAWK: Like Falcon, Hawk is another bird-inspired name with a lot of swagger
KEATON: Keaton gets its coolness from its "place of hawks" meaning (and connection to national treasure Diane Keaton)
LARALINE: Laraline is ambiguous in meaning, though some say it means "gull-like"
PEREGRINE: Peregrine is a bold and formidable bird name for the type of falcon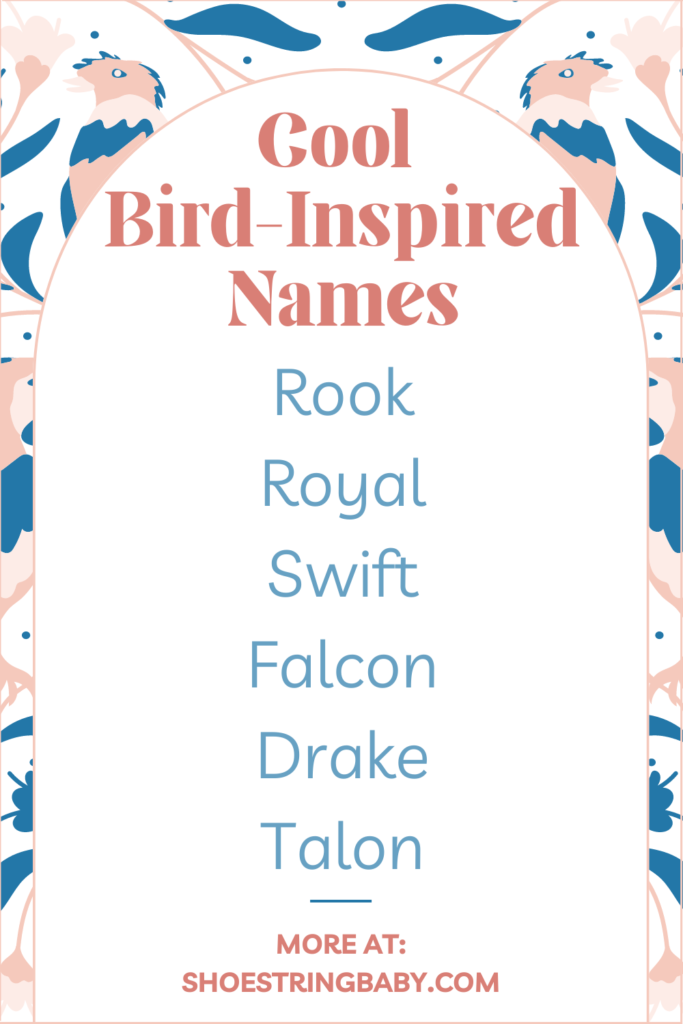 ROOK: Rook is an effortless name for boys or girls inspired by the socialable bird in the crow famly
ROYAL: word names are on-trend and this one can also have a bird-related meaning to the royal penguins
STARLING: Starling ins a medium-sized passerine bird
SWIFT: Swift is an effortlessly cool name that be bird-themed as it is a type of aerial bird
TALON: Talon would be a unique bird name with the cool meaning for the birds' talons
Bird Baby Names Meaning Dove
Many of the bird inspired names on this list are names meaning dove. Dove is a lovely meaning since it also symbolizes peace. In the bible, doves are associated with peace, innocence and forgiveness. Here are ten names that mean dove.
CALLUM: Callum is an Irish name meaning dove, that derives from the Latin columba which means dove
CULVER: Culver is a surname name meaning dove or pigeon
DOVE: Dove itself works as a lovely standalone name
DUE: sounding similar to the popular name Rue, Due is the word for dove in Danish
JEMIMA: though not popular in the U.S. because of it's heavy pancake-brand association, Jemima is a lovely name still used internationally that means dove from Hebrew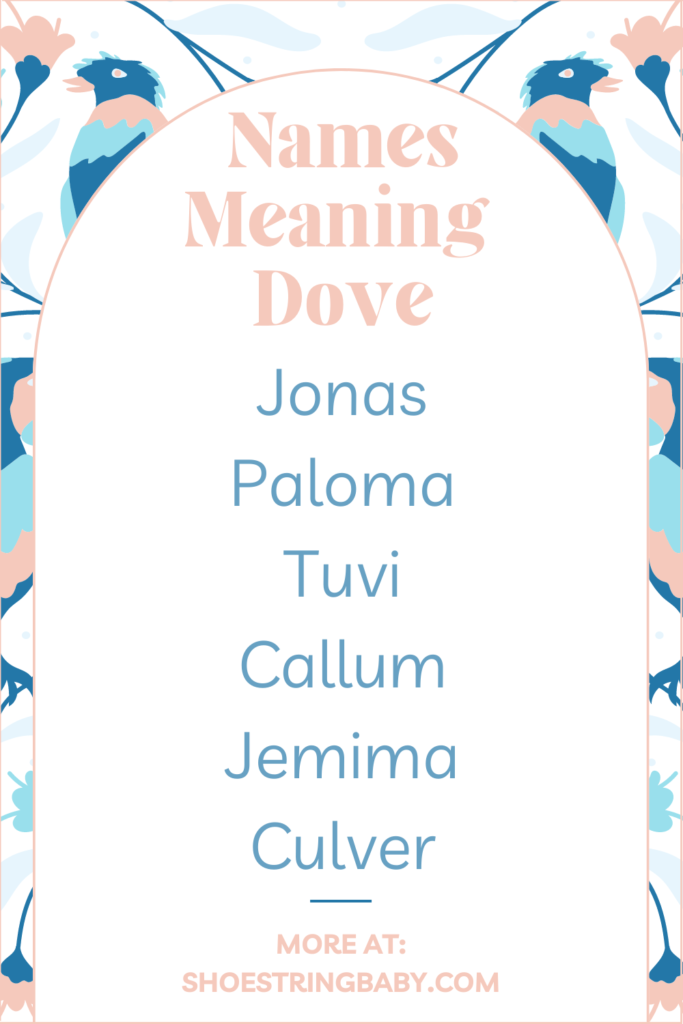 JONAH: Jonah is a Hebrew name meaning dove
JONAS: Jonas is a name that also comes from Hebrew and means dove
LUPE: while Lupe is more commonly known as a nickname for Guadelupe, it is also a Samoan word for dove
PALOMA: Paloma is a cool Spanish-originating name meaning dove
PALOMO: Palomo is the masculine version of Paloma
TUVI: Tuvi is the Estonian word for dove that would make a cool name
YONA: Yona is another Hebrew-originating name for dove
Customizable Baby Name Items
Decided on a baby name? Check out these cute baby items that can be personalized with your baby's name.
---
Looking for more baby name ideas? Check out our baby name trend visualizer.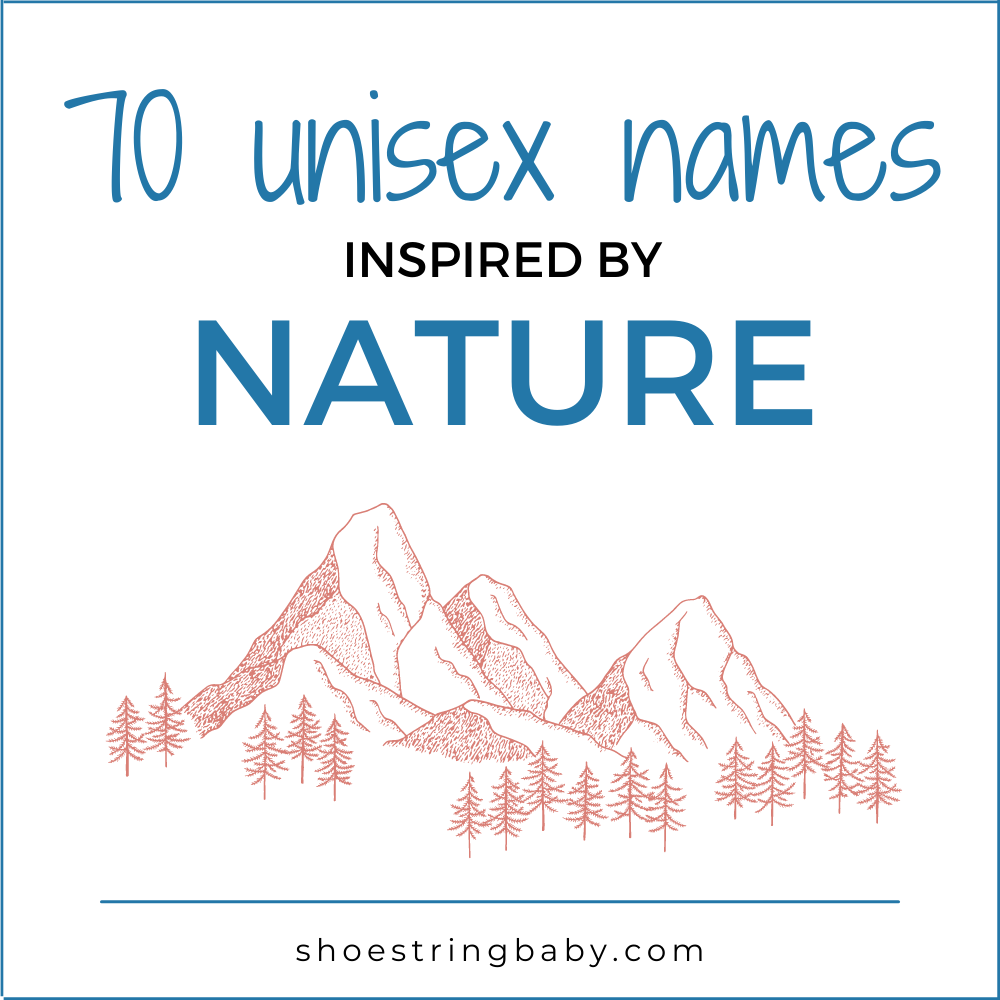 Related Post
70+ Unisex Nature Names