100+ Florida-Inspired Baby Names (Warm & Sunny Ideas!)
This post may contains affiliate links. Read the full disclosure here.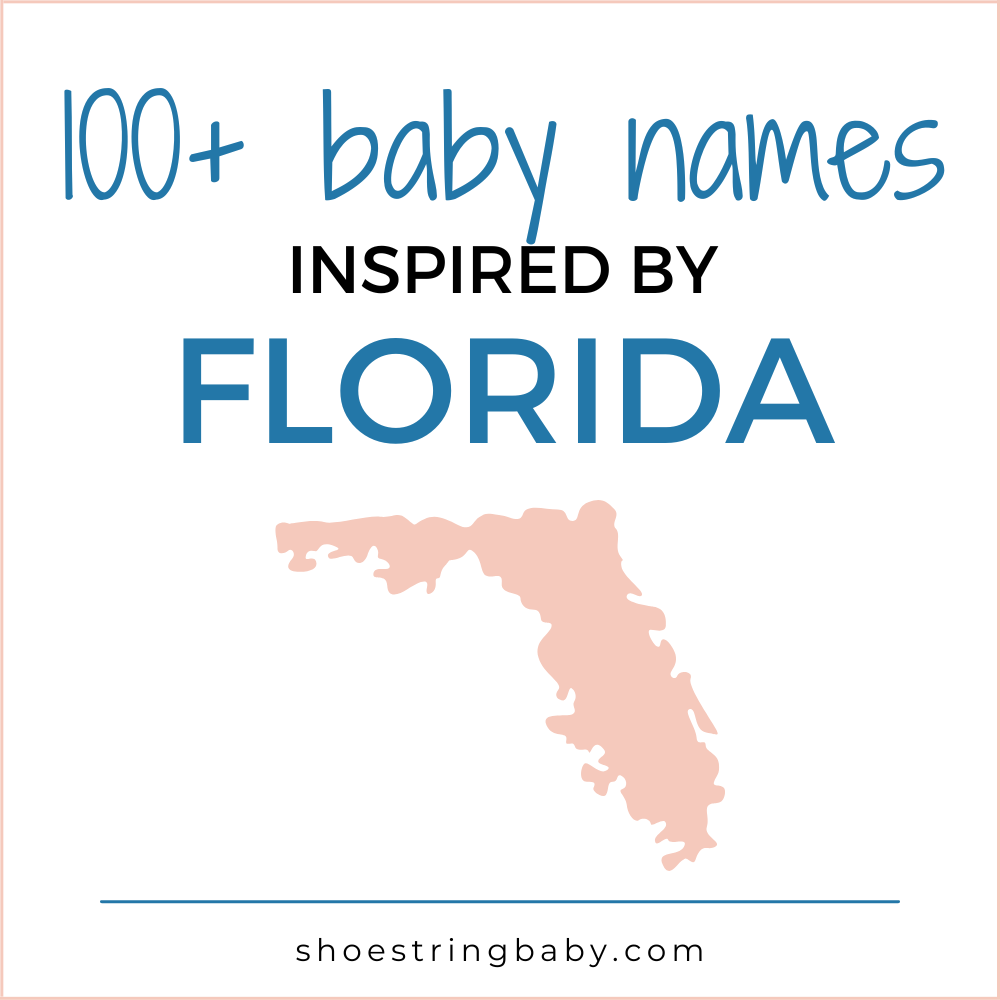 Are you looking for baby name ideas inspired by Florida Florida themed baby names are great for those with ties to the sunshine state.
I'm a researcher who analyzes baby name data. These names were hand-picked from a deep dive into Florida's history, nature and places.
More importantly, I'm a born and raised Floridian and spent hours researching Florida baby names as I looked for name ideas for my own baby.
I hope that this article can help other parents find the perfect Florida name for their baby.
The list include the names that are most popular in Florida, of course. But even better, the list is full of names that capture Florida's essence. You'll find names for things that are quintessentially Florida, like Disney, beaches, and summer-vibes.
I also included names that are more subtle nods to Florida's culture and places. For example, a baby with the popular name Brooks may not seem like they have a Florida name, but the name could be a reference to their parents growing up in Brooksville, Florida.
Below you will find 100 baby names drawing inspiration from Florida's:
Sunshine
Cities & Counties
Nature
Beaches & Islands
Now, let's shine some light on these Florida-themed names!
Join our baby name facebook group!
Love chatting about baby names and trends? Join the discussion over on our new Facebook group. Plus, get FREE help finding the perfect baby name!
Table of Contents
Top 10 Most Popular Florida Baby Names
First up, let's take a look at the most popular names in Florida. Here are the top 10 boys and girls names in Florida from 2021:
| | | |
| --- | --- | --- |
| RANK | GIRL | BOY |
| 1 | Olivia | Liam |
| 2 | Emma | Noah |
| 3 | Isabella | Lucas |
| 4 | Mia | Elijah |
| 5 | Sophia | Oliver |
| 6 | Ava | Benjamin |
| 7 | Amelia | Ethan |
| 8 | Charlotte | Alexander |
| 9 | Luna | Daniel |
| 10 | Gianna | James |
Now let's take a closer look at how Florida's top 10 names differ from the rest of the country.
Top 10 Florida Boys Names
The list below shows the ten most popular boy names in Florida last year compared to the U.S. top 10. Compared to the rest of the country, Ethan, Alexander and Daniel make the top 10 in Florida but not in the U.S.
| | | |
| --- | --- | --- |
| RANK | FLORIDA TOP BOY NAMES | U.S. TOP BOY NAMES |
| 1 | Liam | Liam |
| 2 | Noah | Noah |
| 3 | Lucas | Oliver |
| 4 | Elijah | Elijah |
| 5 | Oliver | James |
| 6 | Benjamin | William |
| 7 | Ethan | Benjamin |
| 8 | Alexander | Lucas |
| 9 | Daniel | Henry |
| 10 | James | Theodore |
The names William, Henry and Theodore are top 10 names in the U.S. but are ranked #17, #43 and #45 respectively in Florida.
Top 10 Florida Girls Names
Next, the names in the table below are the top 10 girls names in Florida by popularity, compared to the U.S. top 10. The names Luna and Gianna rank in the top 10 in Florida but do not make the top 10 list for U.S. as a whole.
| | | |
| --- | --- | --- |
| RANK | FLORIDA TOP GIRL NAMES | U.S. TOP GIRL NAMES |
| 1 | Olivia | Olivia |
| 2 | Emma | Emma |
| 3 | Isabella | Charlotte |
| 4 | Mia | Amelia |
| 5 | Sophia | Ava |
| 6 | Ava | Sophia |
| 7 | Amelia | Isabella |
| 8 | Charlotte | Mia |
| 9 | Luna | Evelyn |
| 10 | Gianna | Harper |
Top 10 U.S. names Harper and Evelyn do not make the top list in Florida. Instead, those names are ranked #22 and #25 respectively in Florida.
Florida Inspired Baby Names
Now let's turn to baby names inspired by all things Florida. First we have names themed around Florida iconographies. These references are all quintessentially Florida in some way.
I personally like names that are subtle in their Florida reference, like Everly for the Everglades or Kennedy for Kennedy Space Center. And you can't talk about Florida without a few references to Disney, so you'll also find names like Walt and Minnie on the list.
ALBERT – Albert is the name of the University of Florida's mascot
CLEMENTINE – Clementine has been gaining popularity in the last decade. It makes the list for Florida's citrus and orange fame
ERNEST – Ernest Hemingway was a famous Florida Keys' resident. His home in Key West is known for their 6-toed cats that descended from one of Hemingway's cats (source on Hemingways cats).
EVER – Ever is a unique name that would fit in with trendy names today. It can be a name to honor the Florida Everglades
EVERLY – Similar to Ever, Everly could also be a nod to the Florida Everglades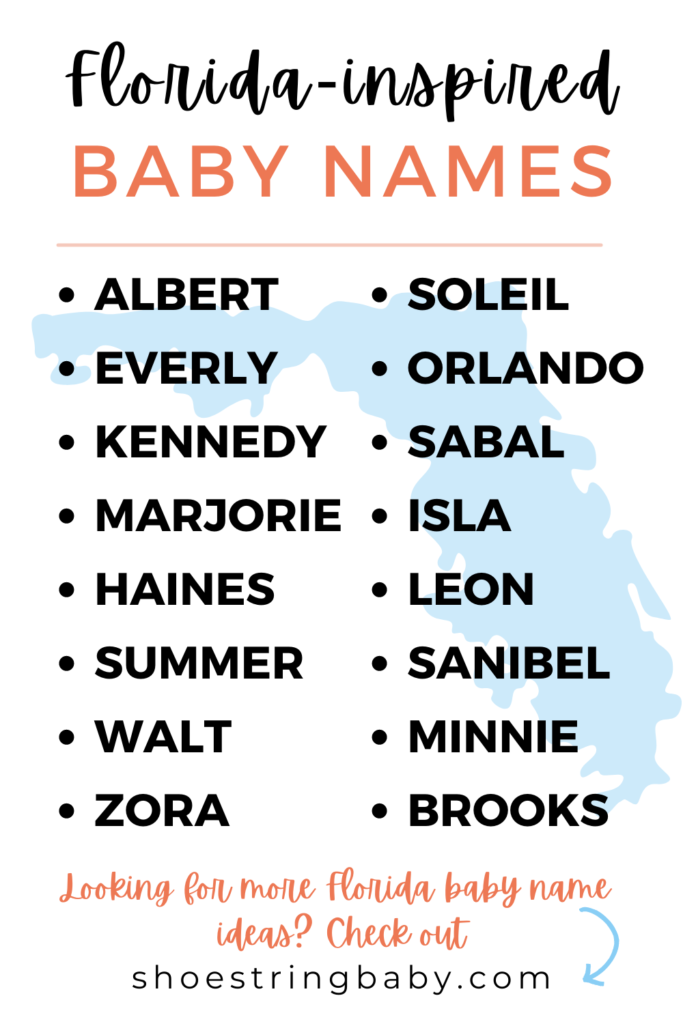 KENNEDY – Kennedy is currently a top 100 girl name in the U.S. The name could be a subtle Florida name in honor of the Kennedy Space Center
MARJORIE – Marjorie Kinnan Rawlings was a rural Florida author. Her most popular work, the Yearling, is known as a depiction of early, rural Florida life.
MICKEY – You can't think of Florida without Disney. The most obvious Disney Florida name is of course for the mouse.
MINNIE – Minnie is another Florida Disney World inspired name. Minnie also fits in with names like Bonnie and Winnie which are enjoying a comeback.
SUMMER – Florida is known for its warm and sunshine. Summer is a great Florida name since it basically always feels like summer here.
WALT – Walt is another another Disney-reference name. You could make this Florida reference more subtle by opting for the full name Walt.
ZORA – Zora is such a cool name that I hope gains in popularity. As a Florida name, it can honor famed Florida author, Zora Neale Hurston.
Baby Names Inspired by Florida's Sunshine
Florida is perhaps most known for its sunshine — it is the Sunshine State after all! Here are names with connections to the sun for your sunny Florida baby.
Don't forget to visit my full list of 50 names meaning sun for even more sun name ideas. For a different spin, you may like my sunflower names article too.
ELIANA – one meaning for this name is daughter of sun
MARISOL – a portmanteau of sea and sun, two of Florida's best features
SAMSON – a Hebrew name meaning sun
SOLANA – a Spanish-origin name meaning sunshine
SOLANGE – French-origin name meaning angel of sun
SOLEIL – French for sun
SUNNY – Florida is nothing if not sunny
SUNSHINE – a playful name for sun lovers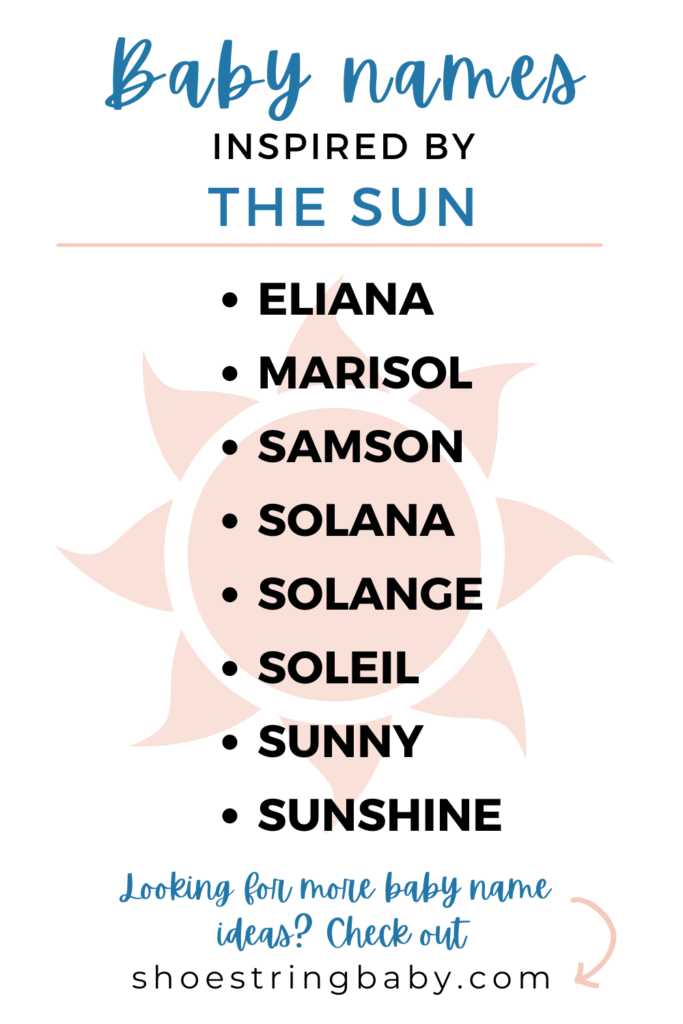 Baby Names from Florida Cities
The follow names are inspired by Florida's cities and towns. When we were naming our first baby, I loved the idea of using Gaines — in honor of Gainesville, Florida — as a middle name.
Some popular names today that could also double as Florida-references include August (St. Augustine), Brooks (Brooksville) and Lucie (Port St. Lucie).
AUGUST – August could be a name honoring Florida's St. Augustine, the oldest city in the U.S.
AUGUSTINE – More direct than August, Augustine is a strong name and another nod to St. Augustine.
BROOKS – Brooks is a name inspired by Brooksville, Florida
CLERMONT – Clermont would be a unique name for the city in Central Florida
DORA – Dora the Explorer likely will keep Dora off the top name charts for year, but the name could be a cute Florida girl name for Mount Dora.
EUSTIS -Eustis is a small town in the Orlando area
GAINES – For University of Florida alum, Gaines could be a way to honor your Gator roots. The city of Gainesville is home to the University of Florida
HAINES – Haines is a small town in the Lakeland area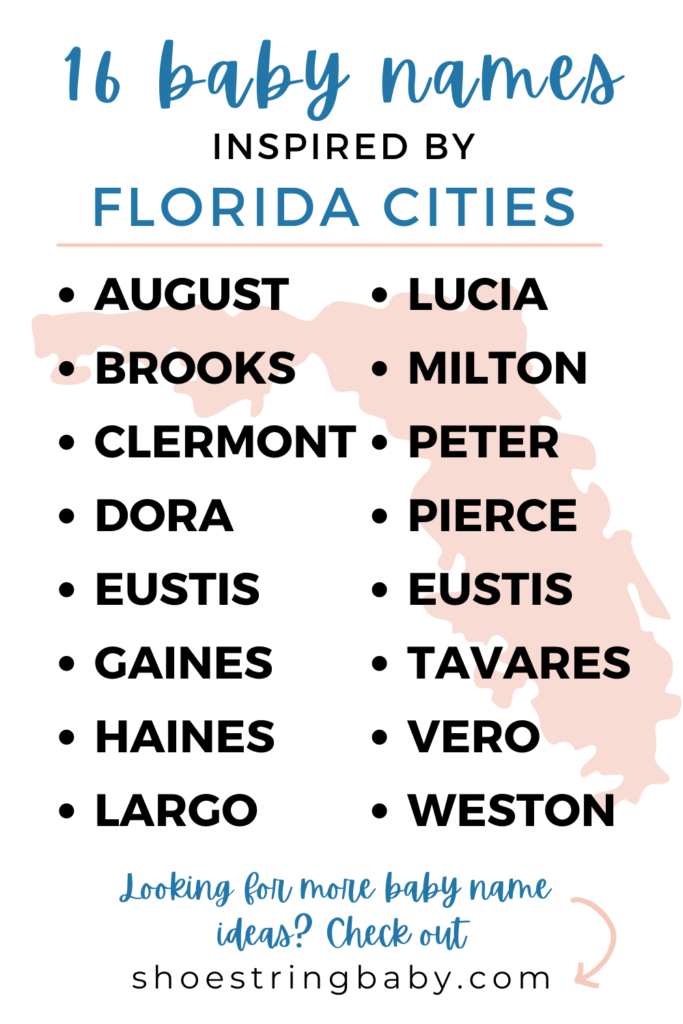 LARGO – Largo is a city in the Tampa-bay area.
LUCIE – Lucie is the French spelling of the popular name Lucy. It could also be a name inspired by the Florida city, Port Saint Lucie.
MILTON – Milton is so grandpa-chic that it feels fresh again. Milton is a Florida panhandle city
ORLANDO – Orlando is the 3rd largest city in Florida
PETER – Classic Peter could be a name inspired by St. Petersburg, Florida
PIERCE – Pierce is a name that could reference Fort Pierce
SANFORD – Sanford is an Orlando suburb
TAVARES – Tavares would be a unique name for a Florida baby, inspired by the small central Florida town
VERO – Vero is a cool name for a boy inspired by Vero Beach, Florida. Vera is the feminine version
VIERA – Viera is a unique alternative to more popular Vera. Viera is a community on the east coast of Florida
WESTON – Weston is a popular name that could also be a Florida boy name, for the city in the Miami area.
Related Post: 4 Free Resources for Unique Baby Name Ideas
Miami Inspired Baby Names
Miami is a culture hub of Florida and Florida's second biggest city. As such an epicenter of Florida, there are lots of places to draw name inspiration from to honor Miami roots. Here are some Miami name ideas for boys and girls
Miami Girl Names
ADRIENNE – Miami's Adrienne Arsht Center for the Performing Arts is the second largest performing art center in the country
BLANCHE – Blanche works as a Miami girl name in honor of one of the most famous fictional Miami residents, Blanche and the other Golden Girls.
CORAL – Coral Gables and Coral Way are neighborhoods in Miami
DANIELLA – Daniella Levine Cava is the first woman to serve as mayor of Miami Dade County
DELPHINE – Delphine is a name meaning dolphin, which can be a subtle Miami girl's name in honor of the Miami Dolphins
FREDERICA – Frederica Smith Wilson is one of Miami's representatives to the House of Representatives known for her large hats.
JULIA – Julia Tuttle founded Miami, notably the only major U.S. city with a woman founder. (Psst, if you like the name Julia, I also have a great list of middle names for Julia.)
MAYA – Miami is named after the Miami River, which itself comes from the history name for Lake Ockeechobee, Mayaimi.
OLYMPIA – Olympia would make a subtle Miami-themed name for Miami's Olympia Theater.
VIRGINIA – Virginia Key is an island in Miami
Miami Boy Names
CAIN – Cain could be a subtle reference to Miami's Biscayne Bay.
DADE – Miami is located in Miami-Dade county
DECO – Deco could be a cool boy name inspired by Miami's art deco district
FROST – Frost is the name multiple museums in Miami and the University of Miami's School of Music
HENRY – Henry Flagler connected Miami with his Florida East Coast Railroad.
JACKSON – Miami's Jackson Memorial Hospital is the biggest hospital in the country
LEONARD – Leonard is the name of University of Miami's school of medicine.
SONNY – Sonny is the name of a lead character on the show Miami Vice
WATSON – Watson Island is a neighborhood in Miami
WYNN – Wynwood is the name of Miami's arti district and would make a cool Miami name for a boy or girl.
Names Inspired by Florida Beaches
Florida has endless miles of beaches and you can draw baby name inspiration from all the great beach names. Don't worry, I saved you time by combing through the list of every Florida beach and found the ones that could be wearable as a name.
Bellair
Beverly
Carrabelle
Casey
Dania
Destin
Flagler
Holmes
Jensen
Juno
Neptune
Ormund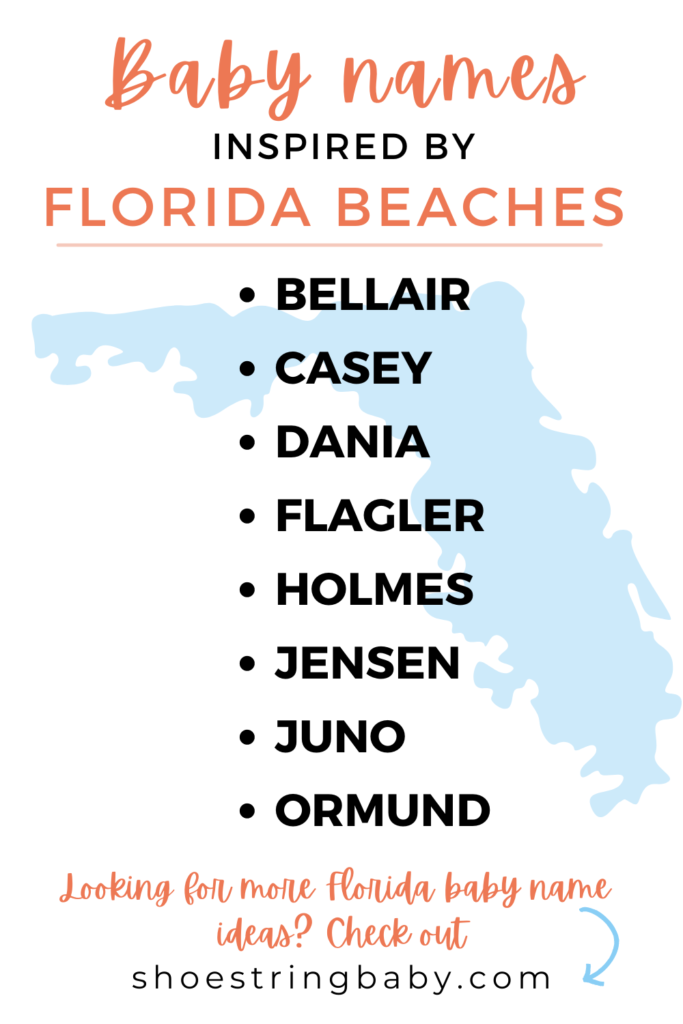 Baby Names Inspired by Nature
Most visitors to Florida enjoy our beautiful nature. In addition to beaches, Florida is full of lakes, rivers and unique wildlife. While you probably don't want to name your baby after an alligator, perhaps some of these Florida-inspired names from nature will strike your fancy.
Of the names below, I really like Sabal as a unique Florida name for Sabal Palm tree (sadly, I was unsuccessful at selling my partner on the name for our kids). Oleta is also a unique way to get to the popular nickname Ollie.
Abbott (Lake Abbott)
Belle (Bell lake)
Bells (Bells river)
Braden (Braden River)
Ginnie (Ginnie Springs)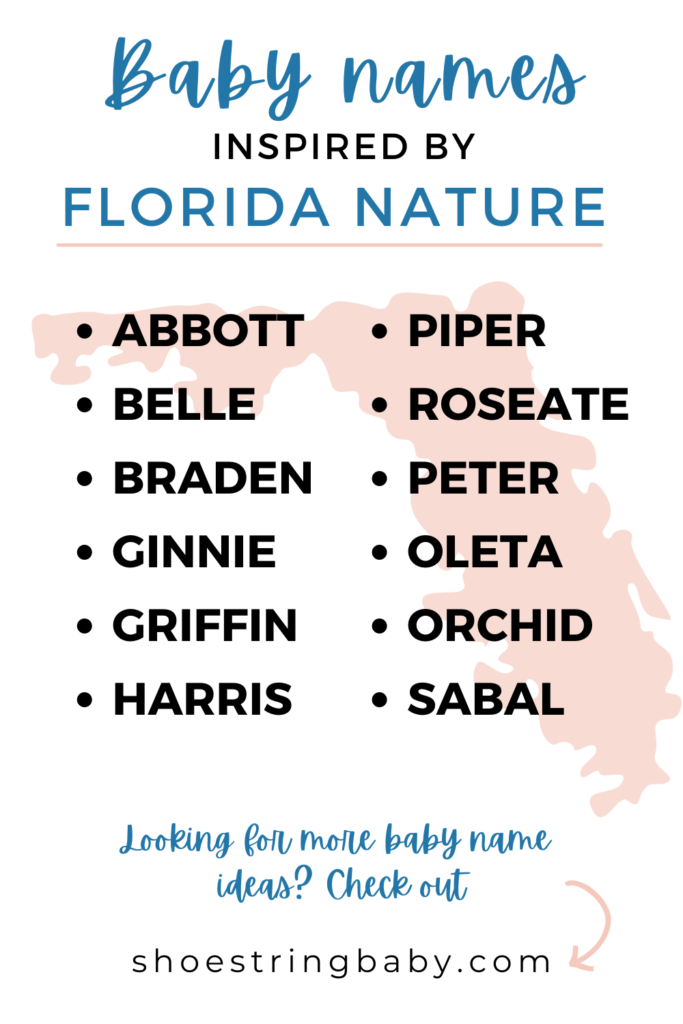 Griffin (Lake Griffin)
Harris (Lake Harris)
Piper (common Sandpiper birds)
Roseate (Roseate Spoonbills, a Florida coastal bird)
Oleta (Oleta River)
Orchid (Florida is home to over 100 varieties of orchids)
Rosalie – (Lake Rosalie)
Sabal (Sabal palmette, Florida's official tree)
Personalized Baby Gear
Once you've found the perfect Florida-themed baby name, check out these baby items that you can personalize:
Florida islands themed names
Much like beaches, Florida has no shortage of islands. After Alaska, Florida has the second-most number of islands in the United States, clocking in at 4,510 islands over 10-acres (source from Florida Almanac).
I reviewed the list of Florida islands so you don't have to. Here are the best baby names inspired by Florida island names. Windley would fit in with other constructed names that add an -ley ending that are popular today, like Wrenley and Waverly.
Amelia
Anastasia
Anna Maria
Archer
Caladesi
Cedar
Fisher
Fleming
Isla
Jupiter
Lido
Marco
Merritt
Ritta
Sanibel
Scout
Virginia
Windley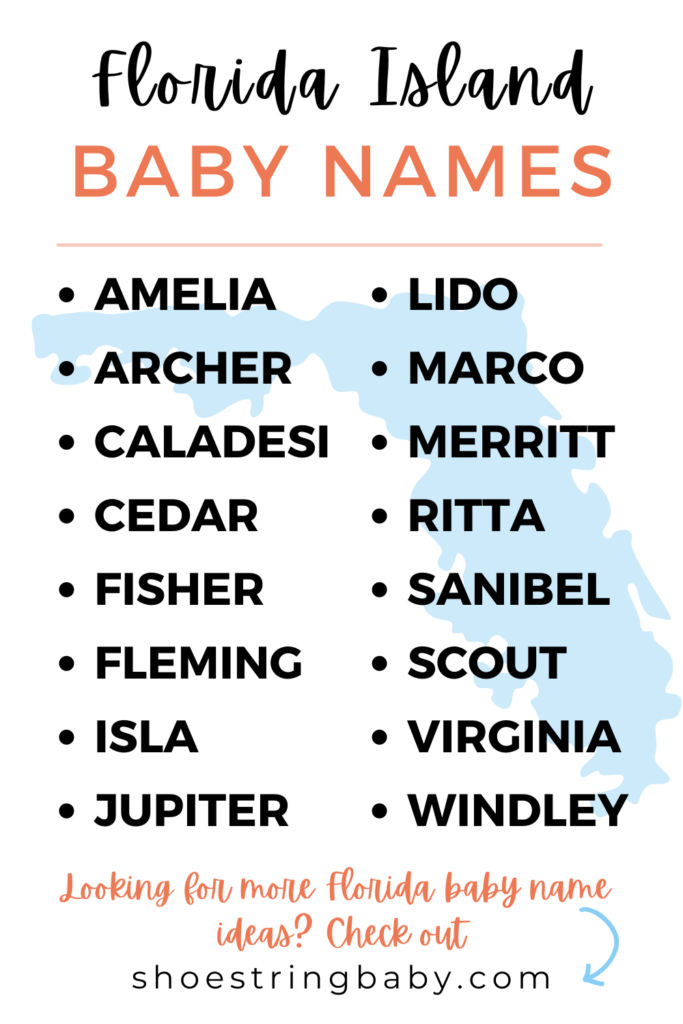 Baby names from Florida counties
Last on the list of Florida baby names are names of Florida counties. Florida has 67 counties and I've culled the list for you to find the best ones that work as baby names.
Of these names, I like Bay as a cool gender neutral name with a nature vibe. Monroe is a name that I predict will continue to rise in popularity for girls in the coming years.
Baker
Bay
Calhoun
Charlotte
Clay
Dixie
Hendry
Hernando
Holmes
Jackson
Leon
Levy
Madison
Marion
Monroe
Taylor
Walton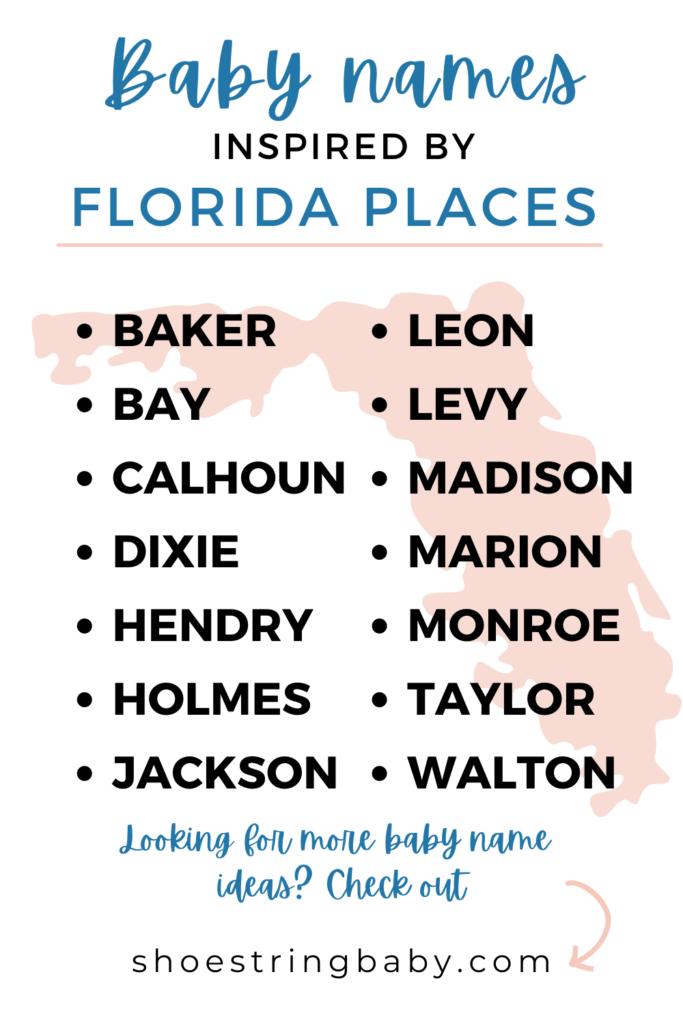 ---
Looking for more baby names? Check out how the popularity of your favorite names have changed over time with our Baby Name Trends Tool