50 Rare Beautiful Names for Girls
This post may contains affiliate links. Read the full disclosure here.
Choosing a name for your baby girl is no easy task, especially when you're after something uniquely beautiful. You're looking for that elusive blend of rarity and charm — a rare beautiful name that will stand out.
I'm here to help. I'm a researcher who has spent over five years digging into name trends, discovering hidden gems, and analyzing what makes a name fashionable. Now, I'm here to help you on your name search with this guide to rare, beautiful names for girls.
In this article, you'll find a handpicked collection of 50 rare and beautiful girl names. Each name is so unique that you won't find them anywhere on the U.S. top 1000 name listings.
These are unique baby girl names that you won't find on other name lists.
Each name below also include their meaning and origins to help give you a fuller picture of the name and its roots.
This information is sourced from my personal database of over 2000+ that I've curated over the years from books, forums, pop culture and website sources.
Whether you're soon-to-be parents, or simply a name enthusiast you loves a good name list (don't we all?), you've come to the right place.
Now let's delve into these ultra pretty baby girl names that you won't find on any top 100 list.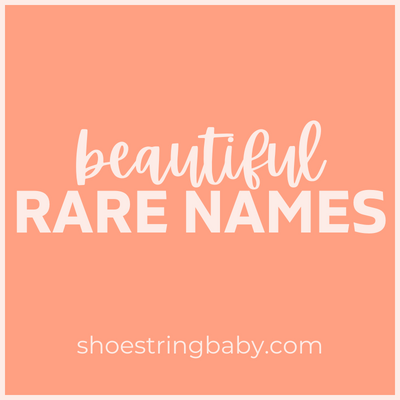 What makes a rare beautiful name?
You may be wondering what criteria I used when selecting names for this list of rare beautiful names.
First, to count as rare, the name had to be truly unique. I used the Social Security Administration name data as my source for determining unique baby girl names.
Every name on this list is outside of the top 1000. Many of them have never even entered the list in the last century.
As for beautiful, admittedly a lot of what makes a beautiful name comes down to personal preference and style.
I sought out names with lyrical sounds, appealing rhythm, and soft femininity.
Ultimately though, a beautiful name is one that feels right to you, and captures that perfect blend of sound and significance.
Beautiful unique names for girls
Now let's check out the beautiful unique girl names. There are so many names below that I love. One of my favorites is Thora, a name I wish I had heard before naming my own daughter.
I also love the unique flower names on the list, like Zinna and Azelia. These would make rare and beautiful alternatives to popular floral names like Rose and Daisy.
For more unique alternatives to popular names, take a look at Amabel instead of Annabelle and Odelia as an Olivia. Both names are as beautiful as the originals with the added bonus of being ultra rare.
1. Amabel
Meaning: lovable
Origin: Latin
2. Apolline
Meaning: belonging to Apollo
Origin: Greek
3. Araminta
Meaning: prayer
Origin: English
4. Astra
Meaning: star
Origin: Greek
5. Bloom
Meaning: new growth
Origin: English
6. Ceren
Meaning: gazelle
Origin: Turkish
7. Cosette
Meaning: little thing
Origin: French
8. Delphi
Meaning: of Delphi
Origin: Greek
9. Elowen
Meaning: elm tree
Origin: English
10. Fia
Meaning: raven
Origin: Irish
11. Galilee
Meaning: province, north Israel
Origin: Hebrew
12. Heloise
Meaning: wide
Origin: French
13. Idalia
Meaning: behold the sun
Origin: Greek
14. Jessamine
Meaning: jasmine
Origin: Persian; French
15. Joella
Meaning: Jehovah is God
Origin: French; Hebrew
16. Josette
Meaning: God will increase
Origin: French
17. Jovial
Meaning: cheerful and friendly
Origin: English
18. Liesel
Meaning: God's oath
Origin: Hebrew; German
19. Lilac
Meaning: blue, flower
Origin: Arabic
20. Lilias
Meaning: lily
Origin: Latin
21. Loa
Meaning: long
Origin: Hawaiian
22. Lucette
Meaning: light
Origin: English; Latin
23. Martine
Meaning: warlike
Origin: French
24. Morgana
Meaning: bright sea
Origin: Welsh
25. Nessa
Meaning: pure
Origin: Greek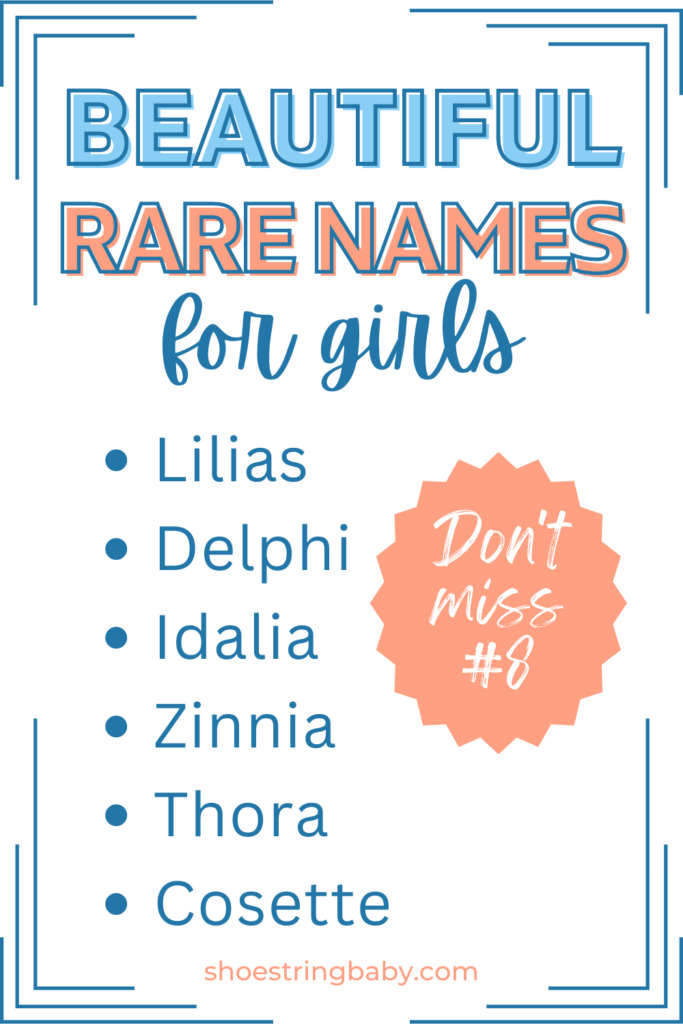 26. Neve
Meaning: snow
Origin: Latin; Irish
27. Oceania
Meaning: ocean
Origin: Greek
28. Odelia
Meaning: praise God
Origin: Hebrew
29. Ofra
Meaning: deer
Origin: Hebrew
30. Olala
Meaning: well spoken
Origin: Greek
31. Olivine
Meaning: olive tree, gem
Origin: Latin
32. Orla
Meaning: golden princess
Origin: Irish
33. Ozara
Meaning: treasure
Origin: Hebrew
34. Persimmon
Meaning: fruit
Origin: Native American
35. Phila
Meaning: loving
Origin: Greek
36. Primrose
Meaning: first rose
Origin: English; Latin
37. Roseate
Meaning: roseate spoonbill
Origin: Latin
38. Salome
Meaning: peace
Origin: Hebrew
39. Seraphine
Meaning: fiery
Origin: Hebrew
40. Solange
Meaning: angel of the sun
Origin: French
41. Solenne
Meaning: sunlight
Origin: Latin
42. Sora
Meaning: small waterbird; sky
Origin: Japanese
43. Thora
Meaning: thunder
Origin: Scandinavian
44. Uma
Meaning: light
Origin: Sanskrit, Hebrew
45. Viveca
Meaning: alive
Origin: Scandinavian
46. Wisteria
Meaning: flower
Origin: English; German
47. Zenobia
Meaning: life of Zeus
Origin: Greek
48. Ziba
Meaning: beautiful
Origin: Persian
49. Zinnia
Meaning: flower
Origin: Latin
50. Zira
Meaning: moonlight
Origin: Hebrew; Berber
Conclusion
I hope you found some new rare and beautiful name ideas to add to your lists.
As you search for unique names, remember that name trends are often unpredictable. A rare name today may not stay rare forever.
For example, names like Wrenley and Navy have gone from total obscurity to top 500 names in less than five years (source: Social Security Administration data).
Ultimately, select a beautiful name that you love and will feel timeless to you, since there is no guarantee that a name will always be rare.
Looking for more pretty baby girl names? Explore this list of handpicked first and middle names for girls that go beautifully together.
And for more unique names, don't forget to check out my list of truly rare unisex names.