[DISCLAIMER: THIS POST MAY CONTAIN AFFILIATE LINKS, INCLUDING AMAZON ASSOCIATE LINKS WHERE I EARN FROM QUALIFYING PURCHASES. THERE IS NO COST TO YOU & THE COMMISSION HELPS SUPPORT THIS SITE]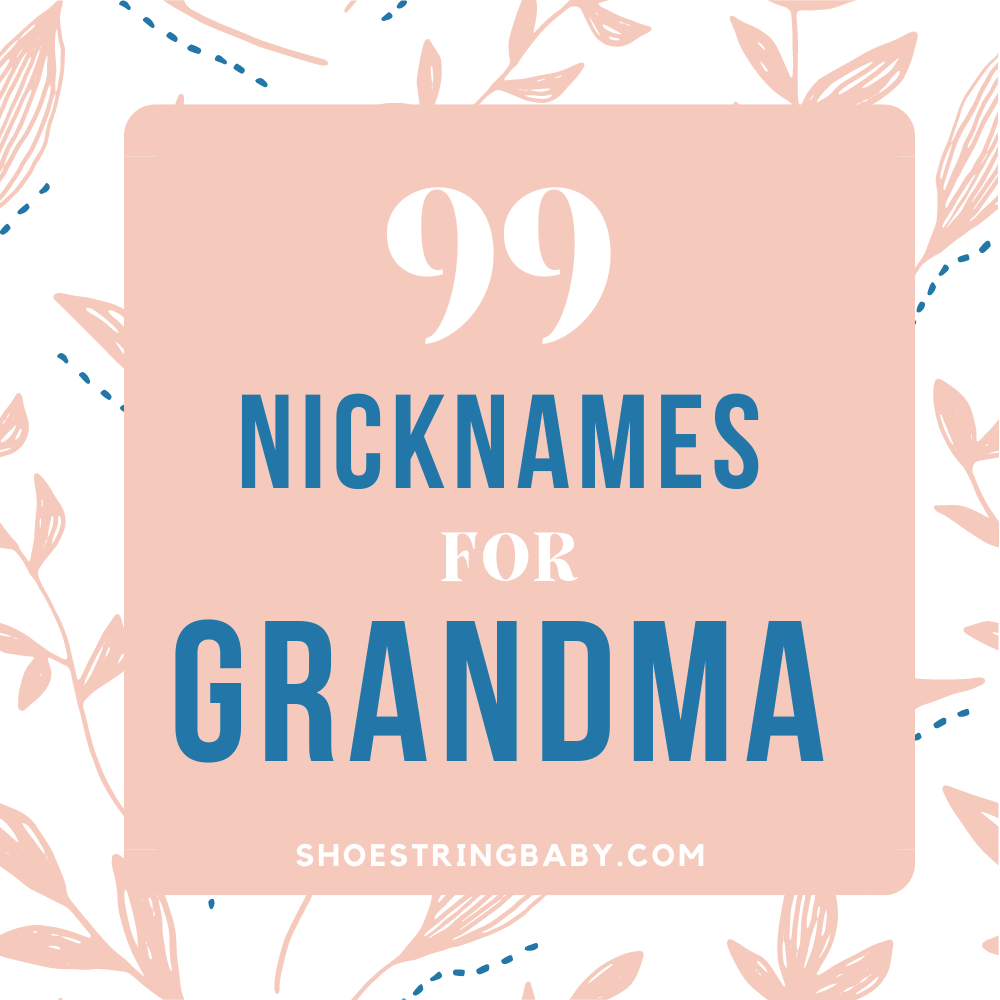 Looking to find the perfect grandma nickname? Check out this list of 99 cool alternative grandma nicknames for the future grandmother in your life.
Much like how baby names have gotten more creative with each generation, grandmas are also on the hunt for unique and cool nicknames. Maybe Grandma feels too old, or perhaps your grandchild needs a nickname that's easier to say.
Or, if you're lucky enough to have multiple generations, alternative grandmother names are also helpful in distinguishing between grandmothers and great-grandmothers.
Luckily there are so many grandma name alternatives. This list has something for every type of grandma, including: traditional grandmother nicknames, modern and cool nicknames, unique grandma alternatives, and grandma names from around the world.
Though be warned, you may find the perfect grandma nickname but at the end of the day, a toddler usually gets the final say. Who knows what different grandma names the grandkids will come up with once they can talk!
Traditional Grandmother Nicknames
First up we have more traditional alternative names for grandma. These different grandma names are ones you've probably heard or even used in the past. I called my own grandmother "Grams."
Of the names on this list, G would make an effortlessly cool grandma nickname and Grandmimi is particularly sweet.
Gram/Grams
Gran
Grammy
Nanny
Nana
Noni
Memaw
Granny
G-ma
Grand-mama
Mawmaw
Gaga
Maw (a grandma nickname with Golden Girl vibes)
Nan
Grand-mimi
Mom-mom (a grandmother nickname in the mid-Atlantic region like Pennsylvania)
Gran-gran
Grandmommy
Gan / Gan-Gan
Gamma
Grandmom
Gaga
Mumsy
Grand-lady
G
Modern & Cool Grandma Nicknames
Like the famous Mean Girls' quote goes, you're not like a regular grandma, you're a cool grandma, and need a cool grandmother name to match. Below you'll find modern and cool grandma nicknames ideas.
Related Posts: 40 Cool Girl Names with Boyish Nicknames
Maybe the future grandma in your life is a Glamma like Goldie Hawn or a Honey like Sharon Stone. Pixie and Bella are particularly modern options too.
Mimi
Zanni (the grandma nickname of Suzanne Summers)
Glamma (a name popularized by the famous Goldie Hawn)
Gigi
Nini (the word for grandmother in Sudanese)
Anya
Yaya
Honey (the grandma nickname of Sharon Stone)
Nonna
Mae-mae
Bomma (Flemish name for grandma)
Gogo
Ommy
Yaya
Teta (Arabic nickname for grandmother)
Amma
Deedee
Grandy
Lela (a nickname for the abuela)
Mamo
Ona
Mimsy
Marmee (the name of the grandmother character in Little Women)
Pixie
Bella
Unique Grandma Name Alternatives
Next up we have unique grandma name alternatives. These nicknames don't immediately shout grandma but would be sweet, special names to share with a grandkid.
Having a grandmother "Lolly" and a grandfather "Pop" would be almost too adorable. I'm also partial to Boo and Trix, which I've loved since I first heard it on Gilmore Girls.
A name like Lala or Ya would be easy for a baby to say, which is key if you want to be strategic and have your name to be one of the first words your grandkid says.
Bunny (with the cute nickname Bun-bun)
Babs
Minnie
Lovey (the grandma alternative used by Kris Jenner)
Birdie
Tutu (Hawaiian nickname for grandmothers)
Bibity
Lala
Bubba
Lola (Filipino name for grandmother)
Bebe
Avia (Latin for grandma)
Pippy
Darling
Ya (Thai nickname for grandma)
Sweetie/Sweets
Cookie
Trix (the nickname of Rory's grandmother in Gilmore Girls)
Dumpling
Boo
Pumpkin
Banana (a cute play off the ever-popular Nana)
Coco
Lolly (pair this one with Pop for grandpa!)
Grandma Nicknames From Around the World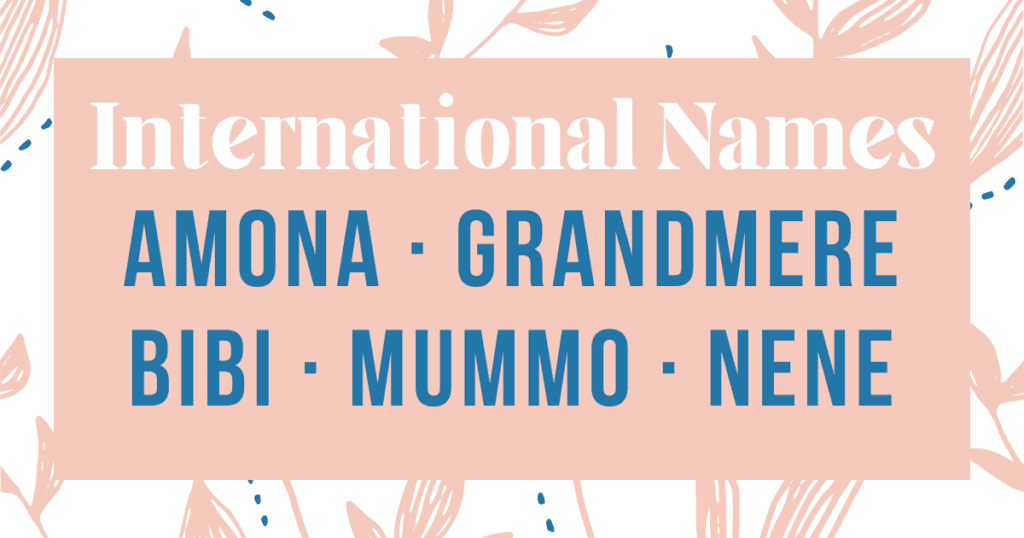 Finally, below are different grandma names used around the world. Each includes the language where the grandmother name originated.
I studied Swahili in Tanzania so I have a personal soft spot for Bibi, and also think it would be easy for a toddler to say. Mummo and Pog are funky grandma nickname options too.
Bubbe (Yiddish)
Savta (Hebrew)
Nene (Turkish)
Mummo (Finnish)
Yiayia (Greek)
Oma (German)
Bibi (Swahili, this grandma name also means 'lady')
Nyanya (Swahili)
Ommu (Icelandic)
Avino (Esperanto)
Avoa (Gallego, a language of northwest Spain)
Abuela (Spanish)
Bubushka (Russian)
Ouma (Afrikaans)
Jadda (Arabic)
Baba (Macedonian, though also a common father & grandfather in other languages)
Halmoni (Korean)
Beppe (Western Frisian, a language of the Netherlands)
Ugogo (Zulu)
Pog (Hmong)
Grandmere (French)
Sobo (Japanese)
Amona (Basque)
Lao lao (Chinese)
Nenek (Indonesian)