65 Radiant Girl Names That Start With R
This post may contains affiliate links. Read the full disclosure here.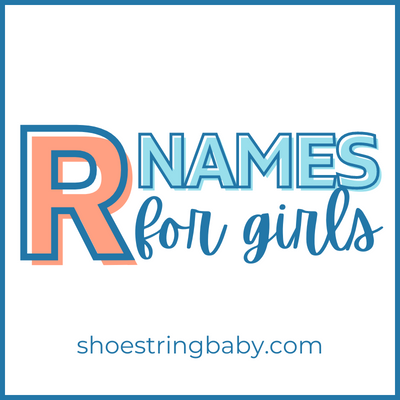 Welcome to your ultimate list of baby girl names that start with R. This curated selection of 65 R names for baby girls was handpicked to save you time on your name search.
Choosing the right name is a monumental task for new parents. With my own experience naming kids and years as a Ph.D. researcher, I understand all too well how daunting it can be.
I handpicked the baby girl R names on this list and organized them by different naming styles to make your name decisions a little easier.
Below you'll find girl names starting with R including timeless classics and modern favorites. You'll find cute girl R names and gender-neutral choices too.
Each name is listed below with its meaning and origin so it's a one-stop shop. The name information is sourced from my extensive database of over 2000+ names, compiled over years from pop culture, books, websites and forums.
No matter who you are – an expectant parent, a name enthusiast, or just a casual browser, I hope this guide makes your name search easier.
And if you're looking for more name ideas, you may also like my list of names starting and ending with the same letter.
On to the names!
Classic Girl Names Starting with R
Up first are classic girl names that start with R. These timeless girl R names have held a spot on U.S. top 1000 list for most of the last century (rankings sources from the U.S. Social Security Administration data).
Two classic girl R names I want to highlight are Ramona and Rita. Both names were popular in the first half of the 20th century before dipping off the charts. In the coming years, they are likely to feel fresh and fashionable again.
1. Rachel
Meaning: Ewe
Origin: Hebrew
2. Ramona
Meaning: Wise protector
Origin: Spanish; German
3. Raquel
Meaning: Ewe
Origin: Spanish; Portuguese; Hebrew
4. Rebecca
Meaning: Captivating
Origin: Hebrew
5. Regina
Meaning: Queen
Origin: Latin
6. Renee
Meaning: Reborn
Origin: French
7. Rita
Meaning: Pearl
Origin: Latin
8. Rosalind
Meaning: Pretty rose
Origin: French
9. Rosemary
Meaning: Herb, dew of the sea
Origin: Latin
10. Ruth
Meaning: Friend
Origin: Hebrew
Cute Girl Names That Start with R
The next section highlights cute girl names that start with R. These charming names are perfect for baby girls. Cute girl R names feel friendly and easy-to-wear.
Romilly and Rosalie are especially cute girl R names. Romilly is a unique gender neutral name that has yet to rank in the U.S. Not only is Romilly cute but it comes with the super cute nicknames Milly or Romi.
11. Raina
Meaning: Queen
Origin: Slavic
12. Ravi
Meaning: Sun
Origin: Sanskrit
13. Reina
Meaning: Queen
Origin: Spanish
14. Remi
Meaning: Oarsman
Origin: French; Latin
15. Romilly
Meaning: Of Rome
Origin: English; French
16. Romy
Meaning: Of Rome
Origin: English
17. Rosalia
Meaning: Rose
Origin: Italian
18. Rosalie
Meaning: Pretty rose
Origin: French
19. Rosie
Meaning: Little rose
Origin: Latin; English
20. Roxy
Meaning: Dawn
Origin: Persian
21. Rutha
Meaning: Friend
Origin: Hebrew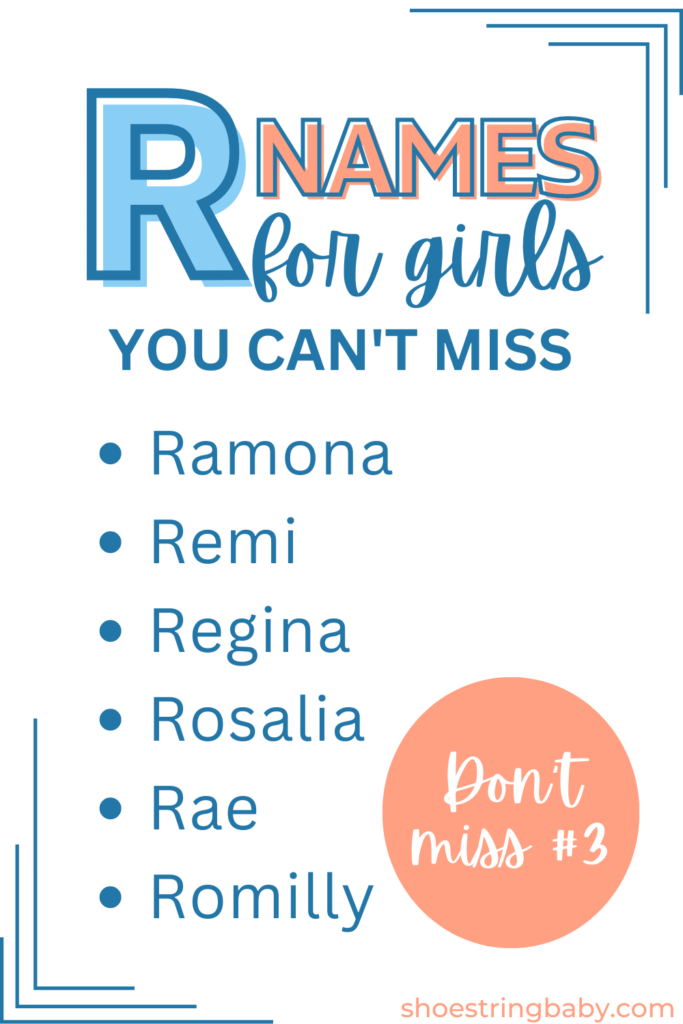 Unique R Names for Baby Girls
Perhaps you're looking for unique girl names that start with R. These R names are all below the top 500 for girls. In fact, only Rivka and Romina appear in the top 1000.
All the other names on this list are so rare that they currently don't rank in the U.S. Two I particularly like are Ripley for a gender neutral pick and Rosario as a cool full name for Rosie.
22. Rada
Meaning: Happy
Origin: Slavic
23. Rhiannon
Meaning: Queen
Origin: Welsh
24. Riona
Meaning: Queenly
Origin: Irish
25. Ripley
Meaning: Space in the woods
Origin: English
26. Rivka
Meaning: Tied or bound
Origin: Hebrew
27. Roisin
Meaning: Little rose
Origin: Irish
28. Romina
Meaning: Roman
Origin: Italian
29. Rosamund
Meaning: Horse protection
Origin: German
30. Rosario
Meaning: Rosary
Origin: Latin
31. Roseate
Meaning: Roseate spoonbill
Origin: Latin
Modern R Girl Names
Next we have girl R names that trendy and fashionable. Popular names today include creative word names, nature names and soft-sounding names.
From these modern girl names starting with R, I love Raven as a cool gender neutral bird-themed name.
32. Royalty
Meaning: Royal
Origin: English
33. Raelynn
Meaning: Ewe
Origin: Constructed name; Hebrew
34. Raven
Meaning: Large black passerine bird
Origin: English
35. Raya
Meaning: Friend
Origin: Hebrew
36. Rayna
Meaning: Queen
Origin: Bulgarian
37. Reign
Meaning: Sovereign
Origin: English
38. Renata
Meaning: Reborn
Origin: Latin; Italian
39. River
Meaning: Wide stream of fresh water
Origin: English
40. Roselyn
Meaning: Gentle horse; pretty rose
Origin: German; Latin
41. Royal
Meaning: Royalty
Origin: French; English
42. Ruby
Meaning: Precious red gem
Origin: Latin
43. Ryder
Meaning: Horseman
Origin: English
44. Rylan
Meaning: Island meadow
Origin: English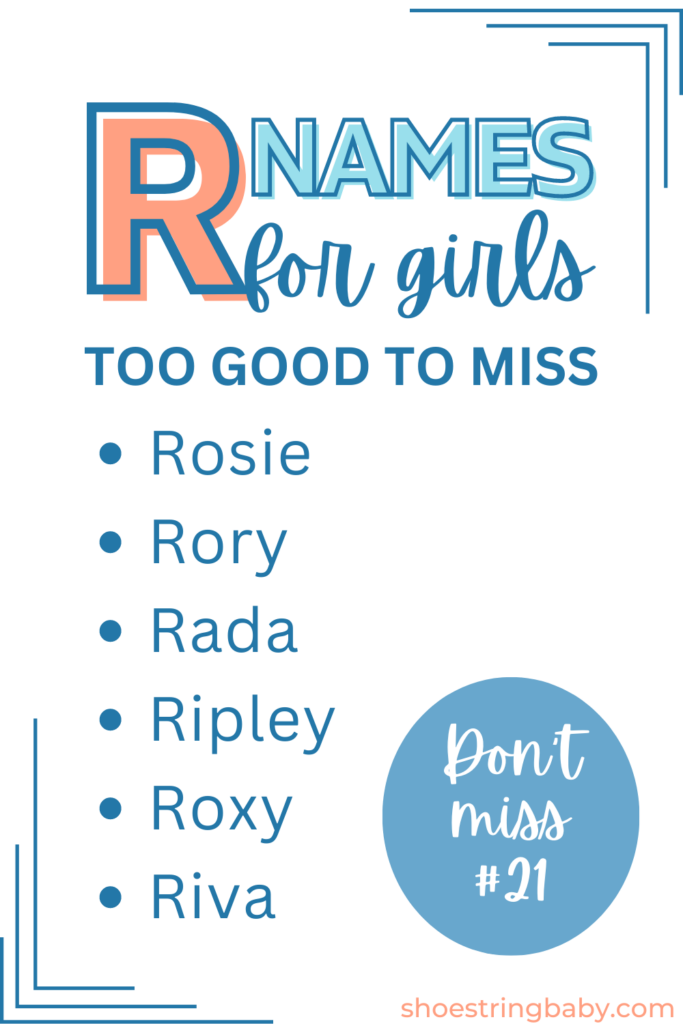 Short Girl R Names
Now let's turn to short R names for girls. These names are one syllable or two syllables and four letters or less.
Short names are great for keeping things simple and easy to spell. From the names below, I like Riva as a unique pick. Riva comes from Hebrew and means "maiden."
45. Rae
Meaning: Shy one, doe
Origin: English
46. Rain
Meaning: Rain shower
Origin: English
47. Ray
Meaning: Counseling protector
Origin: English
48. Rhea
Meaning: Flowing
Origin: Greek
49. Riva
Meaning: Maiden
Origin: Hebrew
50. Rosa
Meaning: Flower
Origin: Latin
51. Rose
Meaning: Flower
Origin: Latin; French
52. Roux
Meaning: Red
Origin: Latin; French
53. Row
Meaning: Rowan tree
Origin: Irish, Scottish
54. Rue
Meaning: Herb
Origin: English
Gender Neutral R Names for Girls
Finally, we close the list with gender neutral R names for girls. Gender neutral names are all the rage and give your baby future flexibility.
I love writing about gender neutral names so if you like these names, don't forget to check out my list of vintage unisex names with old-fashion charms.
55. Randy
Meaning: Wolf
Origin: English
56. Rayan
Meaning: Wise, plentiful
Origin: Persian; Arabic
57. Reagan
Meaning: Little ruler
Origin: Irish
58. Reed
Meaning: Redhead
Origin: English
59. Reese
Meaning: Ardent
Origin: Welsh
60. Remington
Meaning: Raven's town
Origin: English
61. Riley
Meaning: Wood clearing
Origin: English; Irish
62. Robin
Meaning: Songbird, bright
Origin: German; English
63. Rory
Meaning: Red king
Origin: Irish
64. Rowan
Meaning: Red-haired, rowan tree
Origin: Irish; English
65. Ryan
Meaning: Little king
Origin: Irish
Looking for more R-names? I also have a list of R names for boys to check out.