25 Vintage Unisex Names: Antique & Gender Neutral Ideas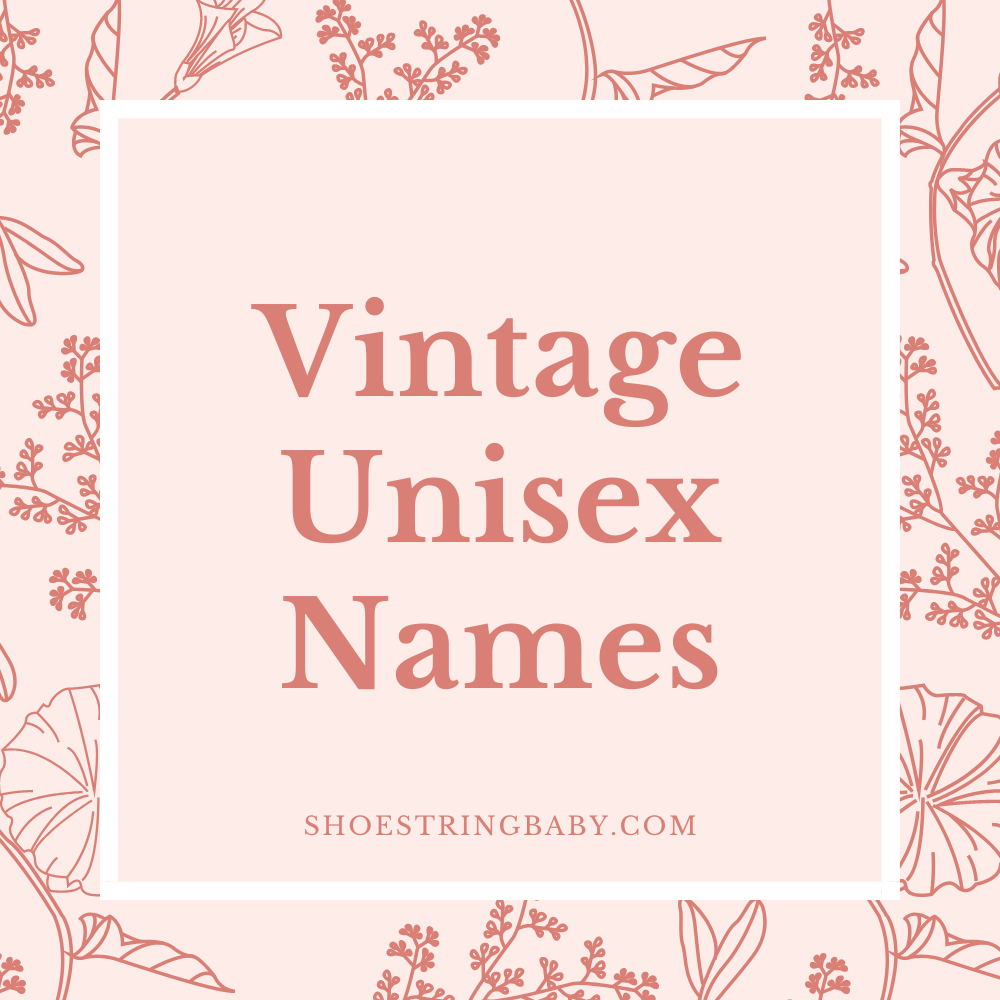 Looking for the perfect name that is both vintage and unisex? Then check out this list of 25 antique gender neutral names, with a little about each name's history and meaning.
Vintage and antique names are generally thought of as names that were popular around 100 years ago before fading out of fashion.
[DISCLAIMER: THIS POST MAY CONTAIN AFFILIATE LINKS, INCLUDING AMAZON ASSOCIATE LINKS WHERE I EARN FROM QUALIFYING PURCHASES. THERE IS NO COST TO YOU & THE COMMISSION HELPS SUPPORT THIS SITE]
Finding the overlap between vintage and unisex names is a tall order since society was much more conservative about gender divisions a century ago.
But fear not, there are some vintage names that are both unisex and antique. Some of the names below have always been given to both genders, while others have shifted unisex in recent years.
It is often said that names trend along a 100 year cycle so the 25 vintage unisex names below are well-positioned to be fashionable picks for a baby born today.
And if you like gender neutral names, don't forget to check out these other lists:
On to the old fashioned names!
Amias
Amias comes from Latin and means "beloved." Amias is more commonly seen for boys because a feminized version of the name became one of the most popular girl names of a generation — Amy.
Arden
Arden is an English name that means "eagle valley." This genderless name charted for both boys and girls around 100 years ago making it vintage. It has started to creep back up for both girls and boys but has yet to find its footing on the top 1000 lists.
Arlington
Arlington would fit in nicely with other trendy place names today like Brooklyn and Hudson. This unisex name saw its peak popularity in 1880's making it truly vintage. Arlington also makes my list of unique unisex names.
August and Augustine
August was a highly popular name at the turn of the century and has recently come back into fashion in a big way. If August is too popular for you, Augustine is the rarer option that follows a similar popularity trend. The names come from Latin meaning "venerable."
Beryl
Beryl is an antique gender neutral name that peaked in the early 1900's for both genders. Beryl has yet to enjoy the revival happening for other gemstone names like Ruby and Opal. The name comes from Greek origins.
Constantine
Constantine is a name coming from Latin meaning "steadfast." More common as a boy's name, Constantine is a variation of Constance occasionally given to girls.
Dell
Dell enjoyed moderate popularity for both boys and girls in the 1880's. It is positioned well to be a fashionable grandma or grandpa-style name, making it a perfect vintage unisex name. The name comes from English and means "meadow."
Join our baby name facebook group!
Love chatting about baby names and trends? Join the discussion over on our new Facebook group. Plus, get FREE help finding the perfect baby name!
Eli
While Eli is more often thought of as a boy's name, it also works for girls as a nickname alternative to Ellie for names such as Elizabeth, Elise and Eliana. Eli falls under the vintage umbrella as a favorite around the turn of the century; that said, it's more popular now than ever before.
Everett
Everett is a gender neutral name, though it is much more commonly worn by boys. Vintage Everett was a popular turn-of-the-century name currently enjoying a major resurgence. It appeals to girls as a unique way to get to the nickname Evie. The name means "boar" and comes from German.
Frankie
Nicknames as given names and gender neutral names are both hot trends at the moment. Frankie fits the bill on both, and also has that vintage feel since its peak popularity was the first half of the 1900's. Frankie as a nickname makes my list of boyish nicknames for charming girl names too. It comes from Latin meaning "free."
Freddie
Freddie as a given name was surprisingly popular for both boys and girls in the first half of the 1900's. It's popularity peaked around the 1930's making the name posed for a comeback in the next decade. Freddie is a diminutive of the German name Frederick, meaning "peaceful ruler."
Gale
Popular in the 1930's and 1940's, Gale has slipped away into obscurity in recent years. The name can reference the winds, a diminutive of Abigail, or a surname meaning "jovial."
Georgie
Georgie hit peak popularity as a given girls' name in the 1880's, hitting #284 on the charts. This antique nickname has yet to come back into style as a given name but is often used as a nickname for George and Georgia. The name has Greek origins and means "farmer."
Harlan
Harlan was a hit name for boys in the 1920's and 1930's that has become gender neutral. Still more popular with boys, and currently enjoying a revival, it is a unique crossover pick for girls. The name means "rocky land" from German.
Harley
While Harley may sound like a modern girls' name, it is actually a name that's been popular since the 1880's (the start of the Social Security office's data set). The name was first popular for boys, ranking #196 in 1903. Harley didn't take off for girls until the 1990's, possibly on the coattails of popular Hailey. The name means "hare's meadow."
Hollis
Hollis is an under-the-radar antique unisex name. The name enjoyed popularity for boys in the early 1900's and briefly made the girls' chart in 1948. Hollis comes from English and means "near a holly tree."
Jean
Jean sounds like a grandma name, making it an obvious antique unisex name pick. Jean is more commonly seen as a feminine name in English-speaking countries but it is the masculine equivalent of John in France. The name means "God is gracious."
Jules
Jules enjoyed moderate popularity for boys at the turn of the century and has since shifted to being a unisex name. It has been off the radar long enough that it feels fresh and charming again. The name derives from Latin meaning "youthful."
Leander
Leander is an antique unisex name meaning "lion man" that comes from Greek. The name enjoyed peak popularity in the 1880's, topping out at #440 for boys. It hasn't charted in over 50 years, making it a very vintage gender neutral option.
Leland
Last popular in the 1920's, Leland has waited a hundred years for its current revival. More commonly used for boys, Leland is in fact an antique gender neutral that was rarely used for girls as early as the 1880's. The name comes from English for "meadow."
Marion
Could Marion be the next grandparent-chic name to experience a resurgence? Like rediscovered classics such as Matilda and Theodore, Marion was extremely popular for girls and boys around the turn of the century. The name means "star of the sea" from French.
Royal
Royal sounds like it is a modern word name, like Legend or Justice. However, this gender neutral name is actually vintage. It hit its peak popularity to date in the 1880's and only came back on the scene in the last decade. Upon this return, Royal shifted from a boy's name to being unisex — it currently charts for both boys and girls. The name comes from French and English.
Tennessee
Tennessee is a rare unisex name that briefly broke into the top 1000 for girls in the 1880's. After having fallen off the radar for over a century, it has recently started to creep up slightly but is still rare enough to not have a strong gender association. This place name comes from Native American origins.
Valentine
Valentine is perfectly antique gender neutral name that is posed for a revival. It enjoyed moderate popularity for boys around the turn of the century but slipped into obscurity in the 1950's. There has only ever been enough girl Valentines to break into the top 1000 for one year, in 1917. It comes from Latin meaning "healthy."
---
For more on names, check out: