35 Grunge Names for Your Alternative Rock Baby
This post may contains affiliate links. Read the full disclosure here.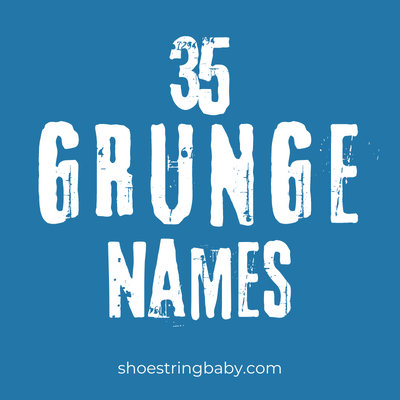 Are you a fan of the grunge era, looking for grunge names that captures its grit and rebellious spirit? You're in the right spot. This article is a hand-curated list of baby names inspired by the grunge music scene of the late '80s and early '90s.
Finding the perfect name for your baby can feel overwhelming. I understand the struggle, having poured hundreds of hours into researching names for my own children.
I'm a Ph.D. researcher and have been applying my skills to my love of baby names for over 5 years. I did a deep-dive into the grunge subculture and its iconic bands, like Nirvana, to create a list of era-inspired names.
Whether you're soon-to-be parents seeking a distinctive name, a writer hunting for character inspiration, or a name enthusiast wanting to delve deeper into the grunge era, this guide is for you.
I've included names of notable grunge stars, broken down by girl grunge names and boy grunge names. Every name on the list features its meaning and a touch of grunge history, backed by my personal research into the grunge era.
And if you love names inspired by subculture, you may also be interested in my write-up of hippie-inspired names.
Now, let's dive into the world of alternative baby names. Distinctive, edgy, and steeped in music history, these grunge names are ready to rock the cradle.
Grunge Girl Names
First up, let's look at grunge girl names. These names all have ties to the Seattle sound, with influences from grunge bands, musicians, songs and albums.
You'll find a variety of names from classics like Alice to more unique names like Bloom. You'll also find some popular 90s baby names like Courtney and Kim, both of which were top 100 names in the 90s (source: Social Security Administration data).
With each name you'll find a blurb about its connection to grunge subculture. This information was sourced from the grunge subreddit, album lists and Wikipedia. More specific sources are also give when applicable.
1. Alice
Inspired by Alice In Chains, one of the defining bands of the grunge era.
2. Kim
Paying tribute to Kim Deal of the Pixies, a band the influenced the grunge movement including Smells Like Teen Spirit (source). Kim Thayil was also the guitarist of Soundgarden.
3. Courtney
A nod to Courtney Love, the iconic front-woman of Hole and wife to Kurt Cobain.
4. Pearl
Not only does Pearl fit in with today's grandma-chic name trend, it also works for a 90s grunge girl name. Pearl can be a nod to Pearl Jam, one of the most influential bands of the grunge era.
5. Frances
A tribute to Frances Bean Cobain, the daughter of Kurt Cobain and Courtney Love.
6. Emerald
Gemstone names are on trend for girls and Emerald can be a nod to grunge's birthplace, Seattle. One of Seattle's nicknames is Emerald City.
7. Bloom
Bloom could make a pretty girl name in honor of the Nirvana song In Bloom. The softness of Bloom juxtaposed with the grit of grunge makes for a compelling honor name for grunge.
8. Polly
For a little more subtle Nirvana girl name, Polly could be a cute option based on the Nirvana song.
9. Rose
For the Screaming Trees first major single, Bed of Roses.
10. Bell
Bell could honor Tina Bell, the front-woman of Bam Bam. Bam Bam is considered grunge pioneers and the band was black female led in what as often seen as a white dude subculture (source).
11. Olympia
Grunge originated in Washington, with bands like Nirvana and Bikini Kill spending significant time in Olympia (source)
12. Apple
Gwenyth Paltrow may have made Apple a baby name, but it also works as a grunge name inspired by album title of Mother Love Bone. Some members of Mother Love Bone would go on to form Pearl Jam.
13. Honey
Honey could be a cute grunge girl name for the band Mudhoney.
Grunge Boy Names
Now we'll turn to alternative rock baby names for boys. Like the girl names above, each grunge boy name has ties to the grunge area. It includes obvious choices like Nirvana baby names to more subtle grunge references in honor of grunge's birthplace in Seattle.
Of the boy names below, I particular like Melvin. Not only does it have strong grunge ties to the band the Melvins, it is a name due for a revival. Peaking in popularity in the 1920s, it is the perfect blend of unique today with old man vibes.
14. King
Seattle, located in King County, is considered the home of grunge (source).
15. Francis
Black Francis led the Pixies, a band that greatly influenced Seattle grunge.
16. Kurt
If you want a Nirvana baby name, Kurt is the most obvious choice for the band's front-man. As a bonus, Kurt is a rare name today, having fallen off the top 1000 in 2005 (source: Social Security Administration data).
17. Floyd
Floyd is a grandpa name ready for comeback. Plus, it can be a grunge boy name for the Nirvana song Floyd the Barber
18. Jeremy
Jeremy has been a constant on the boy name charts since the 1940's. It can also be a grunge baby name for the Pearl Jam song Jeremy.
19. Melvin
Melvin is a grandpa-chic name that could be a boy grunge name in honor of the band the Melvins.
20. David
Dave Grohl was the drummer for Nirvana before forming the Foo Fighters
21. Bruce
Bruce Pavitt was a founder of SubPop, the record label credited with signing major grunge bands Nirvana, Mudhoney and Soundgarden (source). 6 Songs for Bruce is also an album from the iconic grunge band, Soundgarden.
22. Moore
Moore theater was a popular venue for grunge bands in Seattle (source)
Unisex Grunge Baby Names
Next up are unisex grunge baby names. These names subvert traditional gender norms, a value shared by grunge greats like Kurt Cobain (source).
23. Shannon
Shannon is a great unisex name and can have grunge roots, inspired by Shannon Hoon, the lead singer of Blind Melon.
24. River
River is a popular unisex name today, ranking in the top 200 for both boys and girls (source: Social Security Administration data). River can also be a grunge name for Green River, a Seattle-based early grunge band.
25. Lane
For Layne Staley, the late lead vocalist of Alice in Chains.
26. Cameron
After Matt Cameron, the drummer for Soundgarden and later, Pearl Jam.
27. Murphy
For the drummer of Dinosaur Jr. who goes by Murph.
Unique Grunge Names
Finally, we close the list with more unique names inspired by grunge. These aren't names you'll find on the top 1000 list and are sure to stand out on the playground.
28. Vedder
Vedder could be a unique grunge name, taken from Eddie Vedder, the lead vocalist of Pearl Jam.
29. Riot
If Maverick can be a popular name, why not Riot? Riot could represent the riot grrrl movement which is closely associated with the grunge era.
30. Cobain
Surnames as first names is a popular trend today. However, Cobain may be a bold choice, given the fate of Kurt Cobain.
31. Nirvana
If Genesis and Heaven can be popular baby names, why not Nirvana? Nirvana would be the ultimate grunge baby name while also fitting into with today's unique word name trend.
32. Sound
Again, in a time when unexpected words are used for names, Sound just may work as a baby name. Sound is inspired by Soundgarden, another leading band of the grunge era.
33. Cornell
Chris Cornell was the singer of Soundgarden
34. Star
Star briefly ranked as a girl name in the late 70's and 90's. It could also be a grunge baby name inspired by the Seaweed's song Stargirl.
35. Rebel
Rebel Girl was a single from the band Bikini Kill, part of the riot grrrl movement closely associated with grunge.
Looking for more name ideas? Check out this list of computer inspired name for your nerdy baby.