185 Radically Cool Hippie Names For Your Baby (2023)
This post may contains affiliate links. As an Amazon Associate, I earn from qualifying purchases. Read the full disclosure here.
Looking for a boho name for your future baby? Try out some of these 175 earthy and free-spirited hippie names. The list includes peace and flower power names, 60s and 70s names, and hippie names for boys and girls.
I'm a researcher and use my analytic skills to chart baby name trends and data. I handpicked these hippie names to go with the peaceful, nature vibe of hippie counterculture.
I also researched names that hit peak popularity in the 60s and 70s during the hippie era. Plus, you'll find a deep dive into names inspired by Woodstock, the pinnacle of the hippie movement.
The list below features names that are quirky, crunchy and peaceful. Drawing inspiration from nature, flowers, the cosmos, and hippy subculture, there are name ideas to fit every naming style. You'll also find some off-beat, unique names that embody hippies' nonconformist, boho quality.
And if you like free-spirited names, you may also enjoy my list of 101 Nonbinary Names. And for more earthy names, explore this list of names meaning sun and light.
Now let's explore these groovy names.
Join our baby name facebook group!
Love chatting about baby names and trends? Join the discussion over on our new Facebook group. Plus, get FREE help finding the perfect baby name!
Top 10 hippie names
No time to read the whole article? Here are my top 10 hippie names for your future flower child.
Harmony (peace and unity)
Ashbury (the hippie movement's center in San Francisco)
Daisy (for hippies' daisy headbands)
Apollo (for the 60's & 70's moon missions)
Dove (nature name & peace symbol)
Garcia (for Jerry Garcia)
Wisteria (a flower power name)
Misty (a 1970's name)
Axel (father of peace)
Lefty (a name for liberalism)
Why pick a hippie baby name?
Hippie baby names fit surprisingly well in current baby-naming fashion. Parents today value creativity and individuality in their baby names. They are happy to buck societal expectations in search of something fresh.
This embrace of nonconformity was also a core belief during the hippie days of the 1960s and 70s. In this way, parents today are primed to enjoy hippie-inspired baby names. The hippie counterculture is a great place to find new and unique ideas that are individual and free-spirited.
Plus, hippie names have a little of everything: nature and earthy vibes, vintage and groovy nostalgia, and boho and peace-loving feelings. This broadness means there will likely be something for everyone on this list.
Hippie baby names are perfect for those looking for names that bounce to their own drummer and carry positive and uplifting meanings.
Names inspired by symbols of hippie culture
ASHBURY: The Haight-Ashbury neighborhood was the center of the hippie movement in the 1960s (source on hippy movement center).
DAISY: Daisy chain headbands were an easy way to identify members of the hippie counterculture. Not only are daisies a symbol of hippiedom, but the name is also enjoying a resurgence today, making it an on-trend pick.
DOVE: Peace was the rallying cry of the hippie movement. The dove, an international symbol of peace, thus also became associated with hippie culture. Plus, bird names are very fashionable today, so a baby named Dove would be in good company with Wrens and Larks at the playground.
FRANCISCO: Francisco could be a name honoring hippy counterculture as a reference to San Francisco, the center hub of the movement in the 1960s and 70s.
KLEIN: VW minibusses became associated with the hippie movement since they could transport many people together. They were originally called Kleinbus in Germany (source on VW minibusses). While Volkswagen is too cumbersome of a name, Klein could be a unique and subtle nod to the iconic hippie symbol.
TY: Ty is a great name that could also be a subtle hippy name for your baby. Tie-dye clothing was a favorite among the hippie counterculture youth and became associated with the peace-loving movement.
WOODY: Woody could be a name to honor the hippie touchstone, Woodstock. Woody and Woodrow saw peak popularity in the first half of the 1900's, so they may be up for a revival soon.
Hippie baby names inspired by Woodstock
Woodstock is perhaps the most historic moment in hippie culture (source on Woodstock). The music festival was billed as a weekend of "peace and music" attended by over 400,000 people. Many of the performers at Woodstock were icons of the hippie era.
In honor of this hippie cultural touchstone, here are hippie names inspired by the Woodstock lineup.
AUGUST: August is the month that Woodstock took place and a lovely unisex name popular today.
ARLO: Arlo is a trendy baby name with hippie Woodstock roots. Arlo Guthrie performed on the first day of Woodstock.
CREDENCE: this gender neutral virtue name is shared with Woodstock musicians Creedence Clearwater Revival
CROSBY: Crosby is one part of Crosby, Stills, Nash and Young who played the second day of Woodstock
GARCIA: Jerry Garcia was considered a leading figure of the hippie movement, making Garcia a clear hippie baby name idea.
HENDRIX: Hendrix would fit in nicely with today's naming fashion, with its ending -x. The name could honor Woodstock legend, Jimi Hendrix.
JANIS: Janis Joplin performed at Woodstock. The name Janis had fallen from popularity by the end of the 1970's, making the name heavily associated with the hippie era.
LESLIE: Leslie West was the guitarist of the band Mountain. During the hippie period is when the name Leslie shifted from a predominantly male name to a female name.
LICORICE: Licorice McKenchie was a member of the Incredible String Band. The name Licorice is free-spirited enough to appeal to hippie-loving parents
NASH: Nash is a cool alternative to the trendy name Cash and is a nod to Graham Nash
QUILL: Quill would make an ultra-cool unique baby name with hippie Woodstock roots after the name of the rock band.
RAVI: Ravi is a great earthy hippie name meaning sun, and could also be a hippie name inspired by Woodstock performer Ravi Shankar
RICHIE: Richie Haven was the name of the first performer at Woodstock
SANTANA: The name Santana is a modern gender neutral name, and the name of Woodstock singer Carlos Santana
SEBASTIAN: Though Sebastian is a present-day favorite, you can argue it has hippie ties through Woodstock performer John Sebastian
SLY: Sly would make a very relaxed hippie name in honor of Sly Stone.
Hippie names from the 60s
Next on the list, we have 60s hippie names. These names hit their peak popularity in the 1960s before slipping out of the spotlight. As their rise and fall corresponded with the hippie movement, they were used for some flower children.
BRUCE: Bruce enjoyed its peak popularity between the 1950s and 60s, making it a true hippie-era name. Naming a baby Bruce today would also feel nonconformist and unique, not unlike the hippies.
CYNTHIA: Cynthia was a top 10 baby name in the 60s. It is a cool-looking name with it's opening Cyn, but unfortunately, it started a swift descent in the 1970s, making it highly associated as a mid-century name.
DONNA: Donna was a top 10 baby name in the 1960s before it started falling quickly at the end of the 1970s, making it a great 1960s hippie name for a girl. The name Donna means lady.
KENNETH: Kenneth was a wildly popular baby name that peaked from the 1920s-1960s. It began its decline after the 1970s, making it of the hippie era.
LISA: Lisa is the girl's name of the 1960s and 1970s. Lisa was the #1 girl name through most of the 1960s and was a top 10 name in the 1970s. As you can see in the graph below, its rise and fall were swift, making it locked in as a name of the hippie era.
LORI: Lori hit its peak in 1963 and enjoyed peak popularity through the 1960s and 1970s. It has not been seen on the top 1000 charts since the turn of the millennium.
MARCIA: The name Marcia hit pop culture in a big way that same year that Woodstock took place. That's right, the Brady Bunch debuted in 1969, making the name Marcia forever entwined in the peak time of the hippie era.
RHONDA: Is every Rhonda you know middle-aged? That's because the name spiked in popularity in the 1960s before disappearing as quickly as it appeared. It had completely fallen off the top 1000 list by 1995.
RODNEY: Rodney was most popular in 1965 when it was given to over 11,000 boys
SUSAN: Susan was such a common mid-century name that you may be surprised that it is no longer on the top 1000 list. But in the 60s, it was at its peak and ranked the #3 girl name in all of the U.S.
TAMMY: Tammy is another name that saw a steep rise and fall from the 1950s to 1970s, with its peak popularity falling in the 1960s.
TERRY: You wouldn't be surprised to find a Terry among the audience at Woodstock. Terry hit peak popularity in the 1950's and held strong through the 1960s, making Terry's prime hippie age by the 70s.
TROY: Troy saw a sharp rise in popularity in the 1960s and a quick decline by the 1980s, making this name entirely of the hippie era.
70s hippie names
The hippie era spanned the 1960s and 1970s. Continuing on our time period names, here are some hippie names from the 70s. Like the section above, these names were at their most popular in the 1970s but are no longer in widespread use.
AMY: Amy was the #2 name of the 1970s. The name comes from French and means "beloved."
DAWN: Dawn hit its peak popularity in the early 1970s. Though the name feels common, it has been out of the top 1000 for over two decades, last charting at #915 in 2000.
HEATHER: The rise and fall of the name Heather is one of my favorite examples of why name trends are so fascinating. Heather was all the rage in the 1970s before leaving as quickly as it came. Here is a deep dive into the Heather name fad for those interested.
JAMIE: The mid-1970s was the peak of the name Jamie for both boys and girls. The name is a diminutive of James and means supplanter.
JENNIFER: Jennifer was the name of the 1970s. It was the #1 name on the U.S. charts every year in the 70s. Its decline began in the mid-80s making it the perennial name of the 1970s.
JULIE: Julie hit its peak popularity in the 70s, making it a lovely 70s hippie girl name. Simply naming a baby Julie would be a cute alternative to names like Julianna.
LANCE: Lance is a boy name that peaked in the 1970s.
MISTY: Not only is Misty an earthy name, but it also saw its peak popularity in the 1970s, making it a fully hippie girl name.
RANDY: Some hippies may have been named Randy, a boy name that enjoyed peak popularity from the 1950's to 1970s.
TONYA: The name Tonya peaked in the 1970s, and likely will remain a relic of the 70s era due to the most infamous Tonya: Tonya Harding.
TRACY: Tracy is a unisex name that was popular among both genders in the 1960s and 70s. The name hit the top ten for girls in 1970. It slid off the charts for both boys and girls around the new millennium.
WENDY: Wendy is an adorable name from the 1960s and 1970s that I could see making an early resurgence as parents look to other mid-century nicknames like Bonnie.
Hippie names for boys
Below are hippie-inspired boy names. In the past, boy names have been limited to more traditional names than girl names, so opting for a quirky hippy name will stand out in a crowd.
I love the name Argus as a unique and distinguished formal name for the popular nickname Gus. Effortlessly cool Baz and hip Apollo are also fun hippie-esque name options.
The list of boy hippie names are divided into earthy nature names and free-spirited creative names.
Earthy hippie boy names from nature
ARGUS: Argus feels so old-man that it comes full circle to feeling fresh and creative. Argus is a type of pheasant so it is also an earthy boy name.
BAZ: Baz sounds like he'd be a cool radical. The name is the name of a falcon, making this a doubly cool nature name.
BEAR: Bear is a name meaning brave bear, which would make a nice hippie boy name
KALE: Kale, a healthy leafy green, sounds like the baby name of crunchy hippie parents. It is also a Gaelic name meaning calm.
MOSS: I love the name Moss as a unique nature name for a boy. It's never cracked the top 1000, so it is still off the radar.
LENNOX: Lennox is a fashionable name that means elm grove.
OBERON: Oberon strikes an interesting balance of sounding like a strong name but having literary associations as the name of the king of the fairies in Shakespeare. The name also has a nature theme, meaning bearlike.
OSSIAN: Ossian is a rare pick that would make a cool earthy hippie boy name. Ossian means fawn, a symbol for gentleness that also aligns it with hippies peaceful vibe.
PEREGRINE: Peregrine is a tremendous bird-themed name for a boy named after the infamous falcon. If you like bird names, explore my list of 75 baby names inspired by birds for more avian ideas.
PHOENIX: Phoenix is a name honoring the mythical immortal bird that rises from the ashes. The name is likely to see a popularity boost after being used by Paris Hilton.
SILAS: Silas is a soft and gentle boy's name that means forest.
Free-spirited boy names
These free-spirited are another way to honor the hippie movement with your baby name. Subverting social expectations is one of the lasting legacies of hippie counterculture.
APOLLO: The Apollo space missions took place during the hippie movement, making this trendy boy's name an obvious hippie name pick.
BLAZE: What a hot name (pun intended!). Blaze is either a name that means fire, or a variation of the more traditional boy name Blaise, meaning stutter.
CASSIUS: Cassius is a name coming from Latin that means empty. It comes with the cool nickname Cash.
COSMO: Cosmo has multiple meanings that make it work well as a hippie boy name. It means order and beauty, and is the name for the greater universe.
ECHO: Echo is a creative name that is ripe for picking for those looking for soft boy names. The name means a reflection of sound.
GULLIVER: Gulliver has never ranked in the top 1000, making it a unique pick for nonconformist parents. The name comes from English and French origins and means glutton.
JASPER: Funky and stylish Jasper comes from Persian origins and means treasure.
JUDE: The Beatles' hit Hey Jude was released in 1968, making Jude a perfect 60s hippie name. The name comes from Hebrew and means praised.
MERCURY: Mercury is a strong and celestial name that means messenger of God.
STELLAN: Stellan is a chill name that means calm. The name comes from Sweden.
WILDER: Wilder is a name from English and German that means "untamed" or "wild and free," perfect for a free-spirited boy.
Hippie names for girls
Hippie girl names are a sweet blend of quirky and earthy. Trendy names like Aurora and Olive fit nicely as hippie girl names with their off-beat feel and nature meanings.
Topanga is a lovely name that came to be associated with hippie parents through the 90s sitcom, Boy Meets World. I personally love Juno as an independent, free-spirited girls name.
Below you'll find a section of nature-themed hippie names for girls, followed by a list of boho name ideas.
Nature hippie names for girls
AURORA: Aurora is a trending baby name that would work well as a hippie girl name. The name means dawn and comes from Latin.
CHERRY: Cherry would make an adorable nature name for a baby girl. The name references the fruit and fits with popular names like Clementine and Olive.
CLEMENTINE: Clementine is another quirky fruit name for a girl. The name has gained popularity over the last decade, jumping from #939 in 2014 to #549 in 2021.
DOVE: You'll find the name Dove through this list. As the symbol of peace, it is a perfect hippie girl name.
FERN: Fern was a top #200 girl name in the early 1900s. Based on the 100-year cycle for baby name fashion, it is due for a revival and would fit in nicely with today's nature and word-name names.
LUNA: Luna went from being an eccentric character in Harry Potter to a top 20 baby name, likely thanks to Chrissy Teigen and John Legend using the name. Though hugely popular, this nature name still feels a little funky and fun.
MEADOW: Meadow is an earthy hippie name for a girl that means field of grass.
NOVA: Nova is a name meaning new star. This celestial name at one time would have felt eccentric and quirky, much like the hippies, but today fits in well among Luna's and Aurora's. Indeed, the name has rocketed up the charts in the last few years.
OCEANIA: Oceania is a lovely name meaning ocean. While the name Ocean is gaining popularity, Oceania remains a rare earthy name for girls.
OLIVE: Olive strikes a balance as a name with a long history — a top 100 name at the turn of the century — while still feeling a little quirky. This adorable name also comes with the popular nickname Ollie. If you love Olive, check out my list of 70+ Alluring Middle Names for Olive.
SUNSHINE: Sunshine is a quirky nature name that would make the perfect hippie girl name.
SYLVIA: Sylvia is a classic name that means of the forest. For a fresh take on the name, consider the French version, Sylvie.
TOPANGA: Topanga became the epitome of a hippie baby name thanks to the television show Boy Meets World. Topanga is a Native American name meaning where the mountain meets the sea.
WILLOW: Willow is a calm and beautiful name in honor of the willow tree. The willow tree is said to symbolize flexibility and new beginnings.
ZOLA: Zola is a Latin-originating name that means a piece of earth, making it a literal earthy girls' name. Z names are fashionable today, but Zola still remains under the radar.
Boho girl names
Bohemian names are free-spirited, defying social norms and pushing boundaries. Breaking from expectations was a core value of the hippie subculture. Here are some boho names for girls.
ASTRID: The name Astrid likely feels boho due to its closeness to the Latin word astra, meaning "of the stars." However, Astrid means divine beauty and comes from Norse roots.
AURA: Aura is the essence of the spirit surrounding a person. Though unconventional as a name, Aura is close to current favorites Aurora and Aurelia.
HARMONY: Harmony means unity and reflects hippies' belief in peace and togetherness.
DELILAH: Delilah was a hit song in the late 1960s, coinciding with the hippie days. The name is also calm and feminine, meaning delicate from Hebrew roots.
HENNA: Many hippies embraced Hindu teachings, partly as a rebuke to mainstream American culture (Hinduism and hippie source). Henna, or mehndi, is associated with good luck in Hindu weddings.
JUNO: Juno is a powerful girl's name that means goddess.
PEARL: Pearl is a name meaning precious gem. Pearl was also the name that hippie legend Janis Joplin adopted and the name of one of her albums (source on Janis Joplin and the name Pearl).
PHOEBE: Thanks partly to the quirky character on Friends, the name Phoebe feels like the name of a free spirit. The name comes from Greek and means shining one.
SERENITY: Serenity is a name that means peaceful, one of the core tenants of hippie doctrine.
SIGRID: Sigrid is a bold name that would be perfect for a little radical. The name comes from Norse and means victory.
TWYLA: Twyla is a creative and quirky name, most associated with the dancer Twyla Thorp. The name either means double-threaded or twilight.
UNA: Una is a name of Irish and Latin origins that means one or unity. This unity meaning aligns with hippies' calls for love and peace.
Gender neutral hippie names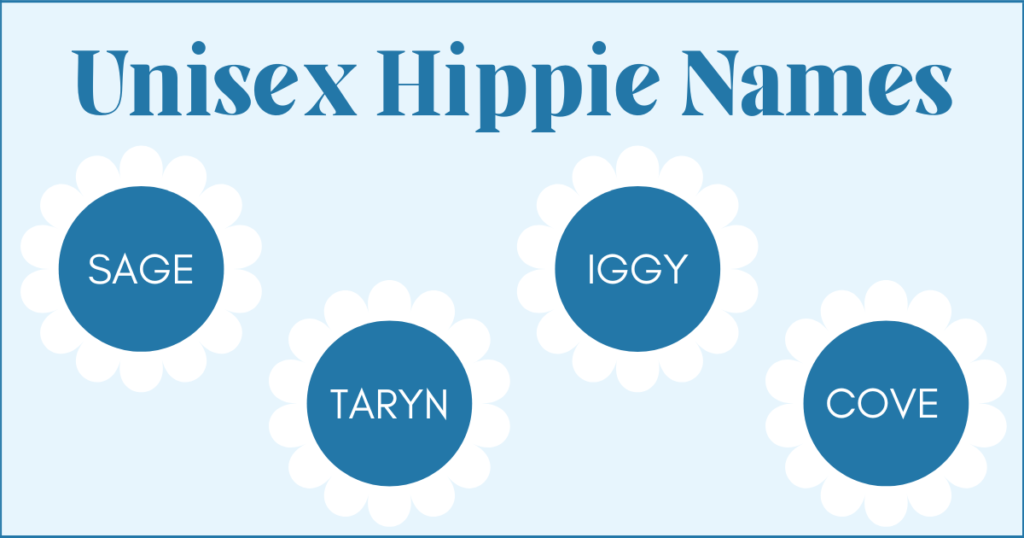 Hippie ideals focused on eschewing societal norms in pursuit of greater equity and peace. What better way to continue that legacy than with a unisex name that also sheds societal expectations of gender?
These gender neutral hippy names are down-to-earth and give your future baby flexibility in future self-expression — the perfect boho flex. I particularly like Taryn for a unique nature-themed name and Iggy for a future free spirit.
Below you'll find unisex hippie names organized into two categories for easy navigation. First, we have nature-inspired gender neutral names. Then, you'll find names that feel bohemian and eccentric, perfect for a free-spirited hippie vibe.
Unisex earthy hippie names
BIRDIE: Birdie is an adorable name that has returned to style today. It means little bird.
CANYON: Canyon is a cool earthy name for the deep gorges in the earth. It also means footpath.
CEDAR: Cedar is an earthy tree name that would be a boho alternative to the popular name Carter
CLOVER: Clover is a floral name and is also a symbol of luck
CREEK: If River can be a popular name, why not Creek? Creek could work well in the middle name slot of a calm nature feel to a name
CYPRUS: Cyprus checks two boxes that are fashionable in names today: it is a nature name ,and it is also a unique spin on place names
JUNIPER: Juniper feels like a name for hippies because of its ties to nature and spiritedness. It also has the option of the nickname June, making it a flexible name if your baby turns out to be less hippie and more traditional.
LINDEN: Linden is a beautiful nature name for boys or girls. Lindy or Denny would both be great nicknames for a Linden.
LOTUS: The lotus flower became a symbol of hippies, making it an obvious hippy baby name.
OCEAN: Ocean is a new entry on the top 1000 list, hitting the charts for boys in 2020 and girls in 2021.
RAIN: Rain feels like a quintessential gender neutral hippie name. It's off-beat, earthy and rarely used as a baby name.
RIVER: This nature name was a rare earthy name at one point, but today sits in the top 200 for both boys and girls.
SAFFRON: Saffron is a spice from the crocus flower. It's a unique herbal alternative to the name Sage.
SAGE: Sage works as a hippy name on two levels. First, as an herb, it is a nature name. Sage also means wisdom and good judgment, which aligns with hippies' pursuit of mindfulness.
SKY: Sky is the word for our upper atmosphere. It can also derive from the Norse word for cloud.
SUNNY: Is there a better name to fit hippies' positive vibes than Sunny? This bright and cheerful name is rising quickly in popularity, especially for girls.
TARYN: I love the unique name Taryn as a gender neutral name. Its meaning works great as a hippie name because it means of the earth.
Boho unisex names
BODHI: Bodhi is the final enlightenment in Buddhism. Hippies often adopted Buddhist beliefs because of their focus on peace and mindfulness (source on hippy movement and buddhism).
CASSIDY: Cassidy is a name meaning clever. It is also the surname of 70's sensation David Cassidy
COVE: Cove means bay or inlet. This short boho name would work easily in a middle name slot.
DENALI: Denali is a name that is understandably more popular in Alaska than in the rest of the country. It is the tallest mountain in Alaska and also North America.
EMBER: Ember is a cool name that likely will continue to rise in popularity, having shot up the charts in the last decade. The name means spark
HARBOR: Harbor has a peaceful aura that fits well as a unisex hippie name. The name means "protected waters that is safe for ships."
IGGY: Iggy is a unique name that sounds free and spirited, like the hippies. It means fiery one — a great meaning for a hippie baby ready to take on the establishment
INDIGO: Indigo is a funky name that exudes free-spiritedness; plus, it comes with the cute nickname Indy which works for either gender.
LUZ: Luz is the Spanish word for light and a great name for creative parents. Not only does it work as a hippy name, but the ending -z of Luz is also very on-trend today.
MOON: Moon screams boho hippie name. This unique name has yet to make the Top 1000, but it may get a push by the popularity of the name Luna. Don't forget to visit my list of moon and sun twin names.
OCTOBER: October is a funky alternative to month names like June and April. Its unexpectedness makes it an excellent boho name option.
PAISLEY: Paisley is a Scottish originating name that means patterned fabric.
SPIRIT: Spirit is the ultimate free-spirit name. The name means the soul of a person or the attitude of a person or group.
WINTER: Winter is the unique alternative to the names Summer and Autumn. The best part of the name Winter is the option to use the nickname Winnie (if you love Winnie as much as I do, here's a full list of full name options for Winnie where Winter makes an appearance).
ZEPHYR: Z names are very fashionable today and Zephyr is a cool one that is still flying under the radar. Its natural meaning (gentle breeze) also makes it apt for those who like hippy names.
Flower power names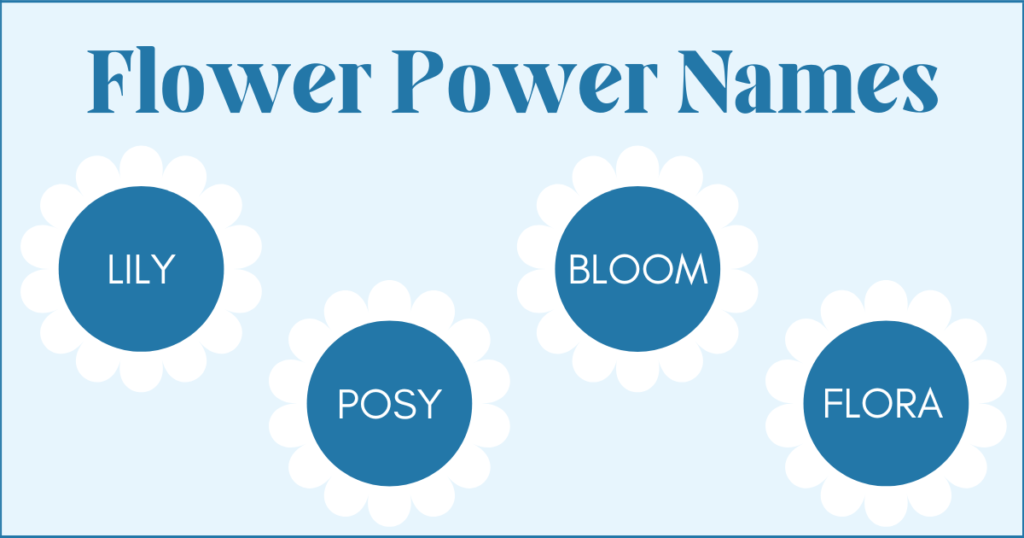 Flowers became the symbol of peace throughout the hippie movement (source on flowers as a peace symbol). Picking a flower name is a lovely connection to hippies' peace-loving culture. Here are some earthy flower name ideas for a hippie baby.
While flower names are usually reserved for girls, Briar, Clover or Oleander all work as earthy hippie boy names.
Of the girl names, Wildflower is probably the most boho and free-spirited. I also like the simplicity and uniqueness of Bloom. Zinnia would also be a beautiful boho name, and I love Zinny as a cool nickname.
Azalea
Bloom
Briar
Clover
Dahlia
Daisy
Flora
Hyacinth
Iris
Ivy
Lavender
Lilac
Lily
Magnolia
Marigold
Oleander
Petunia
Poppy
Posy
Rose
Wildflower
Wisteria
Zinnia
Names meaning peace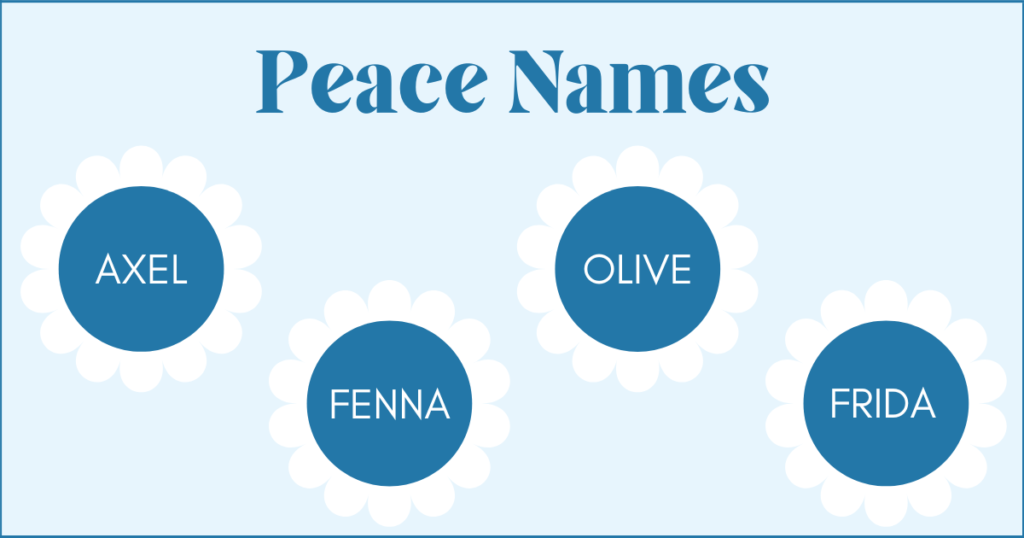 The central tenant of the hippie movement was peace. Their anti-war ethos and calls for love and unity were the connecting force of the 60s and 70s youth.
To celebrate hippies' peacefulness, here are names that mean peace. A peaceful name is perhaps the truest hippy baby name since it best reflects the goals of the hippie movement.
Axel: Axel comes from Iceland and means father of peace
Dove: Not only are bird names in, but Dove also checks all the hippie boxes being an earthy, nature name and a peace symbol.
Fenna: a unique northern Dutch name meaning peace
Frida: Frida is a German name for peace
Harmony: Harmony is a name meaning unity and peaceful togetherness
Irene: Irene is a Greek name meaning peace
Olive: the olive branch is a symbol of a peace offering.
Serenity: Serenity is a name coming from Latin, meaning peaceful and calm
Solomon: Solomon is a Hebrew name meaning peace
Wilfred: Wilfred is an English name meaning peace
Winifred: Winifred is a Welsh name that means peacemaker
Hippy full name combinations
Looking for full hippie names with both a first and middle name? Here are some of these lovely baby name combinations using the hippie names from this list.
(And if you like reading name combos, I have a list of lovely girl name combinations and another list of striking boy name combinations that are worth a look!)
Girl hippie name combinations
Winifred Willow
Frida Wildflower
Topanga Sky
Fenna Cherry
Zola Sunshine
Wisteria Una
Juniper Rain
Poppy Irene
Zinnia Dove
Linden Oleander
Wendy Olive
Boy hippie name combinations
Solomon Bloom
Arlo Sly
Quill Ashbury
Garcia Richie
August Klein
Hendrix Jude
Stellan Moon
Apollo Wilfred
Taryn Jasper
Cyprus Nash
Iggy Wilder
---
Looking for more earthy name ideas? Check out 65+ Bird Inspired Baby Names, and you may also like this list of 70+ Unisex Nature Names.