85 Cool & Cute Grandpa Names in 2023
This post may contains affiliate links. Read the full disclosure here.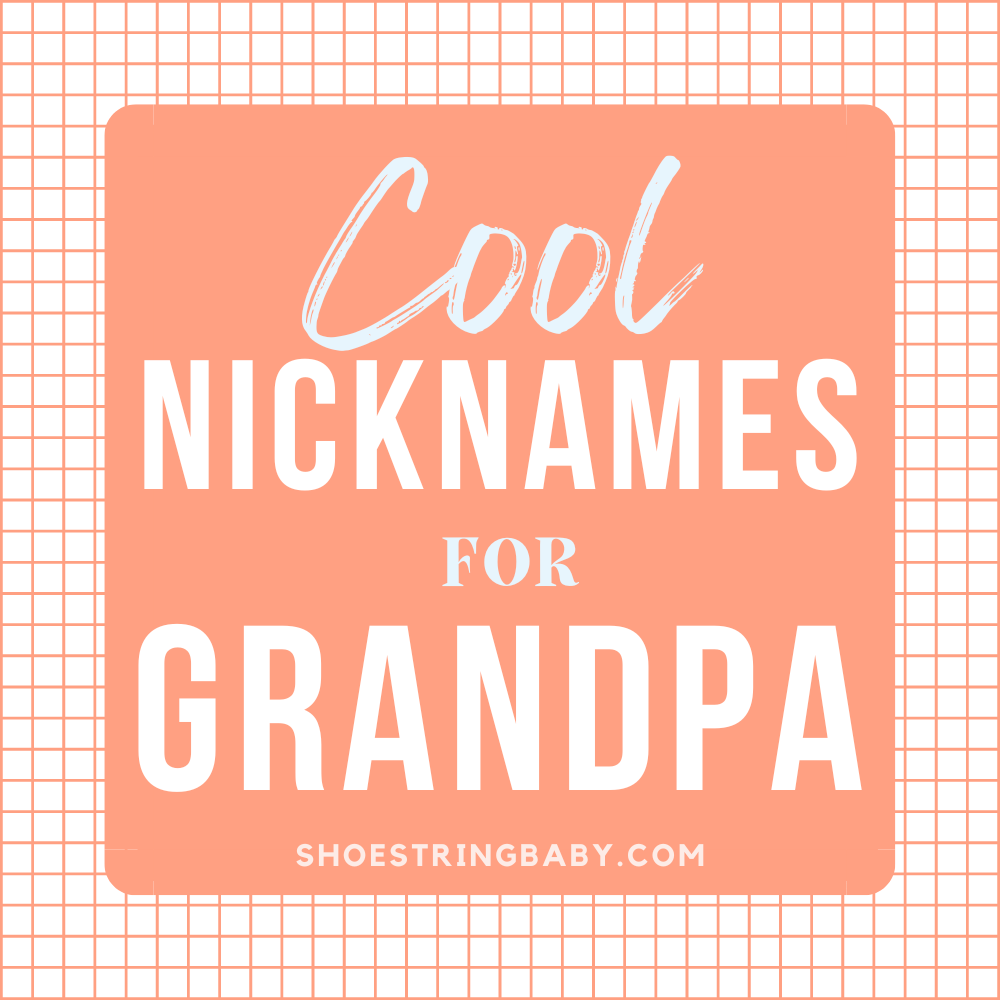 Trying to find the ultimate nickname for grandpa? Take a look at this list of 85 amazing and cool nicknames for the future grandfather in your life.
Much like baby names have become more inventive with each generation, grandfathers are also searching for unique and hip nicknames. Maybe Grandpa feels too traditional, or perhaps your grandchild needs a name that's simpler to pronounce.
And, if you're fortunate enough to have several generations, having a range of grandpa names is essential in distinguishing between grandfathers and great-grandfathers.
Fortunately, there are so many possible grandpa names and I'm here to help you on your nickname search. As a name analyst, I've combed through countless forums, websites, popular culture, and different languages to curate this comprehensive list of grandfather names and save you time finding the perfect grandfather nickname.
This list caters to every type of grandpa out there, including: classic grandfather nicknames, trendy and cool grandpa nicknames, unique grandpa alternatives, and grandpa names from around the globe.
But a word of caution – while you may stumble upon the perfect grandpa nickname, usually, it's the toddler who has the final say. Who knows what adorable grandpa names the grandkids will invent once they're talking!
And don't forget to check out my list of cool grandma names too.
On to the nicknames!
Traditional Grandfather Names
Let's start with the more traditional alternative names for grandpa. These are the old-school gradnfather names that have stood the test of time, and you've likely heard or used some of them before. For example, one of my grandfathers went by 'Pop.'
Among the names on this list, 'Papa Bear' could make a classically cute grandpa nickname, while "Grandpappy" has an undeniably charming ring to it.
Papa
Pop
Geezer
Papa Bear
Pappy
Grandpappy
Gan
Pop-pop
Granddaddy
Gramps / Gramp / Grampy
G
Grand-sir
Grand-mister
Gran-Pop
G-pa
Paw
G-Daddy
PawPaw
Pa
Dad-dad
Gamps
Pap
Granpapa (used in Haitian Creole)
Cute & Cool Grandpa Names
Like the famous Mean Girls' quote, maybe you're not a regular grandpa; you're a cool grandpa. So, of course, you require a cool grandfather name to match. Below you'll find an array of modern and cool grandpa nicknames to consider.
Perhaps the future grandpa in your life is a cool, contemporary grandpa who goes by 'Bubba' like Michael Douglas or 'Peach' like Martin Sheen (source: Nameberry). 'Ace' and 'Dash' stand out as particularly cool names for grandpas too. You'll also find some fun and handsome grandpa names on this list, like 'G-Pops' and 'Skip.'
G-Pops
Bubba (Michael Douglas' grandfather name)
Boo
Peach (Martin Sheen's grandfather name)
Grandy
Poppy (I love this one as a cute grandpa name)
Poppies (a cute variation of Poppy)
Ace
Dash
Skip
Popsicle (a cute play off 'Pop-pop')
Pop Rocks (another cute play off 'Pop-pop'
Pop-star (one last play off 'Pop-pop')
Papa-roo
Grampsy
Baba
Grady
Paps
Buddy
Lolo (grandfather in Filipino)
Poppa
Unique Grandpa Names
Up next are unique grandpa names. These nicknames might not immediately evoke the image of a grandfather, but they'd make charming, special names for grandkids.
From the unique grandpa nicknames below, I really love the pairing of 'Lolly' for a grandma being matched with 'Pop' for grandpa.
Names like 'BamBam' or 'YoYo' would be easy for a baby to pronounce, which is a crucial factor if you want your name to be among the first words your grandchild says (though no guarantees there — our kid waited almost 3 years to say a very easy grandma name out of stubborness).
Sir
Coach
Honey
Jefe (the grandpa name of President George W. Bush)
Jolly
Grizzly (a play off 'Papa Bear')
Grand-Dude (this one is a fun one)
Biggie
Fizz (Fizz could be a play off Pop as in 'pop fizz')
Popcorn (so many possible plays off 'Pop')
Grando
Bam-Bam
Guppy
G-dog
Avus (grandfather in Latin)
Popple
Popes
Grander
G-Pal
Grandio
Grandpa Nicknames from Around the World
Finally, we have diverse names for grandfathers used around the world. Each entry includes the language or culture where the grandfather name originated.
You'll discover some endearing terms for grandpa on this list, like 'Nonno' from Italy or 'Abuelo' from Spain.
I studied Swahili in Tanzania, so I have a soft spot for 'Babu', which would also be easy for a toddler to pronounce. 'Dedushka' shortened to 'Deda' from Russia and 'Jiji' from 'Ojiichan' in Japan offer a distinctive flavor to grandpa nicknames.
Babu (Swahili)
Avi (Catalan)
Abuelo (Spanish)
Nonno (Italian)
Avo (Portuguese / Galician)
Dedushka / Deda (Russian)
Ojiichan / Jiji (Japanese)
Papou (Greek, used by Tom Hanks)
Opi (German)
Opa (German)
Afi (Icelandic)
Farfar (Norwegian)
Saba (Hebrew)
Zayda (Yiddish)
Oupa (Afrikaans)
Papik (Armenian)
Zufu (Chinese)
Grand-pere (French)
Babua (Georgian)
Awoowe (Somali)
Akina (Sundanese in Indonesia)