9 Ways to Save Money on Maternity Clothes: How I Only Spent $15 Total
This post may contains affiliate links. As an Amazon Associate, I earn from qualifying purchases. Read the full disclosure here.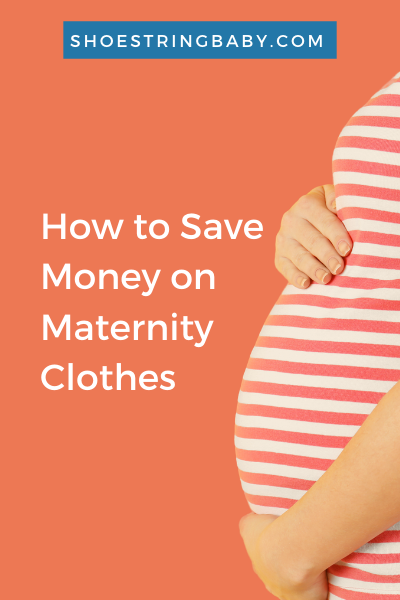 Looking for ways to save money on maternity clothes? Check out these 9 tips to get maternity clothes cheap and stay on budget.
When you get pregnant, one of the first things you think about is how you're going to dress your rapidly changing body. Eventually, you're going to need some maternity clothes.
But buying maternity clothes new isn't cheap. For some (ahem, me), it is really hard to swallow having to buy a whole wardrobe that is only going to be worn for a few months. Luckily, there are lots of ways to save on maternity clothes – or even get them for free!
When I was pregnant, I did not know anyone ready to pass along maternity clothes so I was starting from scratch. I'm always uncomfortable buying clothes new but was doubly nervous with maternity clothes. I had no idea know what I'd need or even how maternity sizes work.
By following the 9 savings tips below, I got all my maternity clothes for only $15. I stalked Facebook early and jumped when I found someone selling clothes for a $1 a piece. A little bit later, I was able to snag a big bag of clothes for free also through Facebook. If you're flexible and plan ahead, it is possible to stay on budget with a maternity wardrobe.
Below you'll find 9 tips for low budget maternity clothes.
1. Don't buy full-price maternity clothes early
The excitement of a new pregnancy and the desire to be fully prepared moves some people to shop for maternity clothes as soon as they see two lines on a pregnancy test. Before you start online shopping, take a pause. Buying full-price maternity clothes before you even have a belly will likely cost you in the end.
The best way to save money on maternity to clothes is to wait to buy new until you know what you actually need. Early in your pregnancy, you don't know how big you'll actually get or what hand-me-down may come your way. Note: here I am talking about buying new, the most expensive way to get maternity clothes – by all means grab freebies and thrift finds early!
I'm an extreme example of why not to buy early. I had no idea I'd struggle with hyperemesis gravidarum all pregnancy when I optimistically bought some secondhand work-appropriate maternity clothes. I basically never left my couch all pregnancy, let alone wore semi-professional clothes. My weight loss was also so extreme that I needed different sizes than what I bought.
2. Look for free maternity clothes ASAP
While I recommend holding off on buying new maternity clothes, it is never too early to start looking for free maternity clothes. Snagging free maternity clothes is less you need to buy later. It also gives you the flexibility to wait to shop for more maternity clothes until you actually have a belly. If you wake up one day having "popped," you'll at least have your basics already covered.
I got a huge bag of free maternity clothes from a neighborhood Facebook group. Check for local parents groups, yard sale and 'buy nothing' groups to up your chances of finding freebies. Craigslist and 'curb alerts' are another great way to score some free maternity clothes.
3. Assess the clothes you already own
Depending on your wardrobe, you may already have clothes that will continue to work in pregnancy. Maxi dresses, flowy blouses, and oversized tshirts may be able to stay in your rotation for part of your pregnancy. I was able to continue to wear a lot of my shorts with elastic bands under my belly.
I also really like these workout leggings, which are similar to Lululemon Aligns but less of an investment. They work well with pregnancy because they don't have elastic at the top of the waist band and work over the belly.
Wearing your own clothes for some of pregnancy is nice because it saves you from having to buy maternity clothes in multiple sizes. Use your existing clothes for early days and get maternity clothes for only when you're bigger later in pregnancy.
4. Borrow from your partner
If you're short on flowy clothes, you may be able to borrow from your partner's closet. This likely won't cover all your clothing needs but a few oversized tshirts can save you from having to buy maternity pajamas.
5. Accept hand-me-down maternity clothes to save money
Hand-me-down maternity clothes are a great way to save money. Friends and family are usually all too happy to share their maternity clothes and help with your pregnancy. Since they are worn for a short period, hand-me-down maternity clothes are typically in pretty good shape.
Maternity sizes don't make a ton of sense, especially if you've never had a pregnancy belly before. With that in mind, be open to accepting maternity clothes in a variety of sizes. Brands fit differently, and what works in your second trimester may be long outgrown by your third. Having multiple sizes on hand can help with the quick body changes you may experience.
6. Try maternity clothes hacks
Before buying new maternity clothes, consider trying some clothing hacks to help your regular clothes fit longer during pregnancy. For example, consider some of the following pregnancy hacks:
BELLY BANDS: fabric belly bands can be worn over unbutton pants to help them fit longer. You can even DIY your own by cutting old tights or support panty hose.
HAIR TIES: You can loop a hair tie around the button of your jeans to fasten them when they start getting snug
BRA BAND EXTENDERS: Bra extenders can help you wear your regular bras longer if your rib cage expands during pregnancy (spoiler alert, it probably will which completely caught me off guard).
7. Check Craigslist and Facebook Marketplace
If you aren't able to find enough free maternity clothes, consider buying secondhand. Facebook Marketplace and Craigslist are obvious go-to's for finding local secondhand items. I also love scrolling even more hyper-local neighborhood groups for deals.
I find these neighborhood yard sale and parents groups have the best deals on secondhand items. Whereas sellers on Marketplace tend to price their items higher expecting a negotiation, neighborhood groups tend to be people who want to get things out of their house and/or help their neighbors out.
For me, I look for secondhand items priced below $5, ideally about $1 or $2. For a nice piece, like a dress for a maternity photoshoot, you should be able to find deals under $10 – I see a lot of cute maternity dresses sell for $5.
8. Buy by the bag instead of single pieces
When buying used maternity clothes, keep an eye out for people selling by the bag or lot. People selling by the bag tend to just want them out of their house and don't want to deal with the hassle of selling individual pieces to multiple people. It is a bit more of a gamble to buy a bag of clothes over individual pieces, but usually the price is low enough that it is not a big risk and the savings can be huge.
9. Save money by thrifting maternity clothes
Lastly, don't forget about your local thrift stores when looking for maternity clothes. Thrift stores often have big selections of maternity-friendly clothes in decent shape since they see limited use. When I shop at thrift stores, I always check for their daily deals. For example, some thrift stores may have a day of the week where clothes are 50%, which will help you save even more money on your maternity clothes.
---
Looking for more ways to save money during pregnancy? Check out this 18 ways to save during pregnancy.