35 Stylish Nicknames for Esther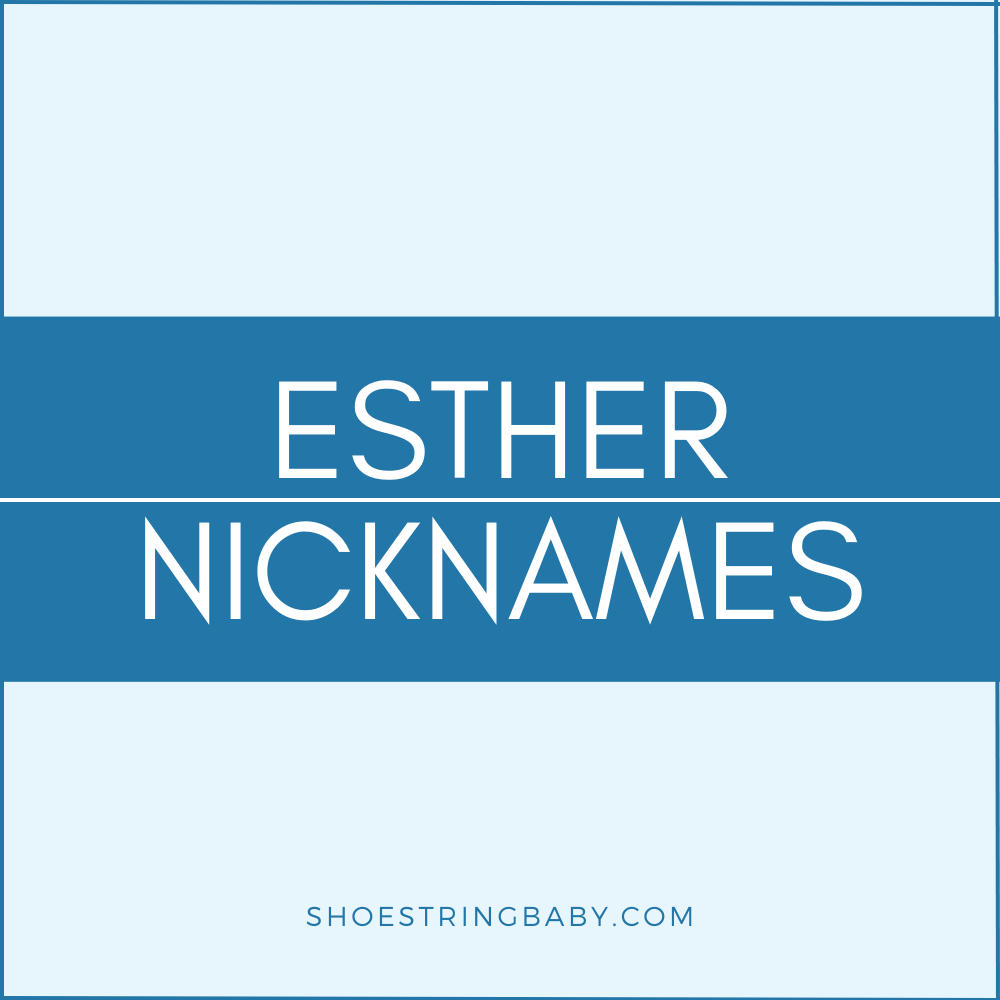 So you love the name Esther. But have you found your favorite nicknames for Esther yet? Finding the perfect name for your baby is only the first step. It's important to spend some time thinking about possible nicknames for baby too.
I know, as if deciding on a first name for your baby isn't hard enough. But don't worry, I've got your back. I've did a deep dive on Esther nicknames so you don't have to.
[DISCLAIMER: THIS POST MAY CONTAIN AFFILIATE LINKS, INCLUDING AMAZON ASSOCIATE LINKS WHERE I EARN FROM QUALIFYING PURCHASES. THERE IS NO COST TO YOU & THE COMMISSION HELPS SUPPORT THIS SITE]
I'm a researcher loves analyzing name trends. I handpicked this list of nicknames for Esther by breaking down the name and its roots. I also searched my database of over 2000+ names, discussion forums and other sources to make this an exhaustive list of Esther nicknames.
This page is a one-stop shop of Esther nickname ideas to save you time searching and hopefully help you find the perfect nickname for your baby.
Thinking about your baby's future nicknames is valuable so you can have the best shot in picking their nickname. For example, if you love the nickname Lottie for Charlotte, you'll want to make that clear from the jump so people don't call her Charlie.
And if you love the name Esther, you may also like this list of names to go with Stella, another name that means star.
Now let's check out the nicknames!
What is a Nickname?
Before we dive in, let's quickly define a nickname. A nickname is a name used in lieu of one's given name. Using a nickname is often a sign of endearment or closeness with the person; or, nicknames can be used for brevity, especially when someone has a long first name.
Most often, nicknames have roots in one's given name, such as shortened version of the name or initials. However, nicknames can also arise organically from memorable moments, personality traits or interests.
Some people use nicknames exclusively, like a Michael who is always known as Mike. For others, nicknames are used sometimes or only by certain people.
Join our baby name facebook group!
Love chatting about baby names and trends? Join the discussion over on our new Facebook group. Plus, get FREE help finding the perfect baby name!
Esther Nicknames
Let's dive right into the Esther nicknames!
Astra: Astra has a similar stellar meaning as Esther, meaning "of the stars." Astra also shares similar sounds making it a workable nickname for Esther
E: Simple E is an effortless and cool nickname that matches Esther's simplicity
Es: Like E, Es has a cool confidence in its simpleness.
Essa: Essa is a shortened form of Esther
Essie: Essie is an adorable Esther nickname with the same charms as the very popular nickname Ellie.
Esta: Esta is a zesty nickname for Esther
Esta-belle: Esta-belle is a cutesy nickname that works as a term of endearment for an Esther.
Este or Estee: Este is a common nickname for Esther that can be pronounced "es-stay" or "es-tee."
Estela: Estela is another name meaning star that works as an Esther nickname
Estellar: Estellar is a play on the beginning of Esther and stellar, which also has a starry meaning.
Estelle: Estelle is another name that shares the opening "est" of Esther with a star meaning.
Esti: Chrissy Teigan and John Legend popularizing the name Esti with their newest baby will likely outweigh its association as a swear word in Quebec (source: Quebec swear words)
Estrella: Estrella is the Spanish word for star.
Etta: Etta is a charming nickname that matches Esther's classic vintage feel.
Ettie: Ettie is Etta's cutesy cousin and an adorable Esther nickname.
Ezzie: Ezzie is a bolder variation of Essie.
Hettie: Hettie is a play off of the Esther variation, Hester. It fits in well with grandma-chic nicknames like Hattie and Lottie.
Star: Star is an easy Esther nickname based on Esther meaning star
Starlet: Starlet is another star name that is traditionally used for famous young actresses.
Starry: Starry would be a cute star nickname for Esther.
Stella: Stella may be more of a stretch for a Esther nickname since it is a popular standalone name today. Still, the name means star like Esther.
Stellar: Stellar would be a cool nickname for Esther, again for its star connection.
Teri: Teri plays off the ending sound of Esther to make a fitting but more unexpected Esther nickname.
Tess: Tess appeared repeatedly on discussion threads about Esther nicknames, though it was mixed as to whether people felt Tess was too much of a stretch for Esther.
Thea: Thea plays off the middle letters in Esther, but like Tess the jury is still out on whether it'd stick as a nickname for Esther.
Initial Nicknames for Esther
In addition to the Esther nicknames above, you can also make nicknames from your baby's initials. You can pair Esther with a J-middle name to get the common initial name EJ.
Additionally, you could opt for a V-middle name for the nickname EV, which sounds like Evie. Or, a D-middle name for the nickname ED (sounding like Eddie).
Below are some full name ideas for the EJ, EV and ED initial nicknames for Esther.
EJ Name Ideas
Esther Joelle
Esther Josephine
Esther Jessamine
Esther Jada
Esther June
EV Name Ideas
Esther Vivienne
Esther Vada
Esther Valentina
Esther Violet
Esther Viveca
ED Name Ideas
Esther Daisy
Esther Delphine
Esther Delilah
Esther Della
Esther Davina
Meaning of Esther
Esther means star and comes from Persian roots.
The name is also a popular biblical name. The Book of Esther is the third book in the Hebrew bible, with Esther as a heroine who saves the Jewish people (source: Book of Esther text).
Esther is a classic name in the U.S. It has been in the top 300's names for the last century. It hit peak popularity in 1913 as #32 and has sat around the 150's for the most recent 5-years (source: Social Security data).
The name was popularized in the U.S. by the birth of Grover Cleveland's daughter Esther while he was in office (source). Esther is also the name of the protagonist in Sylvia Plath's Bell Jar.
Tips for Picking the Perfect Nickname
Need some more help before finalizing your Esther nickname? Take a look at these nickname tips:
Use the full name for inspiration: are there parts of the name that would sound great as a nickname?
Don't forget middle names and initials: for example, someone names Esther James could go by the initials nickname E.J.
Other sources of nickname inspiration include: interests, hobbies, personality traits, or inside jokes.
Opt for a positive nickname: keeping a nickname positive and respectful increases the likelihood that the name will stick.
Conclusion
I hope you found some nicknames for Esther to add to your list.
Not sure if Esther is the one? Don't worry, I've got lots of resources on baby names for you. If you love Esther's celestial meaning, you'll likely also dig some of these sun and moon names.