35+ Outstanding Names That Start & End With O
This post may contains affiliate links. Read the full disclosure here.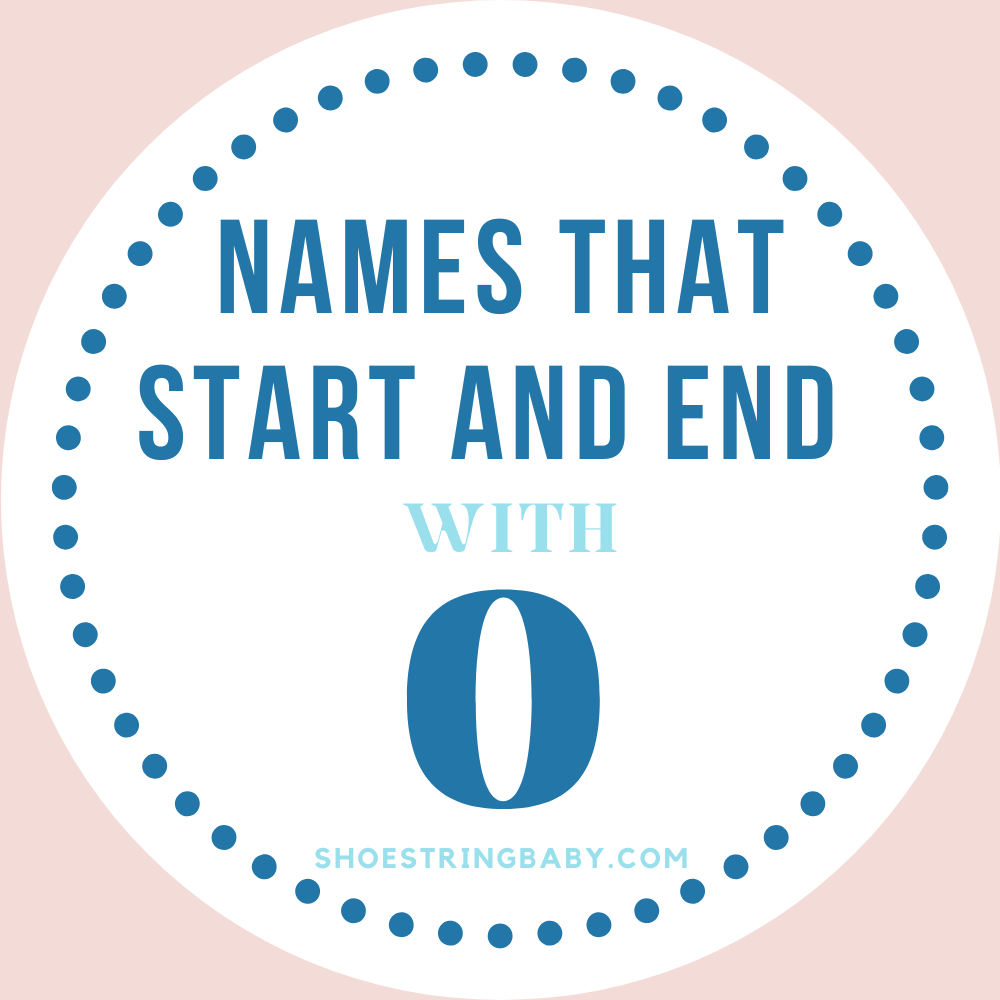 Looking for names that both start and end with O? Then you've come to the right place. This list includes 35+ names beginning and ending with the letter O, with their meanings and origins.
Perhaps you're on the hunt for a good alternative to popular Otto or Oliver. Or, you like the symmetry of starting and ending with O for its coolness factor or sound.
These bookended O names were handpicked and include options for boys, girls and unisex names. I searched through my own name database, forums and other online databases to create a thorough list of names that start and end with O.
I hope you find some new names to add to your list. And don't forget to check out some of our other name lists, like:
Boy names that start and end with O
Octavino: Octavino is a Spanish name alternative to popular Octavio and means "eighth"
Octavio: Octavio is a number name meaning "eighth" and is the Spanish version of Octavius
Octavo: Octavo is a variation of Octavio, also meaning "eighth" with Spanish origins
Odilio: Odilio comes from German and means "wealthy" or "prosperous in battle"
Odo: Odo is a name derived from the German word for "possessor of wealth", and is a variation of the names Otto and the French name Odon.
Olivero: Olivero is a variation of the name Oliver, which comes from Latin roots for "olive tree"
Oliviero: Oliviero is another spin on popular Oliver and again means "olive tree" from Latin
Olo: Olo is a Spanish and Italian variation of Roland meaning "famous in the land." It can also be a diminutive of the name Orlando
Olympio: Olympio means "from Mount Olympus" and comes from Greek
Omero: Omero is a name of Greek origins meaning "pledge"
Ommo: Ommo is a variation of Omar meaning "flourishing" in Arabic
Ontario: Ontario is a city name and a unique alternative to popular place names like Austin or Orlando. It comes from Iroquois for "beautiful lake"
Orazio: Sporting an ever-popular Z, Orazio is an Italian derived name meaning "prayer"
Related Post: 75 Names That Start and End in the Same Letter
Orfeo: Orfeo is a name coming from Greek that means "the darkness of night"
Orio: Orio is an Italian name thought to derive from the Latin word for "golden"
Orlando: Orlando is not just the home of Mickey Mouse, it is also an Italian-originating name meaning "famous in the land"
Orlo: Orlo is a diminutive of Orlando that also means "famous through the land"
Oro: Oro is a name that means "gold" in Spanish
Orso: Orso comes from the Latin word for "bear" and is a variation of the name Orson
Ortego: Ortego is a Spanish place name, coming from the Latin word for "nettle"
Oscarito: Oscarito is a variation of Oscar which means "little Oscar" in Spanish. Oscar comes from Irish and means "spear of God" or "deer friend"
Oslo: Another place name making the list, Oslo is the capital city of Norway and a cool alternative to Arlo
Othello: While it is likely unusable because of Shakespeare, Othello is a lovely soft name meaning "wealth" from German roots
Otho: If you're looking for a softer alternative to Otto, Otho also means "wealthy" from German origins
Ottavio: Ottavio is an Italian name meaning "eighth"
Otto: Perhaps the most popular name starting and ending in O, trendy Otto means "wealth" and comes from Germany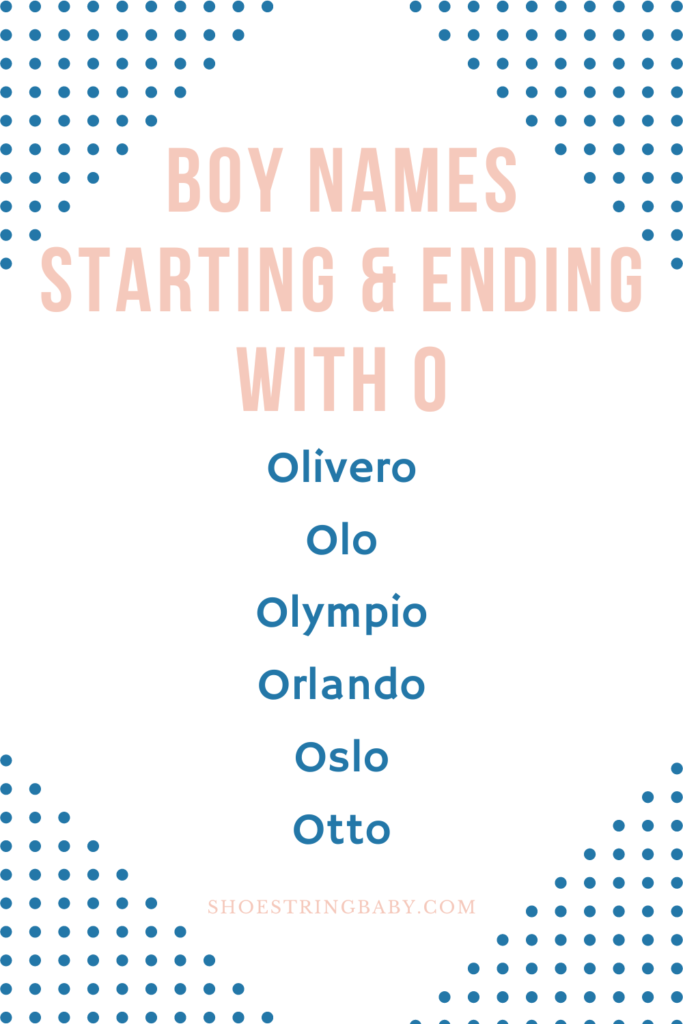 Girl names starting and ending with O
Oheo: Oheo means "day" and comes from Hawaiian origins
Ono

: Ono is a name of Japanese origins that means "small field"

Orino: Orino is a Japanese girl's name that starts and ends with O, meaning "worker's field"
Ororo: Ororo gained notoriety in the X-Men series. In Swahili it means "soft"
Osono: Osono is a name meaning "counselor" and its origin is from Japan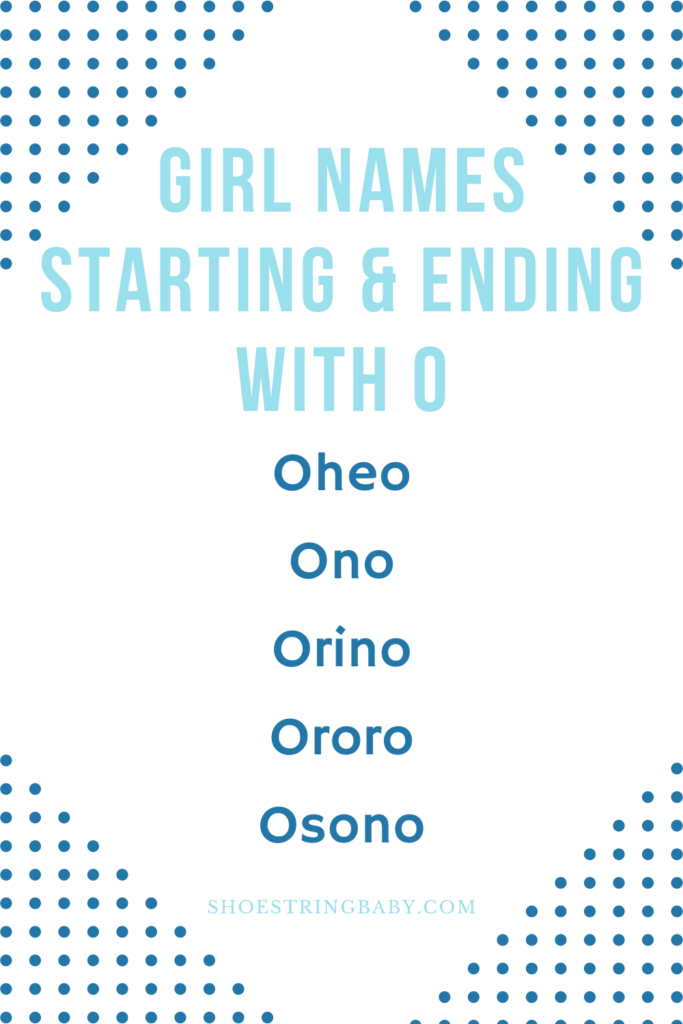 Unisex names that begin and end with O
Okkoto: Okkoto is a name of Japanese origins which means "boar tribe"
Omo: Omo is a name of multiple meanings. In Yoruba, it means "child" or "girl;" in Norwegian, it means "farm;" and in Japanese, Omo means "things"
Oto: Oto is a Japanese name beginning and ending in O that mean "sound"
Otono: Otono is another unisex name that comes from Japan meaning "sound"
Oyibo: Oyibo comes from Nigeria and means "white person"
---
And for more name ideas, check out:
Join our baby name facebook group!
Love chatting about baby names and trends? Join the discussion over on our new Facebook group. Plus, get FREE help finding the perfect baby name!