20 Names Like Leo With Similar Cool Vibes
This post may contains affiliate links. Read the full disclosure here.
Do you love the name Leo but there is already a Leo in your family? Or, are you worried Leo is too popular and there will be four other Leo's in your kid's class? Fear not, below you'll find 20 great alternatives to the name Leo with similar style and feel.
I'm a trained researcher who loves writing about baby names. Having studied name trends and styles for over five years, I put together this list of names like Leo to save you time on your name hunt.
From obviously similar names (e.g. Leon and Lev) to other names that mean "lion" (e.g. Dillon and Ander), there are names on the list for every naming style.
I also made sure to add some unique Leo alternatives to give you something new to add to your list.
Let's dive into the names!
(Note: name popularity rankings referenced in this article are sourced from the Social Security Administration)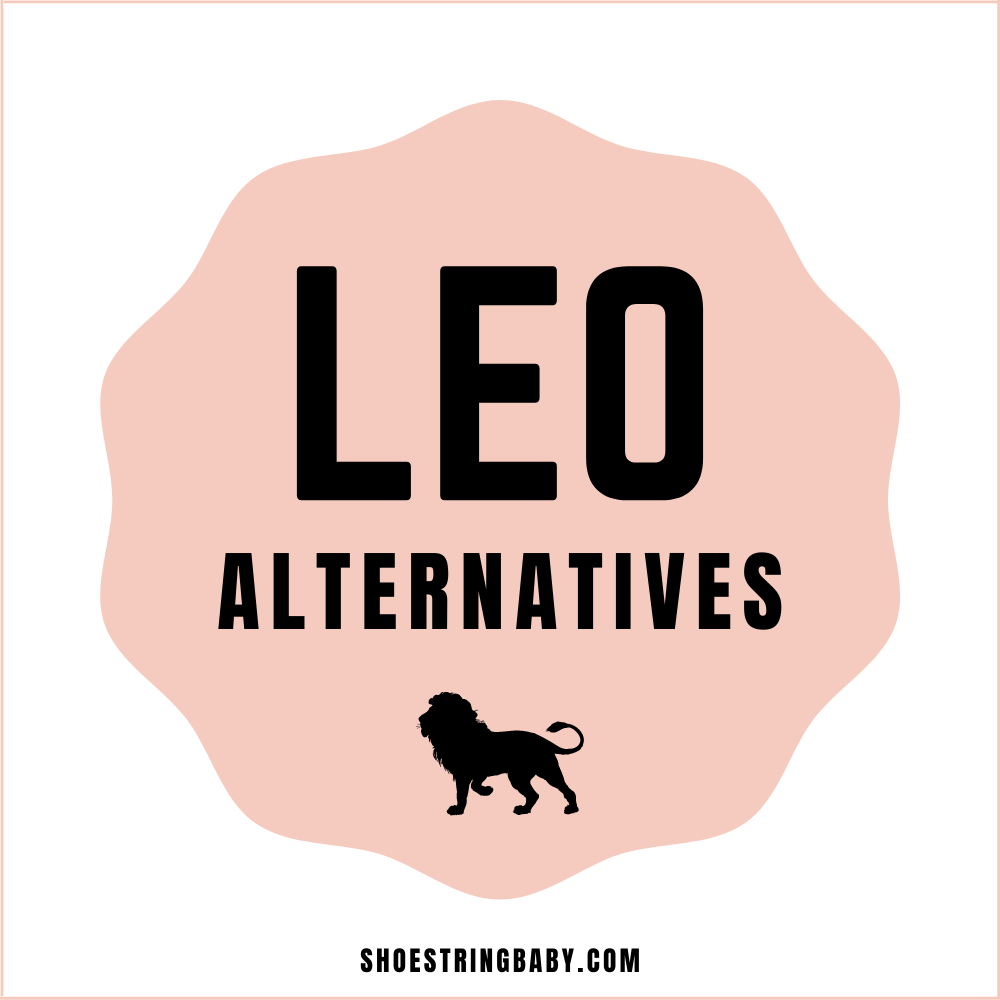 Join our baby name facebook group!
Love chatting about baby names and trends? Join the discussion over on our new Facebook group. Plus, get FREE help finding the perfect baby name!
Leo Meaning and Trends
Leo has been a constant favorite in the U.S, with its place on the top name list for the last century.
Leo was extremely popular in the first half of the 1900's, so many parents today may be looking to the name to honor a grandparent or great-grandparent.
Related Post: Cool Alternatives to Liam
Not only are these grandparent-revival names extremely popular right now, Leo also has all style elements to appeal to parents today.
It is soft, vowel-heavy and simple. With so much going in its favor, it is no wonder that Leo such a hot baby name today.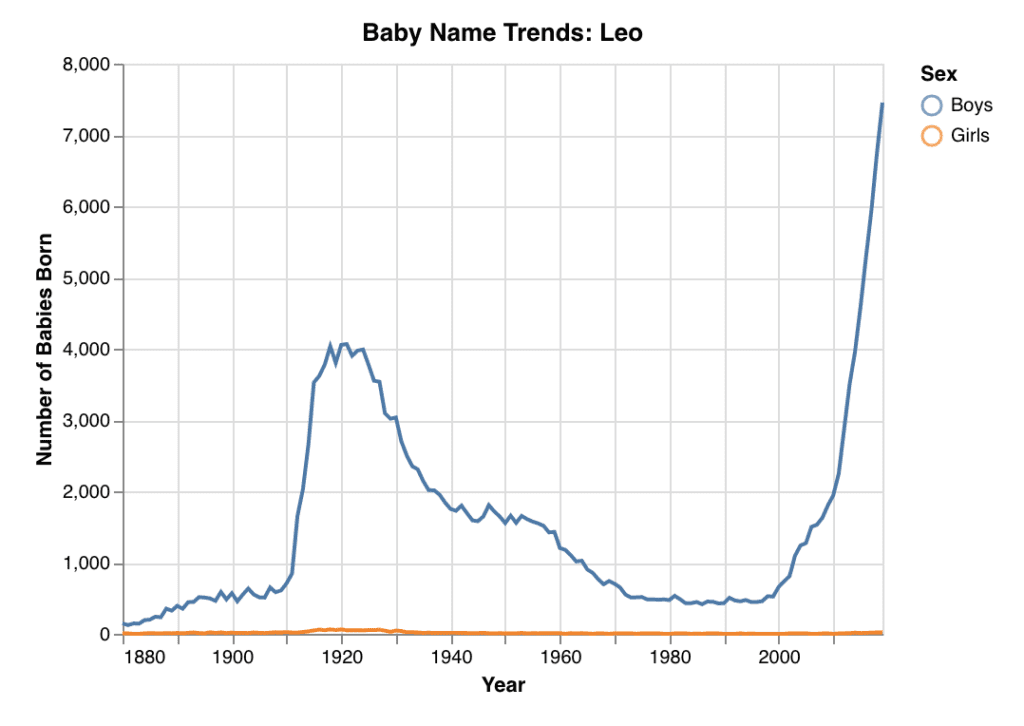 Leo hit its peak popularity in 2021 and shows no signs of slowing down. If that's too popular for you, keep reading for baby names like Leo.
Names Similar to Leo
If Leo's popularity gives you pause, then check out these boys names like Leo below. Hopefully you'll find a name that fills the Leo-sized hole in your baby name list.
1. Lino
Lino is the name that inspired me to write this list. I heard it while watching a documentary recently and immediately thought it would be the perfect Leo alternative, since it is a name that sounds like Leo.
It is a hidden gem of a name — extremely unique while still fitting in seamlessly with today's naming fashions.
Lino comes from Spanish and Portuguese and means "linen weaver."
2. Hugo
In style and vibe, Hugo is incredible similar to Leo. It is a soft name that ends in with an -o sound, a styling favorite among today's boy names.
Hugo also has that old-timey feel of Leo, with the bonus of being much less popular.
Hugo is an international name meaning "mind," with roots in French, German, Spanish and Portuguese.
3. Ander
If you love Leo's lion meaning, then Ander is a unique alternative to consider. Ander come from Scandinavia and means "lion man."
It is also a straightforward, easy name like Leo. Ander is newly on the top 1000 name list, having made it's debut in 2020.
4. Arlo
Arlo is a great alternative to Leo for those looking for a fashionable name. The ending -o, simplicity and cool vibe makes Arlo a natural alternative to Leo.
Arlo also shares the same grandpa-name revival trend as Leo. Arlo was briefly popular at turn of the century and has enjoyed an explosive return in the last decade.
Arlo comes from English origins and means "fortified hill."
5. Leopold
If you're looking for a full name with the option of Leo as a nickname, don't forget about the name Leopold.
While Leonardo may be the popular pick for a formal name for Leo, Leopold is waiting in the wings ready to be rediscovered.
It hasn't been a top name since 1926 so it has seriously fashionable grandpa-name vibes. Leopold gives you the best of both worlds — an extremely unique name with Leo as a nickname.
6. Harvey
Leo and Harvey sound like they could be siblings.
Though the names sound different, Harvey is another classic name that parent's today are rediscovering. It is old-man-chic in the best way.
Harvey comes from English origins and means "battle worthy."
7. Lev
For those who love Leo's brevity and L sound, Lev may be the name for you. Only one letter off from Leo but entirely unique, Lev has yet to break into the top 1000 name list.
Lev also shares a similar meaning with Leo, meaning "lion" and "heart" from Hebrew and Russian origins.
8. Elio
Elio is the roll-off-your-tongue, flowing alternative to Leo. It has all the fashion elements to appeal to parents today: soft sounds that are heavy on vowels and that ending -o like Leo.
Elio just made its debut to the top name list in 2021 and is likely to continue to rise in popularity. Elio means "sun" in Italian and Spanish
9. Leonidas
Leonidas is another great option if you're interesting in a fuller name with Leo as a possible nickname. What is great about Leonidas is that Leon also works as a nickname if you want to totally sidestep Leo.
Leonidas is a new to the Top 1000 name scene, and it made its appearance in step with Leo gaining popularity. Likely, parents sought out this name as a formal name for Leo.
10. Linus
You may be surprised to see Linus on any name list today but hear me out. Linus threads that needle of being an extremely rare name that is also totally familiar.
At a time when parents are digging deeper and deeper to find unique "old man" names, Linus is primed for rediscovery.
And like Leo, Linus is a no-nonsense L-name that would be completely adorable on a baby.
11. Ames
How is Ames not on the top 1000 name list yet?
Ames is a lovely name with a slow charm. Ames feels like sitting outside on long, warm afternoons.
It also fits into two major naming trends today — place names and surnames as first names. Short and sweet, Ames is a unique alternative to super popular Leo.
12. Lochlan
Lochlan is an international favorite that is starting to be noticed in the U.S. It comes from Scotland and means "land of lakes."
Lochlan enjoys that same approachable but formidable feeling as Leo. Plus, Lockie is a great nickname.
13. Dillon
Dillon is another name with a similar meaning to Leo. Dillon comes from Ireland and means "like a lion."
Dillon had a moment in the early 1990's but has saw its popularity waning in recent years. This means that a little Dillon born today would likely be the only Dillon at the playground.
14. Leon
Leon is the closest boy name like Leo on the list. In fact, Leon is the Greek version of Leo.
Though the name is fashionable in its own right, Leon likely has enjoyed a bump in popularity as parents look for formal names that have Leo as a nickname. The two names have been trending closely together on the popularity charts.
15. Boaz
Looking for an undiscovered name with the coolness factor of Leo? Boaz may be the name for you.
Boaz is effortlessly cool, with that ending -az sound and the perfect nickname Bo.
I'm honestly shocked that Boaz hasn't found its way into the naming zeitgeist yet. As of 2021, it hasn't even broken into the top 1000 list.
16. Milo
Milo is a sweet name that would make an easy alternative to Leo. Milo shares a lot of Leo's great elements: the ending -o, only soft sounding consonants, and fashionable simplicity.
Also similar to Leo, Milo is definitely having a moment so your child's name will fit in easily with their contemporaries.
17. Otto
Another short -o ending name, Otto also makes the list as a name following a similar popularity trajectory as Leo.
Both saw their previous peak popularities around the turn of the century, and their revivals began around 2010, as shown in the name popularity graph below.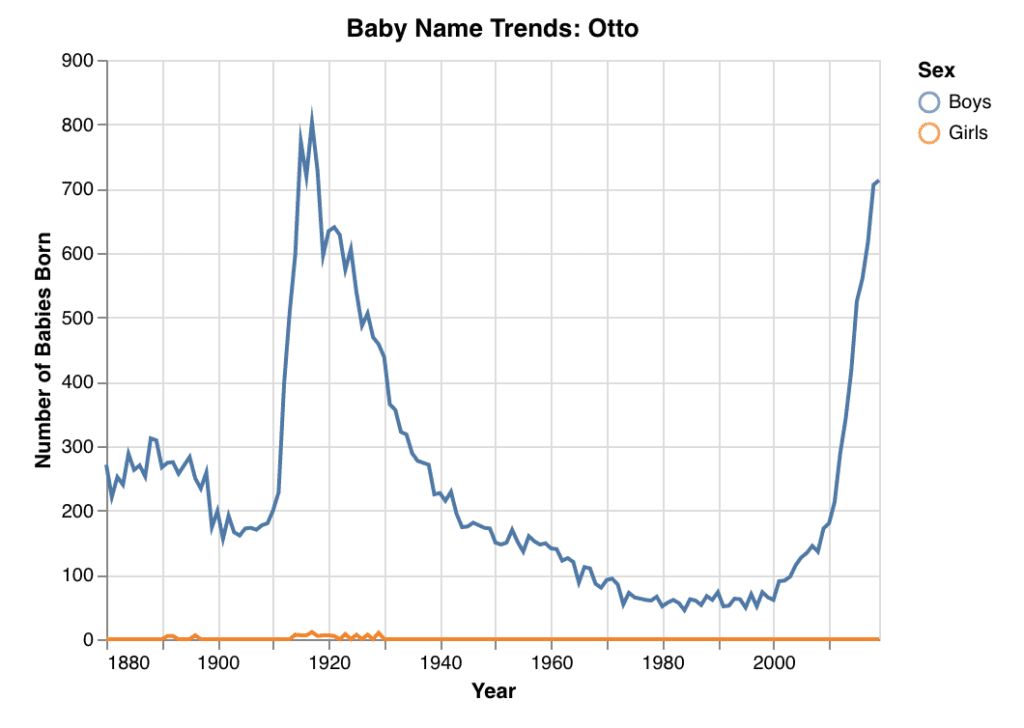 Otto, however, hasn't yet reached the popularity heights of Leo today. That makes it a great alternative for those worried about too many Leo's in the classroom.
18. Kip
Like Leo, Kip is a quick hit of a name. It means "pointed hill" and comes from English origins.
Sometimes used as a nickname for Christopher, Kip can also be a standalone name for those who love short and sweet boys' names. Kip fell off the top name list in 1984 so it's a unique pick that still captures the recognizability and simplicity as Leo.
19. Lane
Lane is a sweet unisex name that is much more common for boys. It'll appeal as a Leo alternative if you love short and simple L-names.
Lane is common without being overly popular, which makes it a great pick for people who don't want to veer too far from mainstream naming conventions.
20. Mateo
If you don't want to use Leo because you're worried it is too popular, then Mateo is not the alternative for you. Mateo is a name on fire.
It has rocketed up the charts and is closing in on becoming a top 10 name. Still, it is a solid name that shares many qualities with Leo.
They're both punchy names that sound similar with their ending -eo.
---