75 Middle Names for Jordan & Jordyn [Boys, Girls & Neutral]
This post may contains affiliate links. Read the full disclosure here.
Looking for full name ideas that go well with the name Jordan or Jordyn? Check out this handpicked list of 75+ middle names for a future boys and girls named Jordan, including meanings and name origins.
Jordan is perhaps one of the few true gender neutral names. It's popularity for boys and girls has risen and fallen together over the last four decades.
While Jordan hit its popularity peak in the 1990's (#26 for boys and #40 for girls in 1997), it remains a steady favorite. It currently sits at #88 for boys; and while it may seem to have dropped more for girls at #425, the feminized spelling Jordyn actually outranks the traditional spelling (#209).
I really enjoyed putting together this list of middle names for Jordan. The softness of 'Jo' and the ending 'n' make so many middle names work well with Jordan — the full names sound smooth and substantial.
Plus, I had the Michael Jackson's Will You Be There line "hold me like the river Jordan" stuck in my head the whole time.
These middle name ideas come from my personal database of over 2000 names. I research forums, social media and websites to stay abreast of trends and new ideas. They were handpicked with flow and style in mind.
I also tried to highlight some off the beaten path names to add new ideas to your name search.
First, you'll find an overview of the name Jordan and its popularity. Then we'll turn to girls, boys and unisex middle names that go well with Jordan.
And don't forget to check out some of my other middle name lists:
On to the Jordan middle names!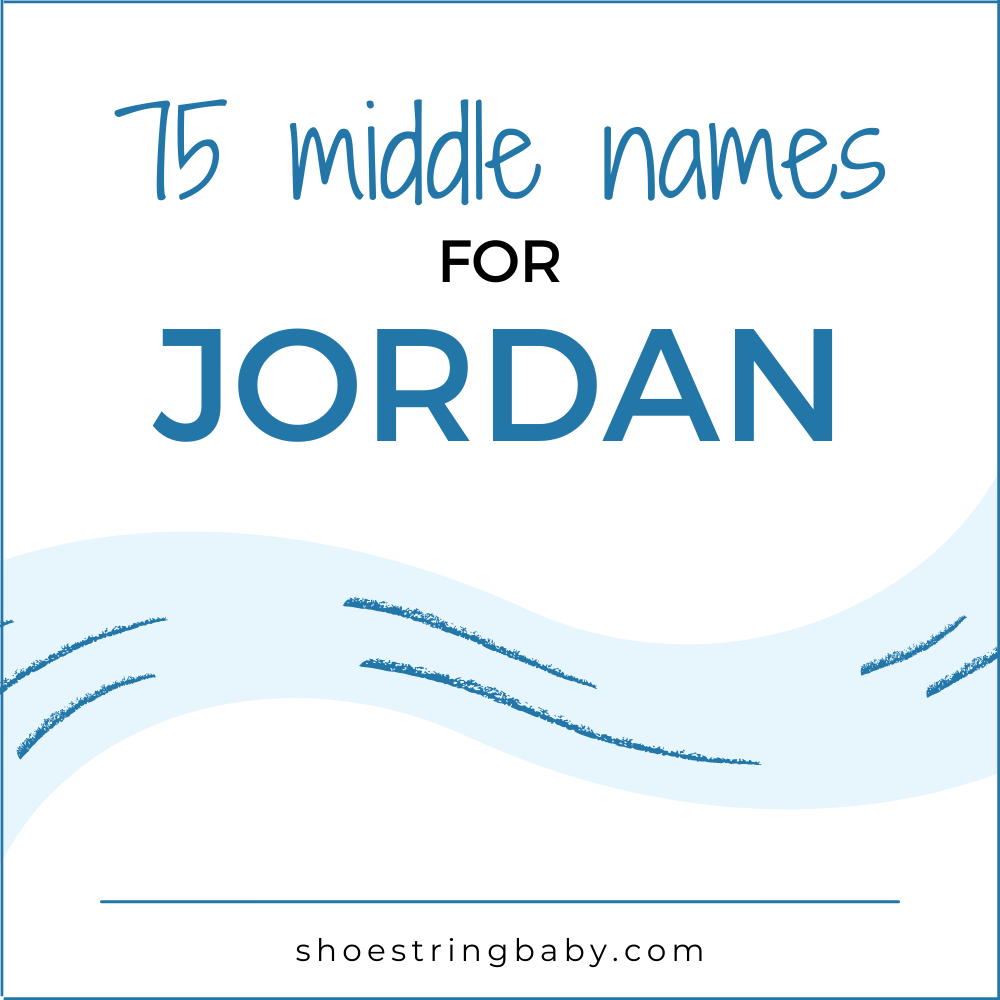 Join our baby name facebook group!
Love chatting about baby names and trends? Join the discussion over on our new Facebook group. Plus, get FREE help finding the perfect baby name!
Meaning & Trends of Jordan
Jordan means "to flow down" in Hebrew and is most known for it's connection to the Jordan River in Israel.
Jordan is considered a biblical name, with Jesus being baptized in the Jordan River. Crusaders would also bring back river water to baptize their children; some of these children were given the name Jordan in honor of the baptism.
Jordan was a hot unisex name at the end of the millennium, hitting its peak in 1997. The name's popularity has mostly trended together for both boys and girls.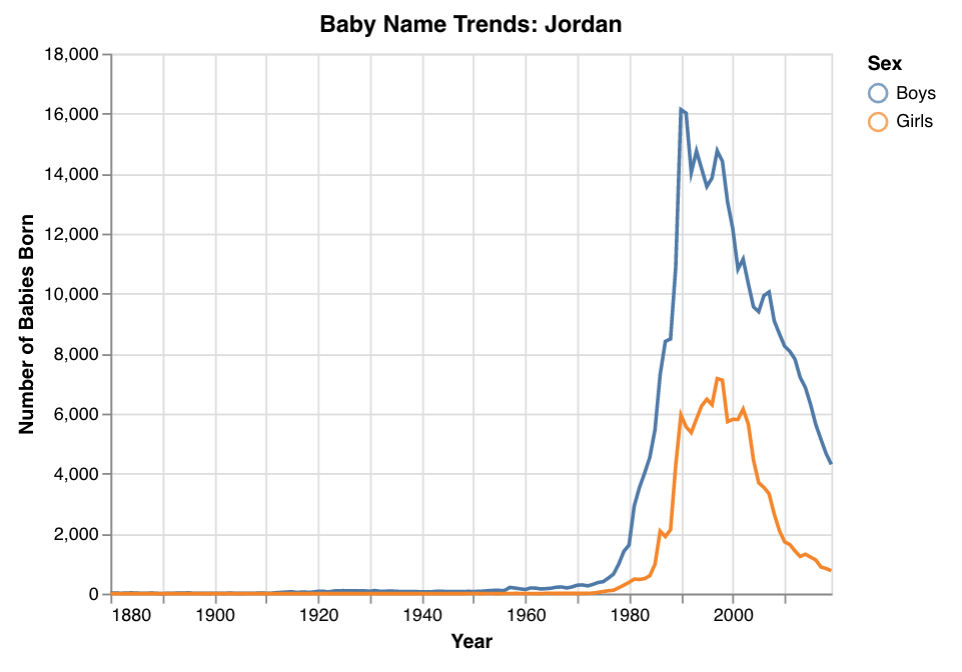 In recent years, the name's popularity has declined some for both genders. However, the traditional spelling of Jordan has had a faster fall for girls. Instead, girl parents today are favoring a feminized spelling of Jordyn.
Interestingly, feminized Jordyn's ranking has remained mostly steady since it came on the scene in the early 1990's. While classically-spelled Jordan has dropped 383 spots from its peak, Jordyn has constantly landed in the mid-100's-200's range.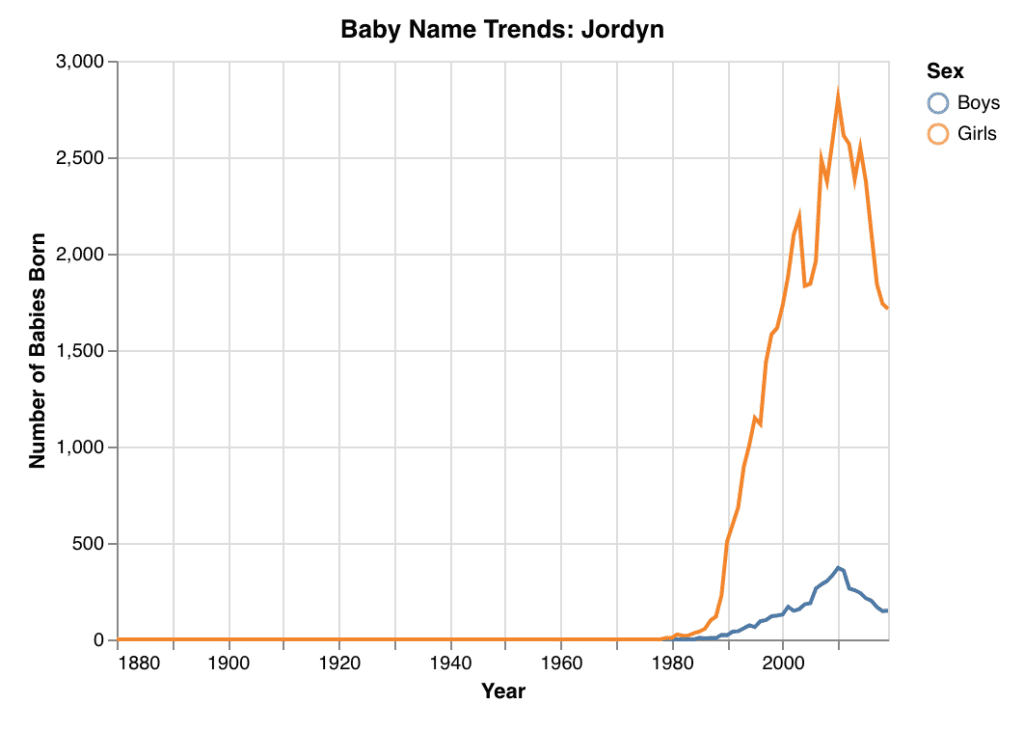 For more on baby name trends, check out of name popularity tool.
Girl Middle Names for Jordyn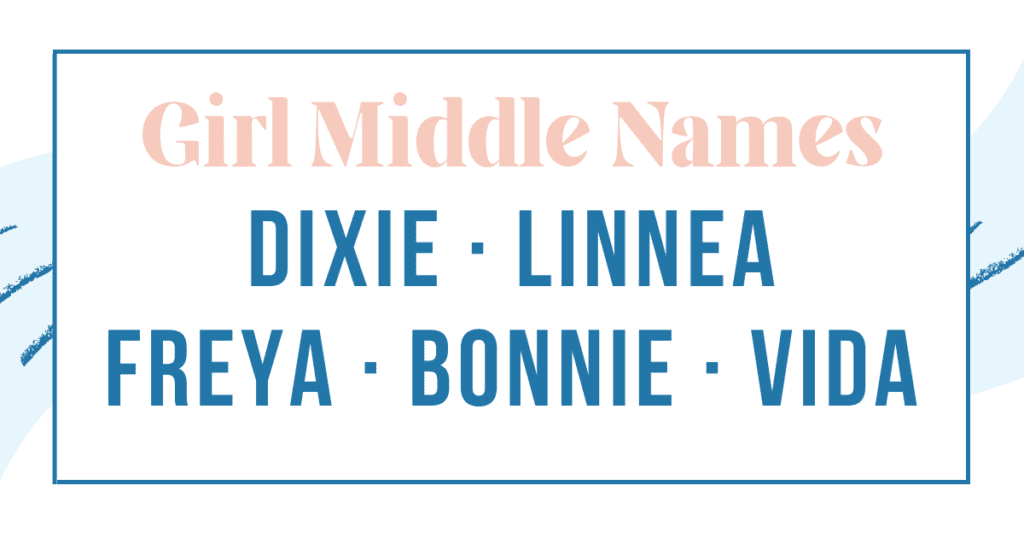 First, here are 25 middle name ideas for girl Jordans / Jordyns. Jordan Zella and Jordan Zadie offer the cute nickname option of "Jo Z" pronounced like Josie.
I think retro names like Bonnie or Flossie are soon to make a comeback and would make fun middle names.
I have alternated the spelling between Jordan and Jordyn on this list to as a visual for those trying to decide between the spellings.
Related Post: 65 Middle Names for Mabel
1. Jordan AALIYAH
Meaning: exhalted
Origin: Arabic
2. Jordyn ADELAIDE
Meaning: noble
Origin: German
3. Jordan ALORA
Meaning: my dream
Origin: African (Bantu)
4. Jordyn BONNIE
Meaning: pretty
Origin: Scottish; French
5. Jordan BRIANNA
Meaning: noble
Origin: Irish
6. Jordyn CHLOE
Meaning: blooming
Origin: Greek
7. Jordan CORINNE
Meaning: maiden
Origin: French; English
8. Jordyn DELANEY
Meaning: dark challenger
Origin: Irish; French
9. Jordan DIXIE
Meaning: tenth
Origin: English; French
10. Jordyn ESTHER
Meaning: myrtle leaf
Origin: Hebrew; Persian
11. Jordan FLOSSIE
Meaning: flower
Origin: Latin
12. Jordyn FREYA
Meaning: noble
Origin: Norse
13. Jordan HAZEL
Meaning: hazel tree
Origin: English
14. Jordyn IVORY
Meaning: white
Origin: English
15. Jordan KIARA
Meaning: clear, dark one
Origin: Italian, Irish
16. Jordyn LILY
Meaning: pure, flower
Origin: Latin
17. Jordan LINNEA
Meaning: lime tree
Origin: Scandinavian
18. Jordyn MAGNOLIA
Meaning: flower
Origin: Latin
19. Jordan MICHAELA
Meaning: who is like God?
Origin: Hebrew
20. Jordyn NADIA
Meaning: hope, tender
Origin: Russian
21. Jordan NAOMI
Meaning: pleasantness
Origin: Hebrew
22. Jordyn PHILIPPA
Meaning: lover of horses
Origin: Greek
23. Jordan VIDA
Meaning: life
Origin: Spanish; Latin
24. Jordyn ZADIE
Meaning: abundance
Origin: Arabic
25. Jordan ZELLA
Meaning: blessed
Origin: Yiddish; African – Bangi
Boy Middle Names For Jordan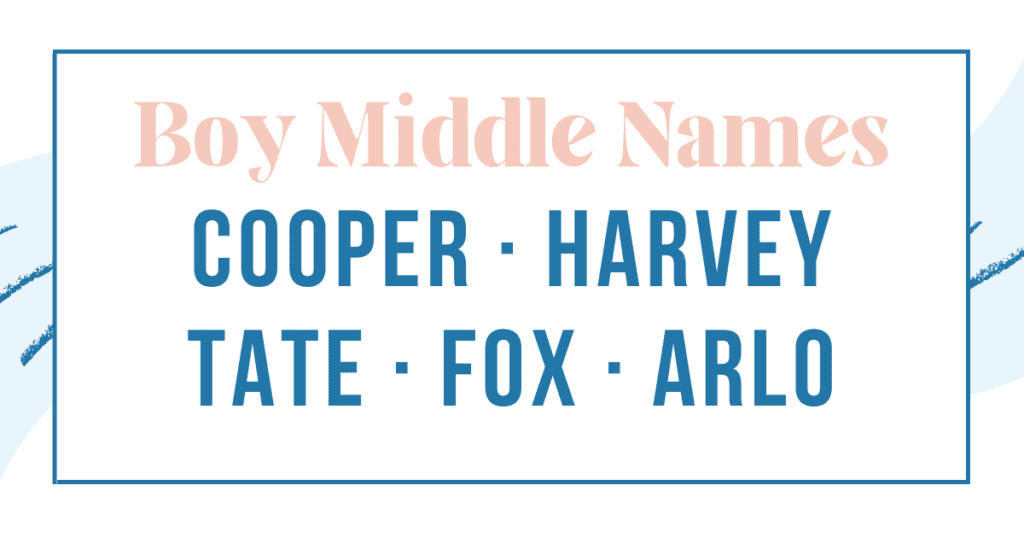 Next, we have boy middle names that go well with Jordan. Culling this list down to only 25 was a tall order since so many boy names felt like easy pairs to Jordan.
Of the boy names below, I particularly like Jordan Harvey and Jordan Ambrose .
Related Posts: 65+ Middle Names for Silas
26. Jordan ADLER
Meaning: eagle
Origin: German
27. Jordan AMBROSE
Meaning: immortal
Origin: Greek; Latin; English
28. Jordan ANDERSON
Meaning: son of Andrew
Origin: English
29. Jordan ARLO
Meaning: fortified hill
Origin: English
30. Jordan BAKER
Meaning: baker profession
Origin: English
31. Jordan BISHOP
Meaning: overseer
Origin: English
32. Jordan CHASE
Meaning: to hunt
Origin: English; French
33. Jordan COOPER
Meaning: barrel maker
Origin: English
34. Jordan CULLEN
Meaning: handsome
Origin: Irish
35. Jordan DAX
Meaning: town in France
Origin: French
36. Jordan EITHAN
Meaning: firm
Origin: Hebrew
37. Jordan FINNIAN
Meaning: fair
Origin: Irish
38. Jordan FOX
Meaning: animal fox
Origin: English
39. Jordan GRAHAM
Meaning: gravel homestead
Origin: Scottish; English
40. Jordan HARRIS
Meaning: son of Harry
Origin: English
41. Jordan HARVEY
Meaning: battle worthy
Origin: English
42. Jordan KANE
Meaning: warrior, man, golden
Origin: Irish; Hawaiian; Japanese
43. Jordan LANCE
Meaning: land
Origin: German; English
44. Jordan LIAM
Meaning: protection
Origin: Irish
45. Jordan LINUS
Meaning: flax colored
Origin: Greek
46. Jordan LIONEL
Meaning: little lion
Origin: Latin
47. Jordan PHINEAS
Meaning: Nubian, mouth of a snake
Origin: Hebrew
48. Jordan RUPERT
Meaning: bright fame
Origin: German
49. Jordan SOLOMON
Meaning: peace
Origin: Hebrew
50. Jordan TATE
Meaning: cheerful
Origin: English
Gender Neutral Middle Names for Jordan
Consider going fully gender neutral to gives your baby ultimate flexibility in the future. Here are some great unisex full names for Jordan.
Jordan Elliott and Jordan Kelly both have such a natural flow (and Kelly is a surprisingly unique pick nowadays!).
51. Jordan ADDISON
Meaning: son of Adam
Origin: English
52. Jordan ARES
Meaning: God of war
Origin: Greek
53. Jordan AUBREY
Meaning: elf ruler
Origin: German
54. Jordan BAYLOR
Meaning: delivery person
Origin: English
55. Jordan BLAKELY
Meaning: dark wood
Origin: English
56. Jordan BRADY
Meaning: broad meadow
Origin: Irish
57. Jordan CASSIDY
Meaning: clever; curly hair
Origin: Irish
58. Jordan CYPRUS
Meaning: tree
Origin: English
59. Jordan DARCY
Meaning: dark
Origin: French; Irish
60. Jordan DELL
Meaning: small valley
Origin: English
61. Jordan ELLERY
Meaning: joyful
Origin: English
62. Jordan ELLIOTT
Meaning: the Lord is my God
Origin: Hebrew
63. Jordan HOLLIS
Meaning: near the holly tree
Origin: English
64. Jordan KELLY
Meaning: warrior
Origin: Irish
65. Jordan KENNEDY
Meaning: misshapened head
Origin: Irish
66. Jordan KINSLEY
Meaning: kings meadow
Origin: English
67. Jordan LEE
Meaning: meadow
Origin: English
68. Jordan LINNET
Meaning: small songbird
Origin: French; Welsh
69. Jordan MARLEY
Meaning: pleasant meadow
Origin: English
70. Jordan SAWYER
Meaning: woodcutter
Origin: English
71. Jordan SHANE
Meaning: graced by God
Origin: Irish
72. Jordan SHEA
Meaning: dauntless one
Origin: Irish
73. Jordan TATUM
Meaning: cheerful
Origin: English
74. Jordan TINSLEY
Meaning: Tynnis meadow
Origin: English
75. Jordan TOVE
Meaning: beautiful
Origin: Scandinavian
Children's Books for Jordan
Check out these children's book ideas for a future baby Jordan.
Examples of Jordan as a Middle Name
Jordan works in the middle name spot as well. It would be a good middle name pick to add balance to heavily voweled and flowing names popular today.
Consider these girls' first names as pairs for middle name Jordyn:
Next, some boy first names that flow well with Jordan as a middle:
Finally, for a wholly unisex name, these gender neutral names work well with Elliot as a middle name:
Names Similar to Jordan
Perhaps you love the name Jordan but it isn't the one. Here are some names similar to Jordan that you may like:
Jory
Aidan
Jaden
Jonah
Morgan
Taylor
Yarden (Hebrew variation)
Logan
Jordi
Things to Consider When Choosing a Middle Name
Before finalizing a middle name, here are some final things to consider:
Search the first and middle name together: are there any well-known associations of the name combination?
Initials: do the full initials spell out anything?
Nicknames: does the middle name open up new nickname options for your baby?
Trends: how has the popularity of the name changed over time? (You can check our name popularity tool here.)
---
Looking for more name ideas? Check out 70 Earthy Gender Neutral Names. Happy naming!