50 Handpicked Middle Names for Elodie
This post may contains affiliate links. Read the full disclosure here.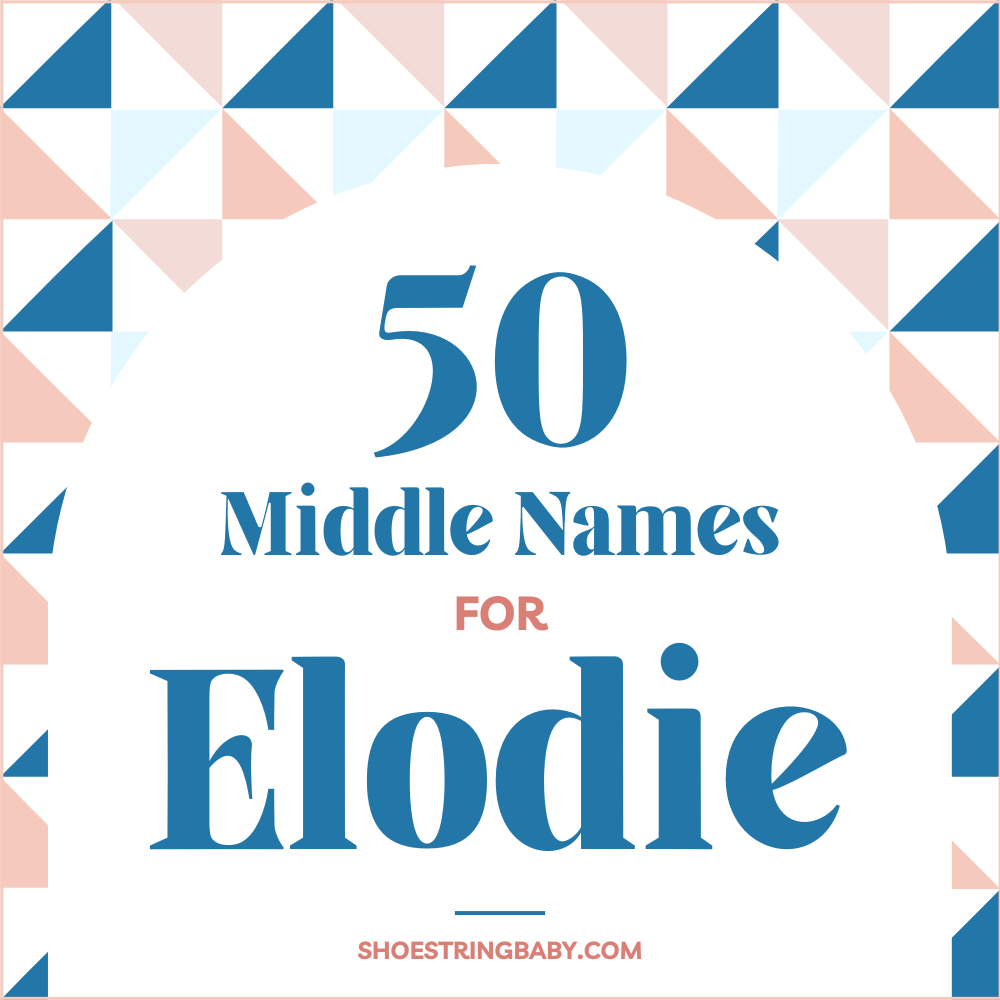 Looking for beautiful middle names that go well with the Elodie? Then check out this list of 45+ middle names for Elodie, that includes meanings and origins (and why the name pairs well with Elodie!)
I hand selected these middle name lists from my personal database of over 2000 names. These names go well with Elodie based on fashion, flow and feeling. I also personally researched bonus French middle names to keep with Elodie's roots.
Below you'll find a brief overview of Elodie's meaning and history. Then you'll find middle names broken down by style, sound & length and origin.
I hope you find some new name ideas to add to your list. For more name lists, check out:
On to the middle names!
Table of Contents
Join our baby name facebook group!
Love chatting about baby names and trends? Join the discussion over on our new Facebook group. Plus, get FREE help finding the perfect baby name!
Top 10 Middle Names for Elodie
Don't have time to read the whole article? Here are my top 10 favorite middle names for Elodie.
Elodie Delphine
Elodie Olive
Elodie Esther
Elodie Philippa
Elodie Arden
Elodie Ivy
Elodie Annalise
Elodie Brynn
Elodie Clara
Elodie Blythe
Elodie Meaning and Popularity
Elodie is a unique and modern name that's only starting to be discovered. The name just recently entered the top 1000 names and is still below the top 500 list.
It made its first appearance in 2019 at 866 and has been steadily climbing since. In 2021, Elodie was given to 384 baby girls, making it the #737 most popular name of the year.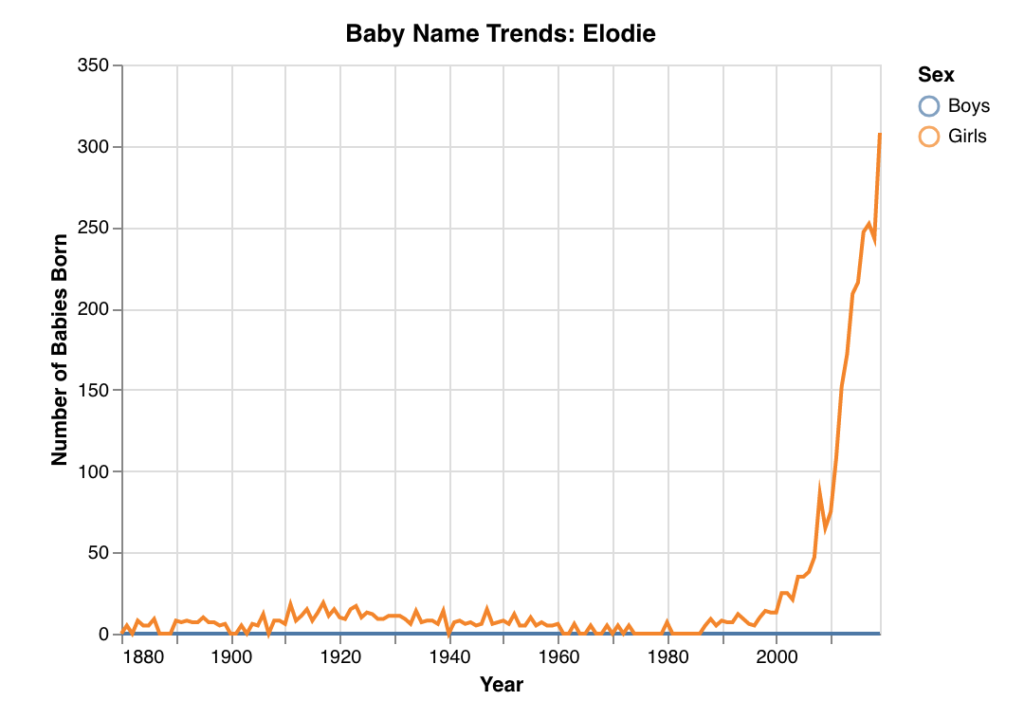 The name is more popular in France and the U.K, where it is a top 100 name. Will it keep heating up stateside? Time will tell but given how well it fits in with today's popular lyrical and soft style, it seems likely.
Elodie is a French variation of the Greek name Alodia, and means "riches."
Classic Names That Go Well With Elodie
First on our list of middle names for Elodie, we have classic names that go well with Elodie. Classic names add balance to Elodie's modernness.
Of these names, Elodie Maxine has a great spunkiness and Elodie Flora is ultra-feminine.
1. Elodie CLARA
Clara is a feminine name to match feminine Elodie. It comes from Latin and means "bright."
2. Elodie FLORA
Flora is also a Latin-derived name which means "flower."
3. Elodie LILITH
Lilith keeps with Elodie's style of soft consonant sounds and vowels. It is a Babylonian name meaning "night monster."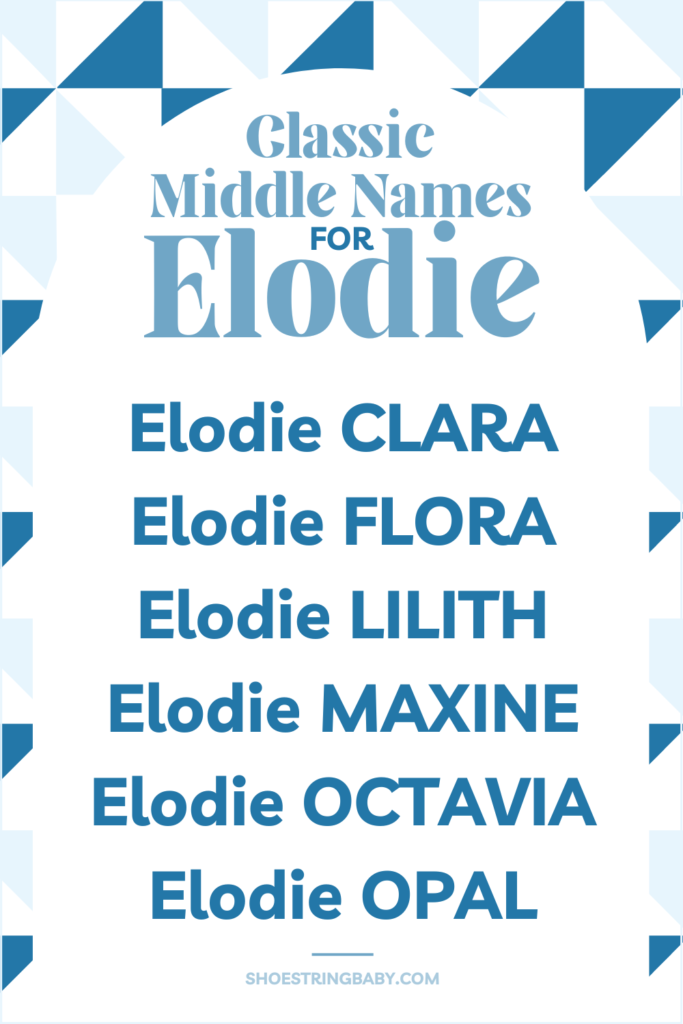 4. Elodie LOUISA
Lousia is the feminine variation of the name Louis that was most popular in the late 1880s. It comes from Latin and means "famous warrior."
5. Elodie MAXINE
Maxine is the female answer to names Maxwell and Maximilian. It comes from Latin roots and means "greatest."
6. Elodie OCTAVIA
Octavia adds an element of formidability to the name Elodie. Octavia means "eighth" and comes from Latin roots.
Related Post: 75+ Middle Names for Imogen
7. Elodie OPAL
Vowel-forward Opal adds a timelessness when paired with Elodie. Opal originates from Sanskrit and means " precious gem."
Modern Middle Name Ideas for Elodie
Elodie is a fresh name on the scene. These middle names keep with Elodie's modern style.
I love the name Blythe in the middle name spot, and Elodie Olive has a cute flow to it.
8. Elodie AURA
Elodie Aura would make an ultra feminine full name. Aura has the lovely meaning of "gentle breeze" and comes from Greek.
9. Elodie BLYTHE
Blythe is a rare feminine name that comes from Old English and means "merry" or "cheerful."
10. Elodie LYRA
Lyra is a modern favorite that comes from Greek. The name means "lyre," which is a small stringed musical instrument.
11. Elodie MAEVE
Trendy Maeve is an Irish name with the great meaning of "hilarity."
12. Elodie OLIVE
Olive is an on-trend grandma-style name that is enjoying a revival. With similar vowel and L sounds, it is a name that goes well with Elodie. Olive comes from Latin and means "olive tree."
13. Elodie OPHELIA
Ophelia is a Shakespearean name that only recently started to shake its Hamlet association. Modern parents seem to like it as an o-name alternative to popular Olivia. Ophelia means "help" and has Greek roots.
14. Elodie PHILIPPA
Philippa is an underused name that came into the spotlight in recent years because of Pippa Middleton. It means "lover of horses" and comes from Greek.
Long Middle Names for Elodie
To keep with Elodie's romantic and lyrical sound, below you'll find long and flowing middle name ideas.
15. Elodie ALEXANDRA
Alexandra is the feminized variation of Alexander, the classic Greek name meaning "defender."
16. Elodie AMELIANA
Ameliana is a flowing alternative to popular Amelia. As a form of Amelia, the name means industrious and comes from Hebrew.
17. Elodie ANNALISE
Annalise pairs well with Elodie because of its similar syllable pattern. Annalise means "grace" and comes from German.
18. Elodie FLORENCIA
Florencia is a flowery alternative to Florence. The name comes from Latin and means "flourishing."
19. Elodie JOSEPHINE
One of the hottest grandma-revival names, Josephine adds a seriousness to Elodie. It is a Hebrew name meaning "God will increase."
20. Elodie GEORGIANA
Georgiana strikes the balance of being both formidable and lyrical-and-long at the same time. Georgiana is an English name meaning "farmer."
21. Elodie THEODORA
Theodora is a name enjoying a revival and would go well with soft Elodie. The name comes from Greek and means "God's gift."
Short Middle Names to Go With Elodie
To keep things short and sweet, here are simple and concise names that sound great with Elodie. Short middle names are great for those who may want to use both names in the future.
Since Elodie is a modern name, Elodie Anne would make a unique double barrel name.
22. Elodie ADA
With matching d-sounds, Elodie Ada is a concise and flowing middle name option. Ada means "noble" and comes from German.
23. Elodie ANNE
One of the most classic girl names of all time, Anne comes from Hebrew and means "grace" or "favor."
24. Elodie JOY
Classic Joy is an easy and clean name that goes well with Elodie. Joy means "happiness" and has roots in Latin, French and English.
25. Elodie IVY
Using Ivy as a middle name for Elodie has an almost musical flow. Ivy is an evergreen vine whose name originates from Latin. If you like Ivy, don't sleep on our list of 65+ middle names that go well with Ivy.
26. Elodie RUE
Rue is a botanical name. It comes from English and means "herb."
27. Elodie WREN
Technically a gender neutral name, Wren has become a simple hit especially among girls. Wren is an English name meaning "songbird."
Alliterative Middle Names for Elodie
Alliterative middle names can offer ultimate flow for a full name. Here are six E-names that aren't too "matchy" or over-the-top when used as middle names for Elodie (no Andy Anderson's here!).
Elodie Eliza feels particularly fresh, and I like the flow and style of Elodie Ellis with its balance of feminine and gender neutrality.
28. Elodie EDITH
Classic and matronly Edith offers balance as a middle name to fashionable Elodie. Edith is an English name meaning "riches."
29. Elodie ELISHA
Elisha is a gender neutral name meaning "God is salvation" and comes from Hebrew.
30. Elodie ELIZA
Once a nickname for Elizabeth, Eliza is climbing the charts as a standalone given name. Eliza means "God's oath."
31. Elodie ELLIS
Elodie Ellis is an alliterative name that manages to have great flow without feeling cutesy. Ellis is a unisex English name meaning "benevolent."
32. Elodie EMILIA
Elodie Emilia would make a soft and smoothly flowing full name for Elodie. Emilia comes from Latin and means "to excel."
33. Elodie ESTHER
Esther has roots in both Hebrew and Persian, and means "myrtle leaf."
Personalized Elodie Baby Items
Once you've found the perfect name for your future Elodie, check out these personalized baby items:
French Origin Names That Go With Elodie
Next on the list are French name ideas to match Elodie's French origins. I love so many names on this list, like Colette, Delphine, and Odette.
34. Elodie BIJOU
Bijou is a unique French-originating name meaning "jewel." The name is pronounced like "bee-zhoo."
35. Elodie CAMILLE
Camille balances out flowing Elodie with a cool and controlled vibe. The name means "helper."
36. Elodie COLETTE
Like Elodie, Colette is a French name meaning "victory of people."
Related Post: 75+ Middle Names for Ottilie
37. Elodie DELPHINE
Delphine is a name that goes well with Elodie's romantic style. Delphine means "born of the water" in its French roots, and "dolphin" from it's Greek origins.
38. Elodie DIOR
Dior is a French-originating name meaning "golden."
39. Elodie MADELEINE
Elodie Madeleine is a name with great cadence. French Madeleine is a name that means "from Magdala."
40. Elodie MARTINE
Martine is a French name that means "warlike" or "servant of Mars."
41. Elodie ODETTE
The pairing of the -od sound in both Elodie and Odette adds to the rhythm of this full name. Odette is a French name meaning "wealth"
42. Elodie SOLEIL
Soleil is the French word for "sun" and makes a bright middle name for Elodie.
43. Elodie VIVIENNE
For a similarly-syllabic middle name, Vivienne is a great match for Elodie. Vivienne is a name meaning "alive" from Latin.
Unisex Middle Names for Elodie
Finally, here are some gender neutral middle names for Elodie. Consider giving a unisex name to maximize the flexibility your baby has in the future. I'm a sucker for gender neutral names so all of these are high on my favorites list.
44. Elodie ADAIR
Adair would make a fashionable middle name for Elodie. Adair comes from English and means "fortunate."
45. Elodie ARDEN
Elodie Arden has a nice rhythm with matching -d sounds towards the end of the names. Arden is an English name meaning "eagle valley."
46. Elodie BLAIR
Blair is a name with Scottish and Irish roots meaning "plain."
47. Elodie BRYNN
Brynn is a Welsh name meaning "hill."
48. Elodie LAUREL
Laurel is a modern update to Laura or Lauren. The name honors the bay laurel tree and comes from English. Laurel also makes my list of 70+ great unisex names with nature meanings.
49. Elodie MARIN
Marin comes from Latin and means "of the sea."
50. Elodie WINN
Cool and concise Winn balances out rhythmic Elodie. Winn is a Welsh name meaning "friend." And if you like the sound of Winn, check out this list of 25 unique full names for Winnie.
---
If you like the name Elodie, you may also like these names that go well with Ophelia. And, I have great lists of Freya middle names and Ariel middle names too.