7 Great Garbage Truck Books for Kids & Toddlers
This post may contains affiliate links. As an Amazon Associate, I earn from qualifying purchases. Read the full disclosure here.
What toddler doesn't look forward to garbage day? My child excitedly runs to the window to watch when he hears the truck noises in the distance. These garbage truck books are a great way to capture that joy any night of the week.
Below you'll find 7 great garbage truck books for toddlers and kids. From sound-word board books to truck poetry books, there's something for every kid on this list.
My personal favorites are Trashy Town with a great tempo for reading aloud and Vroom Vroom: Garbage Truck Book that will grow with your toddler.
Happy reading!
1. Vroom Vroom: Garbage Truck Book
By Asia Citro & Tony Cummings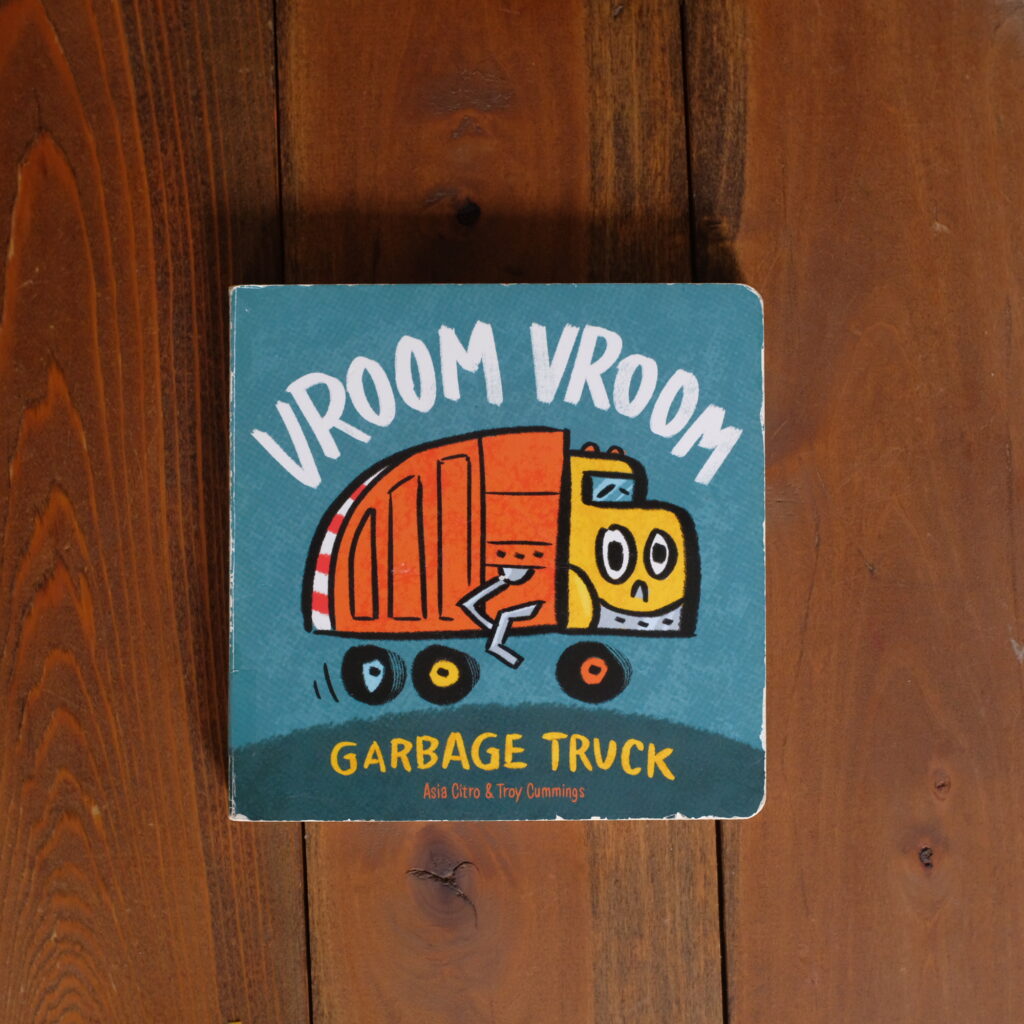 Vroom Vroom Garbage Truck is a fun sound-words book that is great for both older and young toddlers alike. Each page features sound words like "click clack bam!" and colorful sketch illustrations to tell its story. The simple drawings and sounds work well with younger toddlers, and an older toddlers will love saying (i.e. yelling) some of the sound words with you.
This toddler book follows garbage trucks around town as they do their work. The truck drives around town, picks up trash and takes it to the dump. And then the garbage truck goes to bed at the end of the book, hopefully just like your toddler.
2. Trashy Town
by Andrea Zimmerman and David Clemesha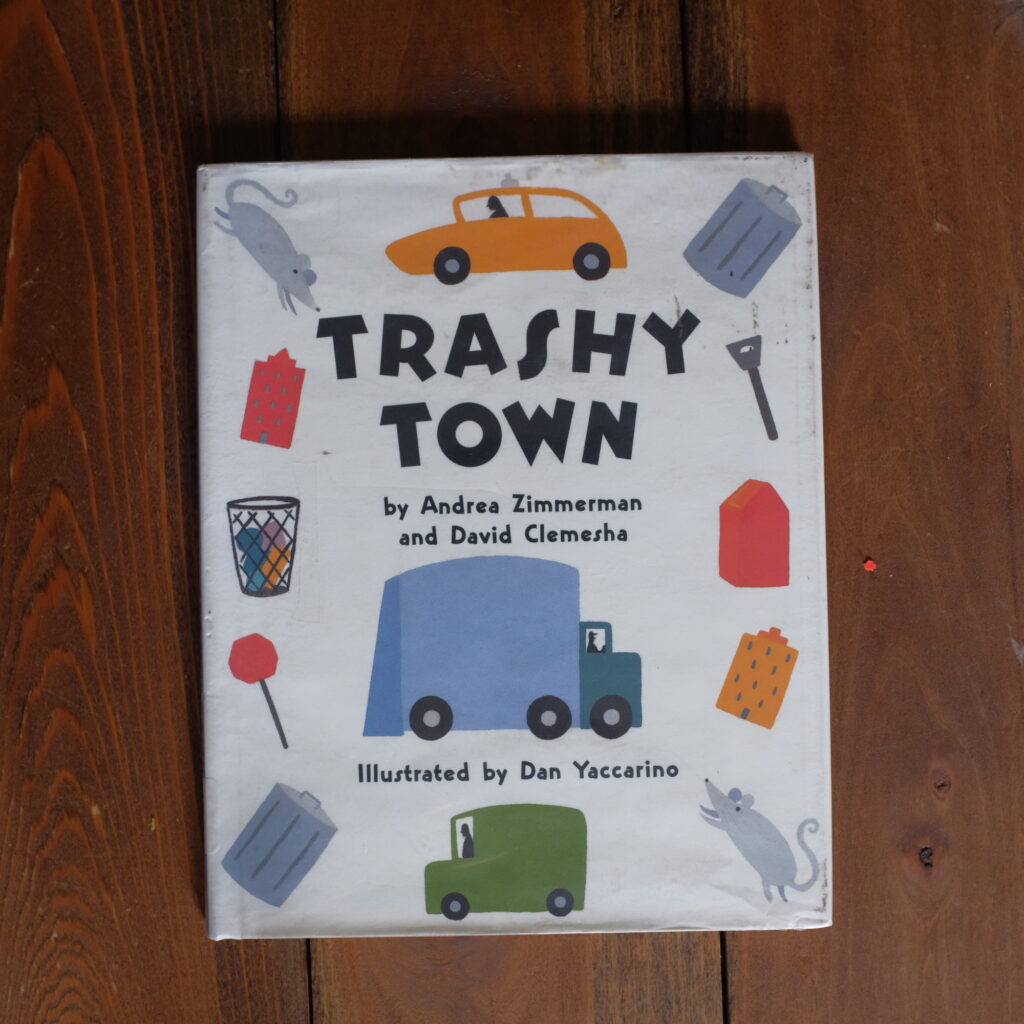 Trashy Town is another toddler book about garbage trucks that has a catchy rhythm. It uses a rhyming, repeated refrain throughout the book that my toddler almost dances to as we read it.
The book follows Mr. Gilly, the garbage man, around as he cleans up his town. After cleaning up places around the city by collecting trash, he heads to the dump to empty his garbage truck.
I personally like the twist at the end where the last thing Mr. Gilly cleans up is himself in the bath. This would be a great tie in for any toddler with a bath in their bedtime routine. The predictability and refrain is also book features recommended for toddlers (source).
3. I Stink!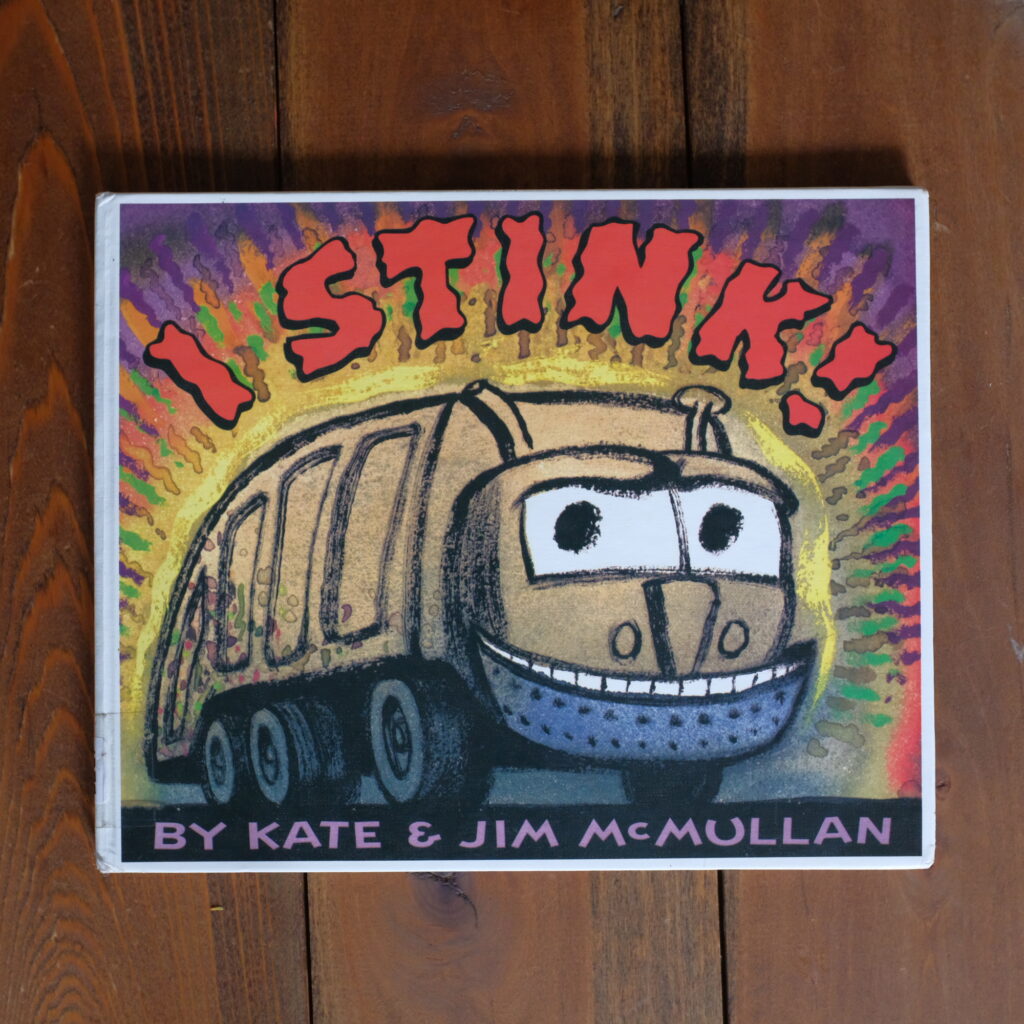 by Kate and Jim McMullan
I Stink! is sure to delight toddlers who love dirt and garbage trucks. Part of a truck book series including I'm Dirty! and I'm Brave!, this children's book follows a feisty trash truck that wants to eat garbage. The best feature of this toddler book is the dynamic visual experience. It features bright and bold illustrations and eye-catching text.
I Stink! also includes unique alphabet practice — trash items for each letter of the alphabet. My kid gets a kick out of the truck wanting to eat these different pieces of trash.
The only thing I don't like about this book is it references how much trash would pile up without garbage trucks, but the only solution it shows is putting the trash out to sea on a barge.
Related Post: 17 Children's Books About Fire Trucks
I would love one of these toddler garbage truck books to at least acknowledge our waste and landfill problems, though I recognize that would be a heavy lift for a book in this age group.
4. Trash Truck [the book]
by Max Keane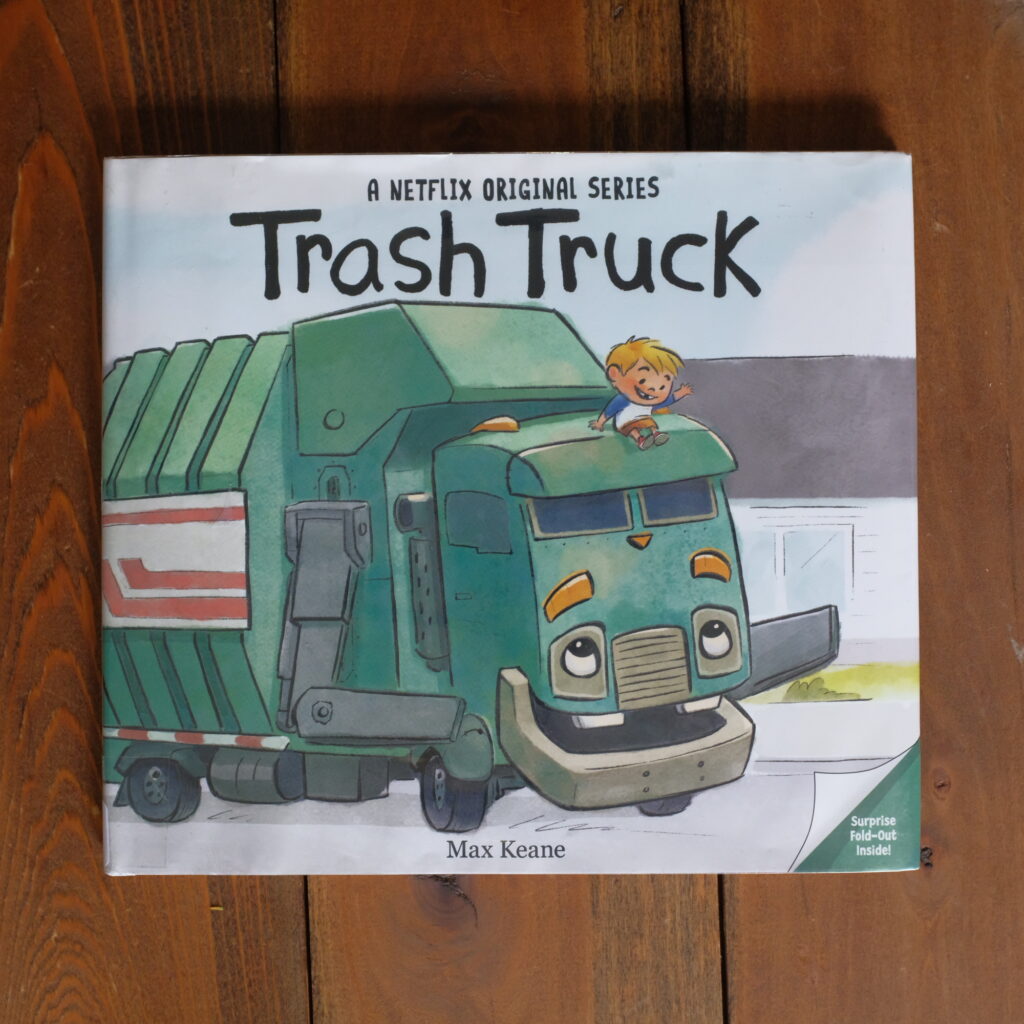 Trash Truck is the book companion to the Netflix animated series about a toddler and a garbage truck becoming friends. The book tells their origin story where they don't quite fit in and then become unlikely best friends; and, the cartoon series follows more of the boy's and truck's adventures together.
I personally like the more muted and calming color palette of the Trash Truck book. It is a nice change from the usual bright and loud look of many little kids' books. My toddler also really liked opening the big fold out page at the end of the Trash Truck book.
5. The Wheels on the Garbage Truck Book
by Jeffrey Burton
The Wheels on the Garbage Truck seems too obvious but man, does my toddler love our "Wheels on the.." series book (we own Wheels on the Fire Truck). The book simply updates the words to the classic "Wheels on the Bus" song to include things on a garbage truck and recycling truck.
The trucks are driven by cute animals that do the work on the trucks. I know this doesn't seem like something that you need a book for but these books are what got our two-year old to sing for the first time. He really goes nuts for them.
6. Digger, Dozer and Dumper
by Hope Vestergaard
Digger, Dozer and Dumper is a truck poetry book. It features poems about 16 different trucks and soft sketch illustrations of the trucks doing their jobs. The garbage truck poem explains how the hydraulic arm lists up trash cans around town.
My truck-loving toddler was really into this book and was excited to see what truck came next. When it got to some of his favorite trucks, he was delighted as if he was seeing an old friend. This book also made our list of great toddler books about dump trucks.
Digger, Dozer and Dumper is more text heavy than the other books on this list. It may be too long for some toddlers to get through in one sitting. However, its poem structure makes it easy to break up and read across sittings if needed. I reviewed the full book but there is also a board book version that may be shorter.
7. Smash, Mash, Crash
By Barbara Odanaka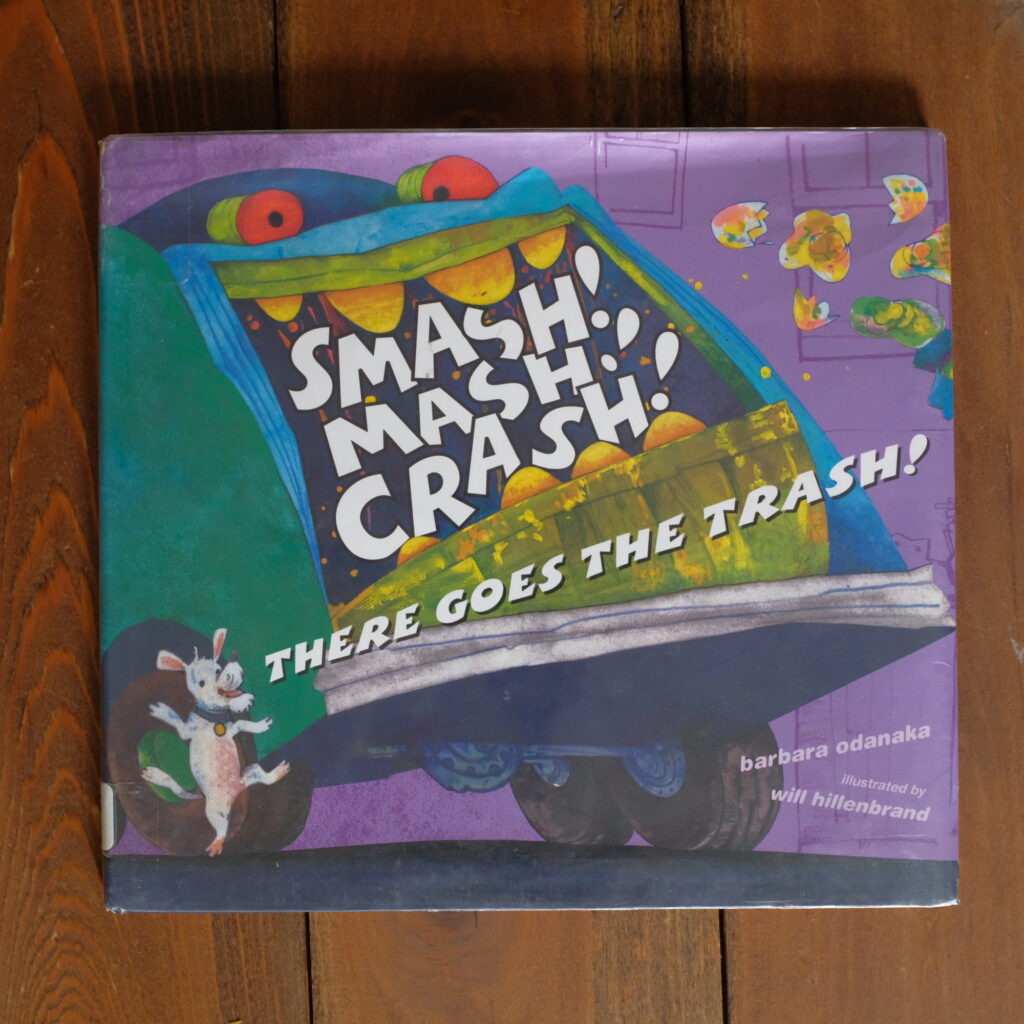 Smash! Mash! Crash! is another great garbage truck book that really captures how a lot of toddlers feel on garbage day. It follows the excitement of kids waiting for the trash truck to come. They hear the garbage truck noises in the distance and run to the window to watch.
A nice twist in this book is that the characters are pigs. The text focuses heavily on noise words and the different types of trash that the garbage truck eats.
It is great for kids who think trash and grossness are funny, and the garbage truck art is more interesting than a simple realistic picture of a truck.
---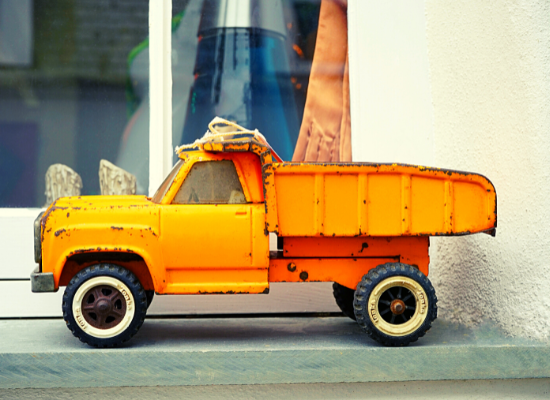 Related Article
9 Dump Truck Books for Kids