7 Winning Tips for Selling on Facebook Marketplace Revealed
This post may contains affiliate links. Read the full disclosure here.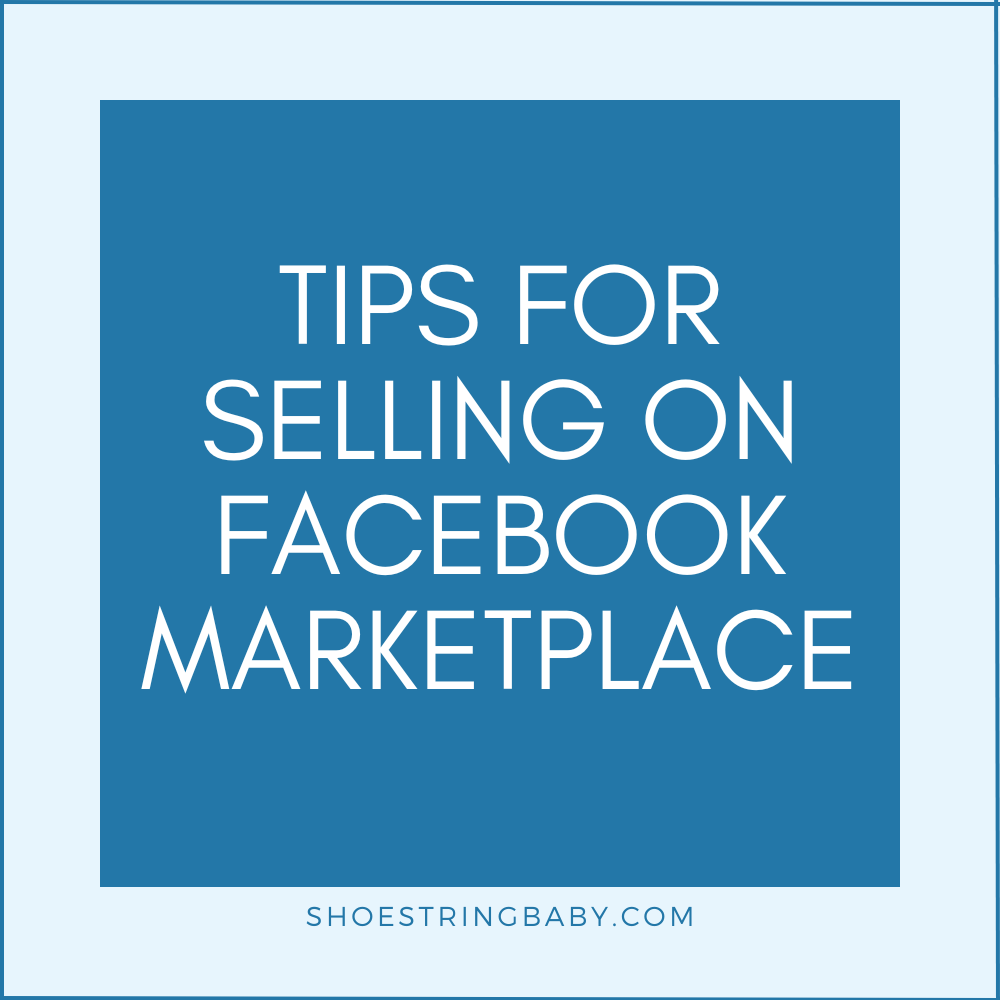 Are you selling on Facebook Marketplace? Check out these 7 tips for selling on Facebook Marketplace and make more sales today.
As a self-confessed Facebook enthusiast with over four years of experience in studying trends and strategies on the platform, I have to say – I absolutely love Facebook Marketplace. Despite the platform's privacy and misinformation issues, Facebook is a powerful tool for selling and buying secondhand goods.
While on modified bed rest throughout my pregnancy, I spent countless hours hunting on Facebook for the best deals on baby gear, which saved us tons of money (just check out one of my Monthly Baby Expenses Reports as proof). Sharing this expertise in finding cost-effective baby items on Facebook is what originally inspired me to start with website.
Through my experience and dedication, I've acquired invaluable knowledge about what works and what doesn't when it comes to selling on Facebook Marketplace.
So, to help you boost your sales and make the most out of this platform, let's dive into seven tried-and-tested tips for selling on Facebook Marketplace.
1. Help Me Find Your Facebook Marketplace Sales Listing
I know, this one seems obvious – of course, you aren't going to be able to sell on Facebook Marketplace if someone can't find your listing. Not only do you want eyes on whatever you are trying to sell, you want people who stand a good chance of being interested in the item to see it.
You need to make yourself easily found by your target market.
There are a number of reasons your listing may not be getting in front of the right people, and easy fixes for them.
Make your title and description as obvious as possible.
How is anyone going to know what you are selling on Facebook if the title is not descriptive enough? Let's use a stroller search for an example.
Say you are selling a Graco jogging stroller. If you just list it as 'Stroller,' your listing will come up in generic 'stroller' searches.
You'd be surprised at how many listings have generic, one-word titles.
If you don't put 'Graco' too, you may miss the more targeted people who specifically searching Facebook for 'Graco' because it matches the car seat they already have. Those are the people who are more likely to buy your Graco stroller than someone looking for any generic stroller.
When you search 'Graco stroller,' as pictured below, you notice that the first hits have more specific titles.
Someone doing this search is likely find a different stroller before they scroll by your more generic Facebook post.
Similarly, if you don't mention it being a jogging stroller, you'll miss out on people that specifically want and search for a jogger.
A bonus to being very clear in what you're selling is that you'll also cut down on the messages you receive. The messages you get will be more likely to convert to a sale, because they're more inline with what you're selling.
Crosspost your Facebook sale to relevant groups.
When I am looking for a used item, my first stop on Facebook actually isn't Facebook Marketplace.
My go-to for used items are local Facebook groups.
If you only sell on Facebook Marketplace and not relevant Facebook groups, you're missing out on a lot of possible buyers.
Our city has multiple groups just for parents swapping baby gear. Niching down even further, our small neighborhood within the city has its own parents' group as well.
Many neighborhoods have active yard sale Facebook groups. And there are Facebook groups focused on selling specific items, like the Zipadee Zip resale group.
Utilizing all possible groups for items you are selling also increases the likelihood you'll get the highest sales price possible (if that is your goal).
Take Zipadee Zips as an example. The going price on the Zipadee Zip resale group is higher than on general Facebook Marketplace or in local neighborhood groups. Listing in the very niche group will make you more money from a sale.
How to Find Local Facebook Resale Groups
When you are on Facebook, you can use the search bar at the top to find relevant groups. The search algorithm will give some priority based on your location in your Facebook settings.
Once you do the search, the first thing you'll see if the top hits under the 'All' tab. To the right, there is a tab specifically for searching groups. You can click there to see only group search results.
2. Provide a General Location on Your FB Listing
Another important piece in having your posting easily found is including your location. If you are selling on Facebook Marketplace, the default search is prioritized by the buyer's location.
A user can search by distance from their location, and while it isn't perfect, the listings in that radius show before ones that are farther away (though admittedly, this has been glitchier lately as they roll out their new shipping feature).
Facebook will still show users listings outside their local area, but they are lower on the screen and require the user to keep strolling to see them.
For some hard to find items, I may be more willing to drive a little for a pick up. But for something more common, like our stroller example, I'm much more likely to buy from someone if the location is convenient.
For these common items, I'm also much less likely to respond to a Facebook sales listing if I don't know where it is located.
I don't want to spend my time going back and forth with someone, only to find out I'd have to drive 30 minutes for a pick up.
If you are regularly in two locations where you can do an exchange, it may be worth posting your item twice with the different locations if they are far apart.
That way, you'll appear for more people searching nearby. If the two locations are mileage-wise close, but in different neighborhoods, it is still worth noting where you can do the sale.
People are much more likely to reach out and ultimately buy if the barrier to entry is low. Not having to drive far or coordinate narrow pick up windows make deciding to buy that much easier.
If you really want to sell an item and have the flexibility, offering a drop off increases your chance of a sale even more.
3. Detailed and Clear Descriptions Make Sales
To sell well on Facebook Marketplace, your descriptions need to be clear and accurate.
This just makes sense. Buyers want to know what they're buying before making a purchase. They need to know exactly what the item is and what condition it is in. But you'd be surprised by how many lackluster sales listings are posted.
Informative descriptions also help hook potential buyers. If your item is listed as "like new" condition, you suddenly have the edge over someone else's more generic or ambiguous post.
People also generally don't want to initiate more of a messaging back and forth than is necessary. Take the following two listings as an example:
Which one are you more likely to respond to?
You mostly likely said the second one. Me too, because it is clear and detailed.
I don't want to go through the trouble of messaging the first listing to find out what "a lot of baby clothes" actually means.
Make the decision to buy as easy as possible for the other person by providing them with detailed and specific listing descriptions.
It is also worth the extra minute to proof read your descriptions. Making sure your post is grammatically correct and readable helps get your message across to buyers and makes you seem more reputable.
Honesty Matters
Accurate descriptions are also important if you are selling locally where you may get repeat buyers. I regularly end up buying baby items from the same people on separate occasions.
But you know who I don't buy from? The people who withhold key details about the condition of their item in their postings.
Post something with the description "some wear" when in reality, the item has a massive stain on it? I'm definitely skipping whatever listing pops up with your name on it in the future.
4. Pictures are Key to Selling Your Facebook Marketplace Listing
Descriptions aren't the only place where you should give potential buyers ample and clear details. Good quality pictures are a must to selling on Facebook Marketplace.
First, as with descriptions, people want to know what they are buying before they buy it.
Let's go back to the baby clothes example and take a look at their pictures.
Based on the pictures, which lot of clothes would you be more comfortable buying from a stranger?
Listing 2 wins again. You can clearly see each item of clothes and see that it matches their description. They also included more pictures that are close up to provide better detail.
Listing 1 is a big pile of clothes and it is impossible to tell what it includes. They included closer pictures of only a few items so one is left wonder what else is in that clothes heap.
You never want to leave potential buyers guessing on what exactly it is you are selling.
Pictures are also important for selling because the Facebook Marketplace search results page is primarily visual. You scroll through pictures of listings where the picture gets prime real estate on the page.
A clear, quality picture helps you stand out in the crowd.
5. List a Price
Sometimes you'll come across listings that don't include a price, just as in the picture below.
I imagine this stems from the classic negotiation maxim that whoever names a number first loses.
Sure, occasionally this strategy may work out and you get offered more than you would have listed an item.
But a lot of time? It just means your post is being skipped over.
Many people don't want to go in blind to a purchase negotiation.
This hesitancy may be even greater in very local groups, where you are more likely to encounter the same people repeatedly or in person.
For those who don't like negotiating (and there are many people like that), not having a starting price makes the whole exchange more awkward and makes them less likely to respond to a posting.
Consider listing a starting price and including whether your price is firm or whether you are open to a best offer (often noted with 'OBO').
6. List a Reasonable Price
Now that I've told you to list a price, I'm going to throw a wrench in the works. It's not as simple as listing any price.
You have to list a good price.
Of course, everyone is looking for a good deal and the lower you list your item the better chance you'll sell on Facebook Marketplace.
But it is a little more nuanced than that.
It is a good idea to list higher than the lowest price you'd accept to leave room for negotiations. If you list it too high though, people will assume you aren't reasonable or overvalue your item.
Take for example this baby outfit:
The picture on the left is the Facebook posting for a baby outfit being sold secondhand for $10.
On the right, you see a 3-piece outfit of the same brand selling brand new for less than $2 more on the Wal-Mart website.
Unless someone is very committed to buying secondhand, most people are going to opt for the outfit in the right picture. It is new, sold by a well known company, and is conveniently shipped to their door.
By pricing their secondhand item at nearly retail value, the poster appears to either not understand the market or personally overvalue their item.
If it appears someone it shooting too high with a price, I generally assume I won't be able to negotiate as well and move on to the next listing.
On the flip side, pricing an item too low can be a red flag too if the rest of your post looks fishy (more on this below).
If you are pricing low intentionally to move your item fast, make sure the rest of the posting is clear and full so your listing doesn't look like a scam.
7. Avoid Looking Fishy on Facebook Marketplace
As mentioned above, sometimes Facebook posts just look fishy.
Facebook Marketplace is full of strangers and generally unmonitored so it has potential for unsavory characters to use it.
Not everyone has good intentions when they sell on Facebook Marketplace.
The posts I most commonly come across in this category are ones that make you wonder if they're selling something stolen. I pause when I see large lots of a brand new product, being sold well under store value.
I regularly see this with diapers, like the following posts:
Both these diaper listings are well below the store prices.
And most people who post diapers legitimately will post only a few packs that they had leftover after their child outgrew them.
Why do these people have so many packages and how are they able to undercut the stores so much? Why would they not simply return their diaper excess to the store?
The second listing also has a poor quality picture, which makes me wonder why their weren't able to get a better shot if they still had these products on hand.
Some posts like this may be completely legitimate, but they look too much like other fishy posts. For me, it is not worth the risk.
In addition to selling stolen goods, there are people who may try to take advantage of a buyer.
For more valuable goods, always verify that items are authentic and inspect them closely.
Lastly and importantly, both sellers and buyers should skip any exchanges where the other party doesn't want to meet somewhere public and populated. Keep it safe.
Did I mention what keeps you from buying from a Facebook listing? What has helped you sell on Facebook Marketplace? Let me know in the comments.
---