55 Boyish Girl Names: Stylish, Unique, & Full of Character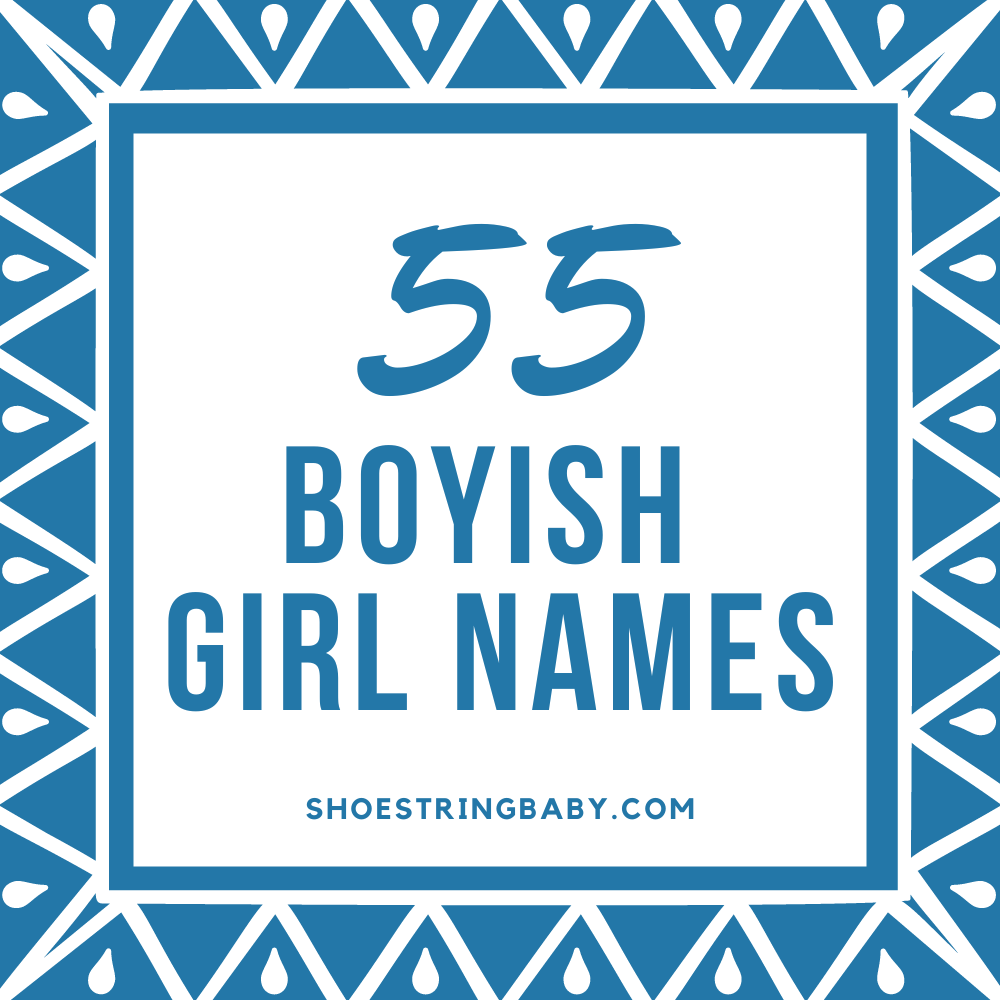 Are you looking for a unique and empowering name for your baby girl? Look no further! Boyish girl names are a growing trend that offer a modern and refreshing twist on traditional names.
Boyish names for girls are also a lovely way to give your baby girl identity flexibility and space to express their unique personality.
[DISCLAIMER: THIS POST MAY CONTAIN AFFILIATE LINKS, INCLUDING AMAZON ASSOCIATE LINKS WHERE I EARN FROM QUALIFYING PURCHASES. THERE IS NO COST TO YOU & THE COMMISSION HELPS SUPPORT THIS SITE]
As an experienced name trend researcher and a parent who has personally chosen gender-neutral names and a boyish nickname for my own daughter, I'm here to help you navigate finding the perfect girl name that is boyish.
In this article, we'll explore a wide range of boyish names for girls that strike the right balance between charm and strength. Get ready to discover a world of names that break away from conventions and celebrate the vibrant spirit of your soon-to-be baby girl.
And if you love names that blur the gender line, don't forget to check out my favorite nonbinary names and these truly rare gender neutral names.
On to the names!
Boyish Names for Girls
Below you'll find 55 great boyish names for girls. Each name has a short explanation of the name's style and uniqueness that makes it a great name. Throughout, references to name popularity and trends are sourced from the Social Security Administration's name database.
Cute Boyish Girl Names
Up first on our list are cute boyish girl names. If you're searching for names that combines a touch of sweetness with a hint of boyish charm, these are the ones for you! These names strike the right balance between feminine and tomboyish, ensuring your baby girl will stand out in a crowd. For each name below, you'll also find a brief description to help you understand their appeal.
Join our baby name facebook group!
Love chatting about baby names and trends? Join the discussion over on our new Facebook group. Plus, get FREE help finding the perfect baby name!
Charlie: Traditionally a nickname for Charles, Charlie has become a popular choice for girls because of its friendly vibe and familiarity.
Marlow: Marlow is an adorable boyish name for a girl that means "driftwood." While Marlow sounds trendy, it has yet to break the top 1000 list for either gender.
Frankie: Frankie is a spirited and energetic name that was originally a nickname for Frances or Franklin. With its friendly sound, it's an endearing boyish name for any little girl.
Bo: Bo is a gender neutral name coming from Scandinavia meaning "to live." This short and sweet name would make for a great tomboy girl name.
Jamie: Jamie is a classic unisex name that is sweet and spunky. Its familiar sound and playful nature make it a charming boyish name for a girl.
Stevie: Originally a nickname for Steven or Stephanie, Stevie is now given as a first name with a retro feel. With its vintage appeal, it's a fun and cute boyish name for girls.
Darcy: Darcy is a gender neutral name that many people associate as boyish because of its famous literay namesake, Mr. Darcy from Pride and Prejudice. Darcy is also a unique pick that hasn't cracked the top U.S. charts since 1994. The name comes from French and Irish meaning "dark."
Quincy: While Quincy is more commonly seen as a boy's name, it is a gender neutral name that would be cute on a baby girl. It also is a cool alternative to popular Quinn.
Rue: Rue is an adorable short gender neutral name that saw an uptick after the name was featured prominently in Hunger Games. You may also know the name thanks to the saucy Golden Girl, Rue McClanahan.
Iggy: Iggy is a fun and light gender neutral name. The name from English and means "fiery one," which is a perfect meaning for a tomboyish name
Auden: Auden is a soft and stylish name, and an unexpected choice for parents looking for a one-of-a-kind boyish name for their baby girl.
Unique Boyish Girl Names
Stand out from the crowd with these one-of-a-kind girl names that are boyish too. These unique names offer a fresh and modern twist on traditional gender norms, perfect for parents who want their little girl to have a distinctive and memorable name.
Greer: Greer is a rarely heard Scottish unisex name that means "watchful". The name is a fashionable choice, fitting in with today's surname-as-names trend.
Ramsey: Ramsey is a cool unisex name that comes from English and means "low lands." Keep your eye on this name gaining popularity in the future.
Larkin: A surname turned given name, Larkin has a melodic and whimsical quality that makes it a charming and unique option for a baby girl.
Hollis: Hollis is an antique unisex name that was first popular for boys in the early 1900's before briefly brushing the girls top 1000 for a few years starting in 1948. The name has settled into the "uncommon gender neutral zone" (read more about the four major trends in unisex names).
Kirby: If you can overlook Kirby's association with the video game character, Kirby is a unique and fun name for a baby girl. This English name means "settlement by a church."
Winslow: Winslow is a great boyish girl name because it gives a girl lots of flexibility. If she'd prefer a more feminine monikor, she has the option of the adorable nickname Winnie (plus, check out this list of even more first names for Winnie).
Valentine: Valentine is a strong and unique unisex name. The name has only appeared in the top 1000 for girls once in 1917. Valentine comes from Latin meaning "strong and healthy."
Zephyr: With how fashionable Z-names are today, it's surprising that Zephyr remains unique. This fresh feeling name comes from Greek and means "west wind."
Onyx: Doesn't Onyx look almost too cool? The name fits in the trendy letters X and O, plus a voguish looking -yx ending. The name is more popular for boys but is considered nonbinary, making it a great tomboyish name for girls.
Jove: Jove is a spacey gender neutral name that has yet to crack the top 1000 charts for either gender. This rare name comes from Latin meaning "Jupiter."
Saxon: With a strong, edgy sound, Saxon is an unconventional name that can give a baby girl a distinctive and memorable identity.
Badass Tomboy Names
If you're looking for something edgy and bold, these badass tomboy names will definitely make a statement. These names exude strength and confidence, perfect for a little girl who's ready to take on the world.
Ash: Keep it simple and cool with fully neutral Ash. Ash is an English name that means "ash tree."
Cade: Cade is a name coming from English that means "round." It is more popular for boys but works for girls, especially as a nickname for Cadence.
Blake: Traditionally a boy's name, Blake has a modern and edgy feel that's perfect for a tomboy. The name gained notoriety as an option for girls with the rise of Blake Lively.
Rowan: With roots in Irish and Scottish mythology, Rowan is a crisp unisex name for an independent girl.
Sawyer: Originally a surname, Sawyer has evolved into a popular first name choice for both boys and girls who embody an adventurous spirit.
Harley: Made famous by the iconic comic book character Harley Quinn, this name is great feisty name for a badass girl.
Teagan: A unique Irish name that means "little poet," Teagan is a great choice for a creative and fearless girl.
Scout: Inspired by the "To Kill a Mockingbird" character, Scout is a strong and independent name for a tomboyish girl.
Sloane: With its sleek and sophisticated sound, Sloane is a chic name choice that exudes confidence and a self-assured vibe.
Quinn: A unisex name of Irish origin, Quinn has a cool and modern vibe that works well as a badass tomboy name.
Remy: With its French origins, Remy has a boyish and alluring quality that's that makes for a spirited and fashionable name.
Sky: Sky is a gender neutral name with a cool nature vibe. If you like Sky, you may also like some names on my free-spirited, hippie name list.
Classic Gender Neutral Names
Next on the list are classic gender neutral boyish names for girls. These timeless gender-neutral names offer a perfect balance of familiarity and flexibility, making them an ideal choice for a boyish girl name.
Cameron: With Scottish origins, Cameron is a strong and confident name that works for both genders. Its powerful meaning and stylish sound make it a cute boyish name for your baby girl.
Jordan: A unisex name of Hebrew origin, Jordan is often associated with strength and resilience. Its modern sound and sporty feel make it a cute option for a girl with a boyish name.
Drew: Often a nickname for Andrew or Andrea, Drew is a sleek and modern unisex name. Its smooth sound and contemporary vibe make it a cute and trendy boyish name for a girl.
Taylor: A popular unisex name of English origin, Taylor exudes a sense of style and confidence. Its fashionable sound and occupational roots make it a cute and chic boyish name for a girl.
Casey: With Irish origins, Casey is a cheerful and lively name that works for both boys and girls. Its upbeat sound and easy-going nature make it a cute boyish name for your little girl.
Devin: Devin is a charming unisex name. From its Irish origins it means "poet," and from French it means "divine."
Cary: Cary is a mid-century favorite that is rarely used today. The name has roots in both Latin and English, meaning "stream" or "pure."
Ryan: Ryan was hugely popular for boys in the 1980's. Even as a top 20 boy's name, it managed to hold on to its unisex-status by ranking in the 300's for girls.
Spencer: Traditionally a boy's name, Spencer has gained popularity as a girl's name due to its preppy and elegant sound.
Dylan: A Welsh name meaning "son of the sea," Dylan has become a popular choice for parents looking for a strong and unique name for their little girl.
Boy names with crossover potential for girls
Finally, we close the list with names that are still considered fully boy names but have the potential to cross gender lines. These names play with traditional gender norms and make for unexpected and unique names for girls.
Ezra: Ezra is traditionally a masculine name that is trending towards gender neutrality. Ezra's combination of a soft sound and boyishness appeals to girl parents looking for a crossover boy's name.
James: Traditionally a boy's name, James has gained popularity as a girl's middle name but is still rare as a girl's first name. James gender crossover is thanks in part to Blake Lively and Ryan Reynolds naming their first daughter James.
Kyle: Traditionally a boy's name, Kyle has a cool, edgy feel that makes it a unique and trendy choice for a baby girl.
Mason: While primarily known as a boy's name, Mason has a lot of potential as a girl's name. Its strong and resilient quality makes it a great choice for a little girl with a big personality.
Mercer: A surname with an upscale, polished sound, Mercer has a similar vibe to other trendy crossover surnames, like Palmer.
Arlo: With a playful and energetic sound, Arlo, a name that was once reserved for boys, has been increasingly considered for girls.
Beckett: Traditionally a boy's name, Beckett has a cool quality that lends itself to being a boy name for baby girls. Parents may be able to envision Beckett on a girl thanks partly to the lead character in the show Castle.
Harlan: Harlan was a hit name for boys in the 1920's and 1930's that would be a unique crossover pick for girls. The name means "rocky land" from German.
Everett: Everett has a lot of potential as a boy name for girls thanks to its cute nickname Evie. The name means "boar" and comes from German.
Constantine: Constantine is a name coming from Latin meaning "steadfast." While more commonly a boy name, Constantine is sometimes used as a variation of Constance for girls.
Baxter: A surname that has transitioned into a first name, Baxter has an offbeat and quirky vibe that makes it an uncommon and appealing choice for a girl.