July 2020: Monthly Baby Budget – $722 Saved
This post may contains affiliate links. As an Amazon Associate, I earn from qualifying purchases. Read the full disclosure here.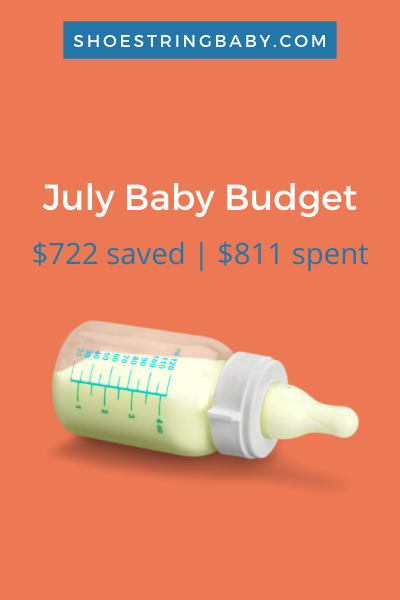 Here again with our monthly baby budget check in for July 2020. Each month I share how much we spent on baby stuff, and all our savings from buying used (spoiler: going secondhand saves a lot!).
My monthly baby budgets show what one family spends on their baby. By highlighting the savings potential of not buying retail, I hope to motivate someone else to go more frugal with their next baby purchase.
Buying baby stuff used (or buying less!) helps you save money and helps the environment.
July was the most money we've spent on our baby, outside my labor and delivery costs. In July, we spent $811.32 on baby expenses. The bulk of this was a $506.56 pediatric cardiologist bill. We also bought a car seat – one of the few things I only buy new – for $153.34.
Our baby has been a medical mystery for months now and the cardiologist appointment actually took place in May. Given his unexplained chronic fever, we've been prepared for higher medical spending and anticipate this will continue until we figure out some answers.
July was also a big month for snagging secondhand deals. I saw big savings by getting our baby's clothes, stroller and some toys used. July was perhaps our biggest month in savings, with a big $722.32 saved compared to buying new.
These savings would not be possible without the generosity of others, who took the time to pass along their baby items instead of throwing them away. While the environmental and financial impacts of finding used goods are obvious, the strengthened connection to my local community has been a much appreciated bonus.
Below you can find some of previous baby expense reports. The full list of reports is available here: Monthly Baby Expenses.
Here is a breakdown of our baby spending this month:
Diapers: $35.96 spent, $0 saved
Nothing too exciting in terms of diapers. We bought another pack of Costco wipes and some Luvs Diapers. Costco wipes are a little more expensive than other store brands (pricing as of May 2022) but I like how they are made on plant fiber-based tencel.
The Luvs were a little more expensive than our usual Wal-Mart or Aldi diapers (15 cents compared to 11 cents per diaper as of May 2022) but I wanted to test them out. They fit much smaller and have a strong fragrance to them so I won't buy them again.
Formula/Feeding: $10 Spent, $43.72 saved
I picked two feeding related baby items through Facebook – one silicone plate and a portable high chair.
I jumped on a Summer Infant Pop-n-Sit seat. We have been spending a lot more time outside with social distancing and feeding the baby on our lap wasn't ideal. About five other people quickly responded they were also interested so I knew it was popular and would be an easy resell if we didn't like it.
Turns out, we love it. It is easy to carry around and our baby will sit in it for a long time happily. We use it all the time and wish we had gotten one sooner. [UPDATE 2022: we still love this chair and used it extensively for two summers with our baby-now-toddler, and are using it again with baby #2.]
I also picked up a free ezpz mat. We've decided go all in on Feeding Little's tips, so I got this extra plate to add some more variety to meal time.
Clothes: $24.21 Spent, $263.74 saved
Clothing was a big point of stress for me in July because of the pandemic. Our baby was outgrowing sizes fast and we hit the end of my planning ahead stockpile.
Buying used would require a trip to a consignment store and/or a lot of wasted hours hunting on Facebook Marketplace. But I didn't want to buy new as I worry about fast fashion and the people working in shipping during the pandemic.
After a lot of unsuccessful searches and 'in search of requests' on Facebook, I finally decided to make a trip to Once Upon a Child. It was empty right as it opened but soon became too populated for comfort. I full on panic bought all their 18m and 24m sized onesies (about 11 total), a couple rompers and a few shorts so we had some basics at least. I spent $15.21 and saved about $59 compared to retail prices.
Of course as soon as I braved going to a store, things started popping up on Facebook. I got six pairs of pjs, a huge pack of onesie extenders, and a few more free 24m onesies. The onesie extenders were another pandemic-specific purchase – I don't think we'll ever use them but I wanted a back-up plan for outgrowing clothes.
At the end of the month, I scored a free bag of mostly 2T sized clothes. It was a big bag with tons of pants and shirts, so I just rounded down the estimated savings to $100 instead of calculating savings for each piece. Once we got this lot, I was able to relax about keeping the baby clothed during the next few pandemic months at least.
Baby Gear: $213.11 spent, $389.86 saved
We got a lot of baby gear this month. We bought a few new items, including a convertible car seat and baby proofing straps to secure our furniture. For safety-related items, we opt to buy new instead of secondhand.
I bought a few secondhand items too, including a couple Halo sleep sacks, a sun shade tent and a Zoe stroller. I know that Halo sleep sacks are really popular but I find their neck holes to be way too big for our long and skinny baby, so these two were sizing down as our larges still don't fit.
The Zoe stroller is a very light travel stroller that you can push, fold and pop open one-handed – features I didn't appreciate until trying to juggle a stroller while holding a baby. An umbrella stroller just wasn't cutting it and I've been so happy with the switch to the Zoe stroller. I highly recommend the Zoe if you're looking for something light-weight and easy to maneuver [you can find my full Zoe Stroller Review here]. I actually negotiated the Zoe stroller to an even lower price but the person agreed to meet me somewhere more convenient so I was happy to pass on what I saved on tolls for her trouble.
On the free front, I got the following items:
Medical: $526.04 spent, $0 saved
Our single biggest baby expense (outside my labor and delivery costs) was a $506 bill from the pediatric cardiologist. As I've been detailing in previous monthly baby budgets, our baby has had a mystery fever daily since March. This cardiologist trip was to rule out any heart infections.
Luckily his echocardiogram didn't have any major concerns or infections. We did have an incidental finding of a patent foramen ovale, which is a small hole in the heart that usually closes after birth. We'll go back later this year for a follow-up to see if it has closed. Even if it doesn't, usually they are asymptomatic – an estimated 25% of people have one!
We also had about $20 in blood draw fees. We've been going every 2-4 weeks for blood draws to monitor his levels with the fever.
Activities: $2 spent, $5 saved
We briefly started going to an outdoor, socially distanced baby music class. It was really nice to have something age appropriate to do outside of the house, even if it was only 30 minutes a week. It cost $2 a class, but has since been canceled since some adults weren't compiling with the mask requirement. It was nice while it lasted!
We also made $5 this month by selling our baby to science. We participated in a baby development research study over Zoom and were given a $5 Amazon gift card for our time. All we had to do was set him up in his high chair and they showed him a quick video. Definitely recommend.
Resale: $20 recouped
I resold two zipadee zips I had gotten at a baby swap event back in January.
Total Monthly Baby Expenses: $811.32 spent, $722.32 saved
July captured a lot of my baby-related pandemic stressors. Having a baby with a chronic fever in a pandemic is just bad timing, let's be real. Even with our pediatrician and infectious disease specialists saying his fever isn't COVID, it's a constant challenge to even get in the door to get the medical tests we need done.
Not only was the cardiac testing expensive, our medical team straight up told us to avoid disclosing his fever at door checks so that we could get the really important testing done. There are certain offices we can't make appointments at since they won't let our baby in. I simultaneously totally understand the abundance of caution, while also just need my baby to have access to health care while he's having a freak medical issue.
I really feel for families who are dealing with child's health issues right now, when getting care feels so precarious and so many are facing added financial challenges. We are in a privileged spot with a secure job and savings earmarked for health costs, though I likely will be home instead of working until the pandemic is over because of baby health issues.
I also spent a lot of time trying to stock up on whatever baby gear things I could, especially clothes. Our baby has been growing so fast, it feels hard to keep up in the best of times. With pandemic limitations, I feel a lot more stress to plan ahead so we don't have to buy new. I always worry about the environmental and financial implications of buying new, and now with the pandemic I stress a lot about limiting deliveries to essentials as much as possible too.
For those with older babies, what should I be thinking about stocking up on to plan ahead? Please tell me babies stop outgrowing clothing sizes so fast eventually…
Caveat to this monthly baby budget report: These monthly baby budget reports are as accurate as possible but my baby costs record keeping is not 100% perfect. Reported savings are estimated to the best of my ability. Sometimes I am unable to find exact item online, account for fluctuating sales, or remember exact details of budget entries with generic descriptions. These monthly baby budgets do not include gifts from friends and family. While gifts only account for a small part of the baby things we use (we requested no gifts), my reports may slightly underestimate baby expenses if you account for gifted items.
Pin this post!
---