59 Names Like Liam (+10 Unique Ones You Have to Hear)
This post may contains affiliate links. Read the full disclosure here.
Love the name Liam but are you worried about its popularity? If you don't want your kid to be one of three Liams in their class, then this list of baby names like Liam is for you.
This list isn't like other lists you may have found, touting names similar to Liam that are a mile long and don't actually feel like Liam.
Each name on this list has been handpicked to be soft and fashionable, like Liam.
I'm a researcher by training and love applying my skill set to analyzing baby name trends and data.
The highlight of this list is the ten unique alternatives to Liam that are truly rare but have all the same great elements as Liam. These names are outside the top 500 name list — half of them have never even ranked in the top 1000.
Below, you'll find names with similar softness and simplicity as Liam. These names have all the fashionable elements of Liam (looking at you, vowels and gentle consonants) without the overexposure of the #1 baby name in the country.
And if you like Liam, you'll probably like many names on my list of alternatives for Leo too.
Now, let's find you an alternative for Liam!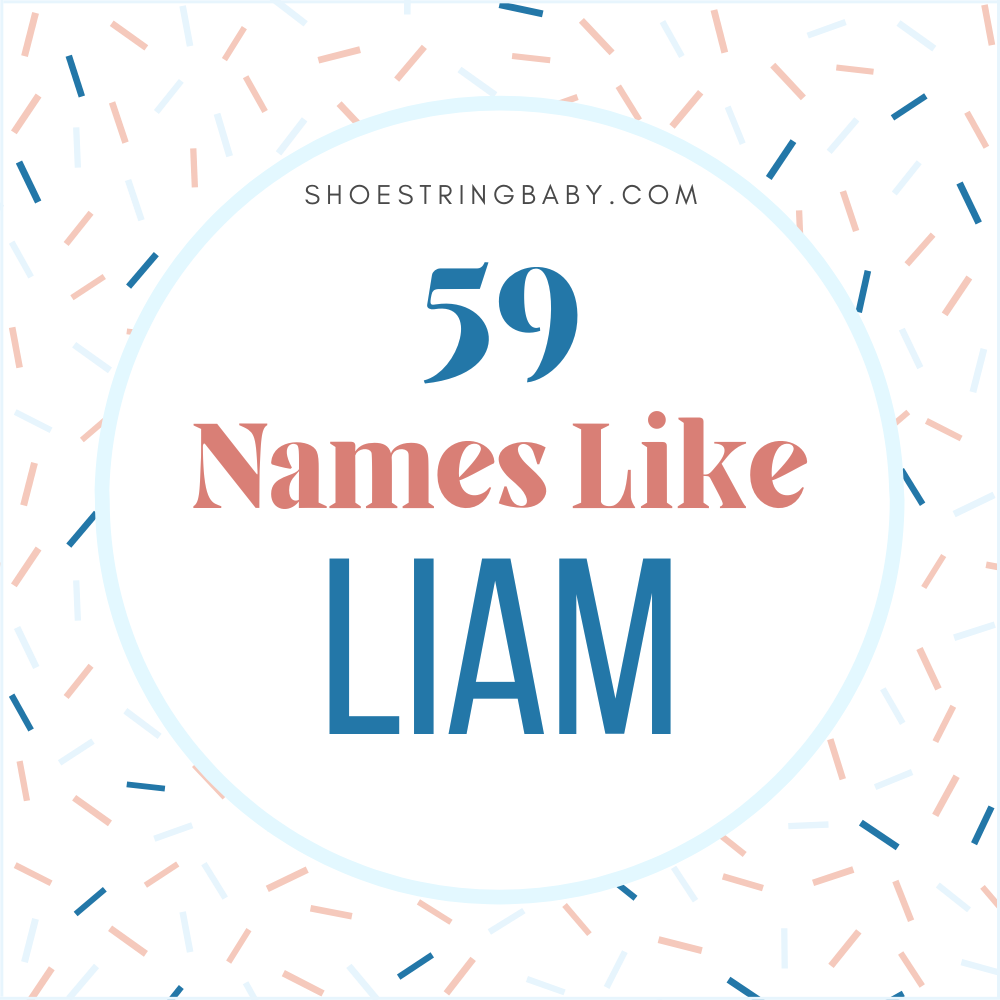 Top 10 Names like Liam
No time to read the whole article? Here are my ten favorite names like Liam.
Eames
Niam
Lias
Colm
Eliam
Eamon
Lucan
Amias
Oisin
Lael
Join our baby name facebook group!
Love chatting about baby names and trends? Join the discussion over on our new Facebook group. Plus, get FREE help finding the perfect baby name!
Liam Meaning and Popularity
Liam means "powerful protector" and is an Irish diminutive of William. An international name, Liam has been a favorite worldwide, topping charts in the U.K., Canada and the U.S.
Liam is the defining American boy name of the last decade. It began its rise to prominence in the early 1990s and broke into the top 10 chart in 2012. It has spent the previous eight years in the #1 or #2 spots for boy name in the United States.
Interestingly, the name ranks higher in the U.S. than in Ireland (per Ireland's Central Statistics Office).
However, don't let Liam's #1 rank scare you too much. Names are more varied than they once were. Liam represented only 1.1% of male births in 2021.
When John was at its peak, it accounted for over 5% of all boys born in the year.
Interestingly, some consider Liam also to be a girl's name. However, there have never been enough girl Liams to break into the top 1000 list.
That's why you'll only find names like Liam for a boy on this list. Let's turn to those names now!
Unique Names Similar to Liam
First on our list of names like Liam are unique names. These names are a breath of fresh air compared to Liam's popularity.
You won't find any of the following names in the top 500 (many have never ranked at all!).
I list these names first and with the most explanation because I think these are the type of names people are truly looking for when searching out names like Liam.
These are the names that you may not find elsewhere. These are the names waiting to be discovered.
1. Eames
Popularity Ranking: Never Ranked
First on the list of Liam alternatives, we have Eames. Eames is a soft and decidedly hip-sounding name, pronounced EE-MZ.
That ending -z sound instantly ups the cool factor of a name.
Eames is a hidden treasure name. It has all the fashionable elements parents today love but it has yet to be discovered.
Like Liam, Eames means "wealthy protector" and comes from Irish origins. It has roots as a surname, another popular trend with today's parents.
2. Colm
Popularity Ranking: Never Ranked
Love Liam's Irish roots? Then Colm may strike your fancy. Colm is pronounced COLLUM and means "dove."
Similar to Liam, it is said with two syllables and has that gentle ending -m sound.
It is also a much more unusual Irish pick than Liam. Only twice have there been enough Colms born to be included in the Social Security Administration yearly data (≥5 names).
In 2000, Colm reached its peak popularity in the U.S. when a grand total of eight baby Colms were born.
3. Eliam
Popularity Ranking: #736
Eliam may be the boy name most similar to Liam on this list. Yet, adding the E somehow transforms the feel of the name.
Pronounced EL-I-AM instead of E-LIAM, the name sounds distinct amongst all the little Liams running around.
Eliam is a biblical Hebrew name that means "people of God." It debuted onto the top name chart in 2021, when 345 boys were named Eliam in the United States.
4. Lev
Popularity Ranking: Never Ranked
Lev makes an excellent substitute for Liam if you are looking for a pithy L-name. Where Liam is gentle and affable, Lev is strong and jaunty.
In Russian, Lev means "lion," and in Hebrew it means "heart.
Given its proximity to other hot names Levi and Leo, it may be surprising that Lev has never made it into the top 1000 list.
Future Levs will enjoy all the benefits of having a rare name while still fitting in easily among his contemporaries' names.
5. Noam
Popularity Ranking: Never Ranked
Noam is a Hebrew name meaning "beautiful" and "pleasantness." It resembles popular Noah and hits the same soft notes as Liam.
Surprisingly, this name hasn't broken into the U.S. naming mainstream, especially since it is a top 10 name in Israel.
Noam is thought to have originated as a masculinization of the name Naomi. While traditionally a boy's name, Noam is sometimes used for girls and would make a great pick if you're looking for a more gender neutral alternative to Liam.
6. Lionel
Popularity Ranking: #663
You may not have considered the name Lionel as an alternative to Liam before.
Lionel doesn't feel as "now" as Liam — and that's exactly the point.
Lionel hits that sweet spot of being unexpected while also feeling timeless. Plus, it has great grandpa vibes that parents today love.
Not to be confused with more popular Leonel (pronounced LEE-O-NEL), Lionel comes from Latin and is a French diminutive of Leon, meaning "little lion."
7. Amias
Popularity Ranking: #756
Like Liam, the name Amias is gentle and approachable. With soft, two-syllable sounds similar to Liam, Amias checks many boxes for today's fashionable baby names.
Fortunately, it remains a rare pick that has yet to show signs of a future popularity spike.
Amias comes from Latin and means "beloved."
8. Leif
Popularity Ranking: #992
Leif is L-name with a light touch, similar to Liam. This airy and sprightly pick is easily worn from babyhood into adulthood.
Pronounced LAYF from its Scandinavian roots, some English speakers pronounce the name LEAF. Leif comes from the Old Norse word Leifr, which means "descendant."
Leif barely hangs on to its top 1000 name spot at #992. The highest it has ever ranked in the U.S. was #638 in 1979.
You're very unlikely to run into another baby Leif if you go with this Liam substitute.
9. Niam
Popularity Ranking: Never Ranked
Niam is another very close substitute for Liam. Rhyming with Liam, it shares the two-syllable break between two vowel sounds, which gives the name great flow.
Niam comes from Hindi and Arabic origins, meaning "blessings" or "given by God."
Given its proximity to Liam, it is surprising that Niam hasn't enjoyed a popularity bump. Niam remains unranked — great news for parents on the hunt for still unique alternatives to Liam.
10. Landry
Popularity Ranking: #989
Up last for unique names like Liam, we have Landry. Landry is another L-name that hits the same two-syllable sweet spot as Liam.
The name has a similarly strong meaning as Liam, meaning "powerful ruler" from its French origins. Landry is also a great gender neutral alternative to Liam.
Landry has only been on the top 1000 charts a few times, and it barely squeaked by to make the list in 2021. The popularity has also waned in the last few years, so this name will likely to stay a unique substitute for Liam in the coming years.
Irish boy names similar to Liam
Now let's turn to Irish names. If you like Liam, you may also like other soft Irish names.
These names are similar to Liam in that they are short and have flowing, soft consonant sounds like L, M, and Sh.
I skipped popular Irish names like Kieran and Cormac in favor of liquid names like Liam.
Aiden: little fire
Ailin: cheerful
Fallon: leader
Lennon: lover
Lonan: blackbird
Lucan: light
Malone: St. John follower
Nevin: holy
Nolan: champion
Oisin: deer
Phelan: wolf
Rory: red king
Shea: dauntless one
Names that sound like Liam
If you like Liam because of its sound, this section is for you.
These names sound like Liam, in their ending -iam sound or as vowel-forward L names.
I love the unique name Lias as an effortless name like Liam.
Lias: Yahweh is God (Hebrew)
Niam: blessings (Arabic)
Eliam: people of God (Hebrew)
Iam: right hand (Hebrew)
Juliam: surname name
Lyle: island (Scottish)
William: protector (Irish)
Leo: lion (Latin)
Lael: beloning to God (Hebrew)
Lee: meadow (English)
Loew: lion (German)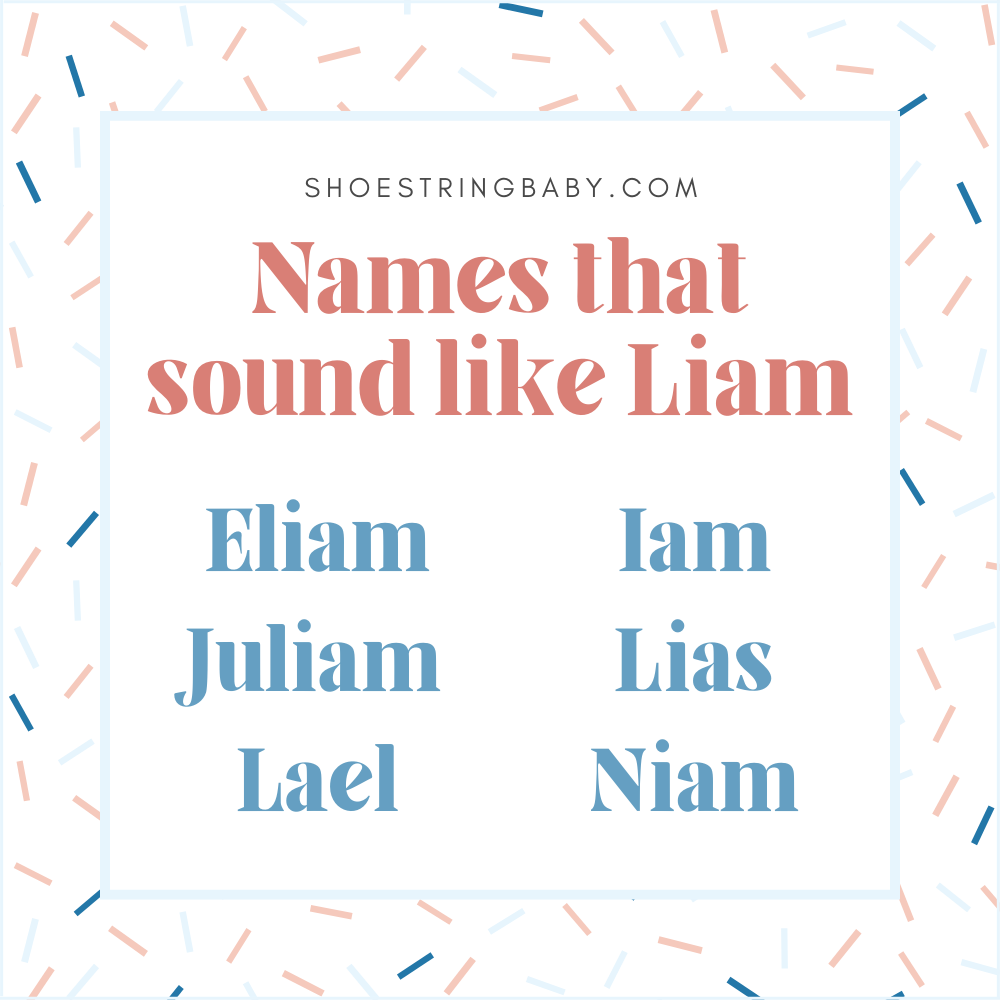 Alternatives to Liam with similar meanings
The next name set shares a similar meaning with Liam. Each name means either protector, protection or defender.
I limit these to shorter and softer names like Liam. So you'll find the name Alexis on the list, but you won't find Alexander.
Alessi: defender (Greek)
Alexis: defender (Greek)
Ansel: divine protection (German)
Eames: wealthy protector (Irish)
Eamon: wealthy protector (Irish)
Edmund: wealthy guardian (English)
Elmo: protector (Italian)
Guille: resolute protector (Guillermo alternative, Spanish)
Lexi: defender of man (Greek
Ramon: wise protector (German)
Ray: counseling protector (English)
Sasha: defender (Russian)
Willis: resolute protector (English)
Soft and short names like Liam
Finally, we close the list with other on-trend names that, like Liam, are soft and short. These are the names that you'll find near the top of the U.S. popularity rankings.
Like Liam, these gentle boy names appeal to parents today. So if you love Liam, chances are you'll like a name on this list too.
Leon: lion (Greek)
Owen: well born (Welsh)
Ezra: helper (Hebrew)
Noah: rest (Hebrew)
Ian: God is gracious (Hebrew)
Elias: Lord is God (Hebrew)
Arlo: rock hill (English)
Evan: God is gracious (Welsh)
Miles: soldier (Latin)
Jonah: dove (Hebrew)
Levi: joined (Hebrew)
Louis: famous warrior (French)